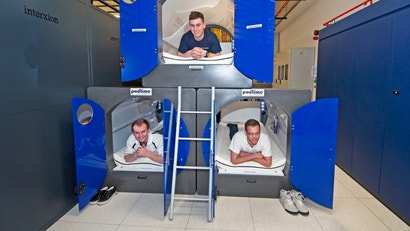 The Olympics is all about grand feats of athletic prowess and endurance demonstrated by its competitors. But for the folks behind the scenes, it's hardly a party — and in fact, the team responsible for running the event's data centre will be sleeping in these tiny pods next to their computers the whole time.
The event's data is overseen by a company called Interxion, which clearly has quite demanding standards for its employees. Still, it should mean that when things go wrong — and this is a data centre, it's definitely a case of when, not if — its staff should be able to react pretty quickly. Greg McCulloch, UK Managing Director of Interxion, explains:
"Due to the nature of our business we need to be ready for all eventualities and while we are excited to have the Olympics in London we also need to be sure that we can continue to offer the highest level of resilience to our customers."
The pods themselves were made by UK-based Podtime. They're modular — designed to stack up on top of each other — and were originally intended to be used for power naps in the workplace. They've recently been adapted, however, to be more comfortable for longer stays — with TV, radio and computing facilities — which is fortunate for the guys who are going to be living in them for a fortnight. [Data Center Knowledge]
Image: Interxion