Wrestlers have a long history of making cameos in everything, from films to TV shows to animated cartoons. The cross over between wrestling and acting is very real, and some of them have even gone on to have prolific careers in the film industry. Of course there's The Rock, John Cena and more recently, Dave Bautista (the artist formerly known as WWE's Batista) " but they're just the tip of the iceberg. Here are our favourite wrestler cameos in pop culture history.

In this case, we've classified a 'cameo' as a minor role, often without lines " or a surprise guest appearance. So as much as I'd like to include André the Giant's delightful appearance as Fezzik in The Princess Bride, it doesn't count. He is on the list, though!
---
11. GLOW " Various
GLOW, a Netflix series about wrestling, doesn't feature a whole lot of wrestlers, but the ones who do cameo are golden. Joey Ryan, pictured above, is one of them. In the show, we portrays 'Mr. Monopoly', whose gimmick is he's rich. In real life, Ryan's known for his super-powered penis gimmick, where his junk flips people and body slams them. It's fantastic.
Also appearing in Glow are former WWE wrestlers John Morrison (also known as Johnny Nitro, Johnny Mundo and Johnny Impact), Carlito and Brodus Clay (who has also appeared in the fantastic Preacher).
---
10. Looney Tunes: Back in Action " Goldberg
I never saw Looney Tunes: Back in Action. By all accounts, it seems like a pretty shitty Looney Tunes adaptation, but it did have one thing going for it " iconic 90s wrestling star Bill Goldberg, who appears briefly to shoot some laser guns and look menacing. Goldberg actually cameos in a handful of movies and TV shows, including on an American sitcom called The Goldbergs (unrelated). That's some good stuff.
---
9. Smallville " Batista
Before he found his way to fame through the role of Drax the Destroyer in Guardians of the Galaxy, Dave Bautista, AKA Batista, played a bit part in another iconic superhero franchise, as an evil wraith in Smallville. This marked one of his first ever acting roles, and started him on the path to becoming the Big Dave we all know and love today.
---
8. Conan The Destroyer " André the Giant
Please enjoy this video of André the Giant dressed in a giant, latex fish monster costume slapping Arnold Schwarzenegger's Conan the Barbarian into a million pieces. What an own.
---
7. Sherlock Holmes " Kurrgan
Robert Maillet has made a name for himself playing beefy, mostly-silent characters. He had a small role in Pacific Rim, appeared in 300 and even turned up in Deadpool 2. In the WWE, he was called Kurrgan, and known formerly as The Cajun Giant, Goliath El Gigante and The Interrogator because of his large size. His appearance in the Robert Downey-starring Sherlock Holmes makes use of this characteristics for a great turn as an imposing henchman.
---
6. Blade: Trinity " Triple H
Triple H, currently second-in-command at WWE, had lofty ambitions when he cameoed as a silver-toothed vampire named Jarko in the absolutely forgettable Blade: Trinity. His film career didn't amount to much, but his turn as the snarling henchman of the Talos brothers was just grand. Good job, Triple.
---
5. Sharknado 2, 3 and 4 " Chris Jericho, Kurt Angle and Seth Rollins
I can only assume that the creators of Sharknado are massive wrestling fans, because nearly every Sharknado movie has featured a cameo from a WWE wrestler. In various roles, they've played a ride attendant, some kind of mechanic and some dude in a suit. I'm not sure what their exact roles are, mainly because I refuse to engage with the Sharknado franchise, but good on them.
---
4. John Wick " Kevin Nash
Once upon a time, Kevin Nash went by the moniker, 'Big Sexy', because he was… big and sexy. Makes sense. These days, he's looking less big and less sexy, but that hasn't stopped him from cameoing in everything from The Punisher to Magic Mike. In John Wick, he plays silent henchman Francis. He doesn't do much, but it sure is good to see Big Sexy still kicking.
---
3. Rocky III " Hulk Hogan
Hulk Hogan's name is pretty taboo these days, but his appearance in Rocky III is a significant one. Hogan's appearance as Rocky rival Thunderlips marked one of the first big break out moments for wrestlers in Hollywood, and signalled his rising prevalence and importance in American culture. 'Wrestling personalities' weren't the same after this (at the time) great crossover cameo.
---
2. Scooby Doo, The Flintstones, The Jetsons & Surf's Up 2 " Various
John Cena. The Undertaker. Rey Mysterio. What do they all have in common? Yes, they've all been in the ring with Fred Flintstone. WWE has a whacky history with animated crossovers, particularly Warner Bros. stable of characters. They've joined Scooby-Doo and friends on adventures time, become penguins in the straight-to-DVD Surf's Up 2 and smacked down with Fred and Barney in the Stone Age. They've even visited The Jetsons in the future. As far as cameos go, these ones are pretty wild.
---
1. Spider-Man " "Macho Man" Randy Savage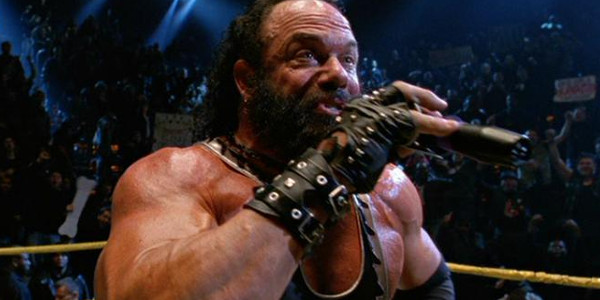 And now, the cameo that inspired the list " hands down, the greatest cameo of all time. The man, the myth, the legend, "Macho Man" Randy Savage is a wrestler that many of us grew up watching. He was a true icon, and his appearance in Spider-Man as the growling, grunting wrestler Bone Saw McGraw is nothing short of legendary. What an icon.
---
These are the just some of the legendary appearances of wrestlers in films and TV shows, but there are plenty more to be found. Tell us about all the cameos you've spotted on our Twitter or Facebook!