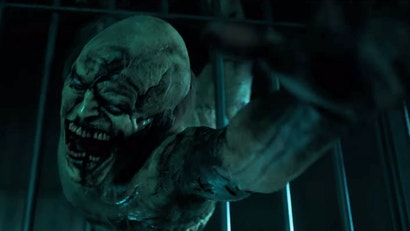 Awww hell no. (Image: CBS Films/Lionsgate)
I'll take a "Nope," with a side order of "absolutely not," and a "no way in hell" to go, please and thank you.
CBS Films and Lionsgate have dropped a new trailer for André Øvredal's adaptation of the classic kid's horror novel series, and... well, let's just say a new generation of youngsters should be prepared to have the crap spooked right out of 'em. And you don't have to be a kid to be spooked, frankly, because some of the ghouls in here look genuinely unnerving!
---
Mishmashing the monsters and stories of several of the Alvin Schwartz books into one overarching plot about a group of kids uncovering a supernatural book of tales that begin coming to life, this trailer's like the Avengers: Endgame of creeps that scared you to death reading Scary Stories as a kid.
The retro setting gives it an almost Stranger Things-ian vibe, if not quiet as atmospherically chilling, but still...I don't think that shot of The Red Spot will never not just send a spooked flutter down my spine.
Scary Stories to Tell in the Dark skulks into theatres August 9 in the U.S. An Australian release date has not yet been announced.