Apple's World Wide Developers Conference has kicked off for another year!
We're suckers for 3am punishment, so we'll be bringing you everything that was announced live as it happens.
Apple TV
First off the rank is Apple TV. It comes with a redesigned home screen and multi user support, FINALLY.
This means that different people in your house will get personalised recommendations, just like Netflix has had forever.
iTunes will also allow personalised music experiences and lyrics that will play in sync with the music.
There was also a bit on apple Arcade, bringing Xbox One and PS4 controller support.
---
Apple Watch
Screenshot: Andrew Liszewski, Gizmodo
WatchOS is coming and there are a lot of new features.
The biggest announcement here was the App Store launching for Apple Watch. This means that you'll be able to buy and download apps directly onto the watch.
Developer's will be able to develop Watch-only apps independently of iPhone.
In terms of new app highlights, we're looking at Audiobooks, Voice Memos and a Calculator that can split bills and do tip calculation
There are also a tonne of new watch faces, the most since the Apple Watch was originally launched.
They're real pretty and include Gradient which will show numerals in different languages and a Solar which lets you visualise the sun's path around the dial.
A new Pride face and band have also been added. I wonder if the proceeds from the latter will be donated or simply act as corporate profit.
Health and fitness updates are also a big focus for WatchOS 6.
Activities is getting a big upgrade with a nine key metrics that can help monitor your fitness trends.
You can now track how you have been going over the past 90 and 365 days. You'll get some coaching if your progress has been dropping or a shiny arrow if you've been killing it.
Te redesign will also allow you to track your favourites and the metrics you dig the most (such as stairs climbed or pace), as well as see generated highlights.
A new Noise App will be able to detect the decibel levels around you and send a notification if it could be detrimental to your hearing.
It can be added as a complication and despite sampling audio, it will not record or save any of it.
And for anyone who gets a period the new Cycles app will allow tracking and viewing of menstrual data from the watch.
You'll have the ability to log symptoms and can allow notifications for when your period is about to begin and when you're likely to be fertile.
In addition to being available on the Apple Watch, it will also be usable without one natively through the iphone Health app.
You can read more here:
Let it be said, Apple will never forget to remind you its Apple Watch is the best selling smartwatch out there. This year's WWDC is no exception. At today's keynote, Apple's Kevin Lynch took the stage to reveal all the updates we can expect to see in watchOS 6, and therefore, the Apple Watch Series 5 later this fall.
Read more
---
iOS 13
Boy are there a hell of a lot of updates coming with iOS 13.
First up we're looking at a speed boost and decreased sizing, with app speeds reportedly loading 2x faster, downloads being 50% smaller and updates being 60% smaller.
Dark Mode for iOS was also confirmed after first launching on MacOS Mojave last, and I have to say that it looks extremely sleek and sexy. It's also kind of great that it arrived with update 13. Because spooky.
On the native app side Safari, Mail, Notes and all getting brand spanking new UI.
Reminders has also been rebuilt from the ground up and can do things like clock where and when you need to be somewhere when you type it. And if you tag a person in a reminder, it will pop up in your messages with them.
Thanks to a whole lot of ground and aerial mapping, Maps has also gotten a complete redesign that offers more detail and higher resolution imagery.
A new binoculars button will allow you to launch a 'look around' window which offers a high definition view and smooth transitions if you want to move digitally down the road.
You'll also be able to tap on labels to learn more about places, as well as organise favourite locations, share them with your friends and plan trips.
However, in the name of privacy your identity will be protected during these searches.
This feature will be rolled out across the entire U.S. by the end of 2019. There is no word on when Australia will get it.
On the subject of privacy, that is another major focus for iOS13.
Apple will now allow you to know how and when your location data is being shared with third party apps.
You'll now have the ability to share your location a single time, meaning that the app will need to ask again next time.
If you do allow an app permanent permissions, you'll be sent reports to let you know how that data is being used. iOS 13 is also disallowing third party apps to scan for outside wi-fi ad bluetooth connections.
Screenshot: Andrew Liszewki
And for anyone familiar with tools that allow you to login with Facebook or other social apps, Apple now has its own, more secure version.
Sign In With Apple will allow users to anonymously log into apps with Face ID. The kicker is that it won't attribute any other tracking info or data to that account.
You can even bypass providing an email address by having Apple randomly generate one that will forward emails from that app to your real email address.
Each app will have its own unique faux email address, which you can disable if you don't want to receive updates from them anymore.
When it comes to smart home platforms, Apple HomeKit's been sort of like the ugly stepchild. Smart home devices were much slower to adopt it than Amazon Alexa or Google Assistant, and even though it works well, it required a bit more research to make sure the devices you were buying specifically supported it.
Read more
HomeKit is also becoming more secure through HomeKit Secure Video, which encrypts home security footage before uploading it to the cloud.
Any data sent to the cloud within 10 days of recording won't count against your data storage limit, either.
Onto Messages!
You'll be able to set profile pictures and a name while also controlling who can see that information.
Animoji and Memojis will become more customisable with a slew of new makeup and accessory options.
Memoji stickers will also be landing, and can be used across Messages, Mail and other apps.
peaking of Messages, a swipe input method for the keyboard is also on the way.
Lastly, there will be some Photo improvements for iOS 13.
There have been some improvements to organisation, allowing for more integrated, intuitive and interactive days, months and years viewing in the gallery.
However, the highlight here is a new portrait lighting option where you can adjust the lighting as if you were in a photo studio.
This will allow you to bring the faux lighting closer or further away, as well as highlight particular features of the subject.
Some new effects are also landing, and the full suite of effects and editing tools will now be available on video as well. And thank god, you'll also be able to rotate video from landscape to portrait at will.
You can read more here: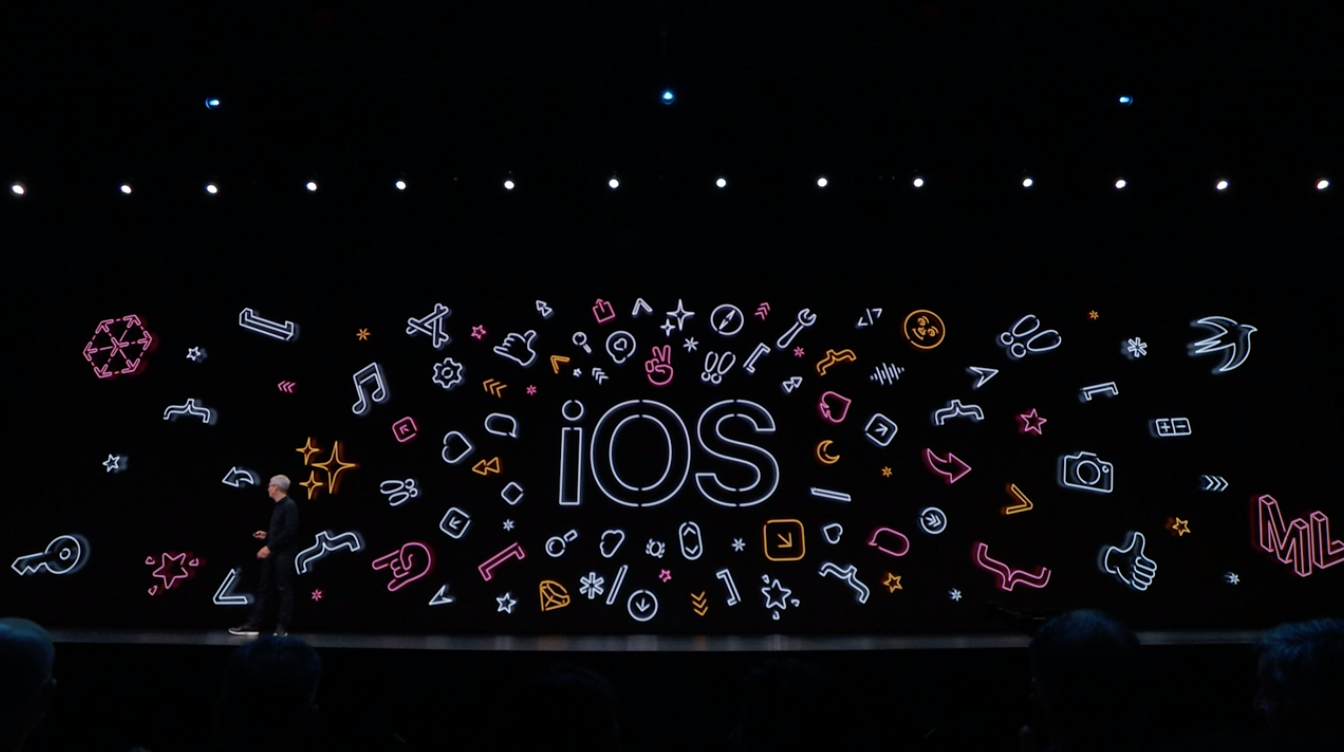 While iOS 12 included a handful of new features including Siri Shortcuts, added digital wellness tracking, and better photo searching, much of Apple's development time was spent weeding out bugs and improving the stability of the company's mobile OS.
Read more
---
Siri, HomePod and CarPlay
Siri is also getting a look in.
She will now 'Announce Messages' directly into your AirPods and allow you to verbally send a response. This will work in both Messages and third party apps.
Siri's voice will also be generated completely through a Neural TTP, thus generating a voice from scratch rather than tying a bunch of voice clips together.
This makes her sound a lot more natural.
Lastly for Siri, Siri shortcuts is getting built directly into phone apps.
As for HomePod, a new Hands Off functionality will let users transfer whatever they're listening to on their iPhone (music, podcast, phone call, etc) to their HomePod.
You can then pick it up again if you leave.
Another major HomePod update includes voice recognition of different family members, allowing for personalised responses, reminders, notes and calendars, as well as playlists, favourites and taste profiles when it comes to music suggestions.
CarPlay is getting its biggest update since launch with a overhauled dashboard that has popped Music next to Maps, calendar events, smart suggestions and album art.
Siri is also being integrated further into the background to minimise distraction.
---
iPadOS
The last minute leak was true! iPad is getting its own brand new OS, as well as all the features announced for iOS 13.
In addition to a nicer-looking app grid, users can now pin things to the home screen, have multiple apps on screen at once and switch between apps fluidly thanks to the new Slide Over functionality.
Split View also allows you to have two documents up at once, such as Notes or as it was cheekily pointed out during the Keynote, two Microsoft Word docs.
Expose View has also been brought over from MacOS so you can quickly see every app window you currently have open.
Files will also be getting a revamp to include folder sharing and column views, as well as metadata and server access.
It's also getting physical, allowing for thumb drive plugins.
Oh and you'll also be able to import photos directly into Lightroom.
Desktop browsing is also finally becoming a thing with iPadOS. You can now the browse the desktop version of a site on your iPad instead of being bumped down to the mobile site. Happy days.
Safari is also getting a long-anticipated download manager so you can actually find the stuff you've download.
And lastly on the agenda was a lot of talk about fingering… err gesture controls I mean.
You'll be able to cut and paste text and other content with a three-finger pinch and zoom motion.
And text can be selected by placing your finger on the screen and simply dragging across your selection. No double tap needed.
As for the Apple Pencil, the latency has apparently been reduced from 20ms to 9ms and SDK has been added for third party app development. Marking up on screenshots and entire documents will also be a thing.
And while there was no announcement regarding mouse support for iPad during the Dub Dub keynote, it apparently will have it! Yay.
You can read more here:
Apple has been trying to market the iPad as a budget solution for people who want an Apple laptop, but the iPad has never really held up to that promise. Sure it's a great device that's fast enough for general tasks like web browsing, light enough to take anywhere, and long-lasting enough to support you through a few hours of movies sans plug. Yet inevitably we reach for a "real" computer when the work is demanding enough. Apple clearly wants that to change, if today's news is anything to go by.
Read more
---
New Mac Pro
The hardware rumours were also true. Apple is releasing an extremely fancy new cheese grater, I mean Mac Pro.
We have a deeper dive into this bad boy right here, but here are the basics:
The new Mac Pro comes with an 8th-Gen Xeon processor which has up to 28 cores. It has 8 PCIe slots, two Thunderbolt 3 ports, two 10GB ethernet ports and can support up to 1.5TB of 2933MHz RAM in twelve DIMM slots. Oh and it's rocking a whopping 1,400 power supply.
It also has a headphone jack because sure, why not?
Photo:
Apple
As for the MPX Module GPU it can slurp up to 500 Watts of power and can combine up to two AMD cards. It currently supports the Radeon Pro 580 and Pro Vega II.
You can even add an extra MPX Module if you truly worship stunning four graphic card chaos.
And just for shits and giggles an 'Afterburner' video decoder card will let users process up to three 8K video streams simultaneously.
It also comes in a stainless steel frame so the components cane be reached from all angles. This thing means business.
Oh but we're not done.
Apple also announced exactly how you should experience all of the above – through its Pro Display HDR, a 32-inch 6016×3384 6K retina display monitor. Naturally.
It has a full LED backlit display that can maintain 1,000 nits of of brightness. It too looks like a cheese grater.
At this point we have to assume that Tim Cook has made some kind of deal with the devil to bring this beautiful monstrosity to life.
We don't have local pricing yet, but expect it to make your wallets bleed. It starts at $US5,999, with the Pro Display XDR starting at $US4,999.
Read more here:
It's been over a year since Apple last teased the Mac Pro, a major refresh to its traditionally priciest and most powerful computer. And finally—finally! The successor to the "trashcan" is here and it looks a lot like a cheese grater (it also looks like it's potentially very powerful).
Read more
---
MacOS Catalina
Firstly, yes iTunes is dead.
MacOS 10.15 will split the app into Apple TV, Apple Music and Apple Podcasts.
You'll still be able to sync your content to your iPhone and the Finder will deal with device backups.
Jumping back to the iPad for a second, the new Sidecar feature in Catalina will allow for it to be used as a second screen for Macs and MacBooks.
In terms of accessibility a new voice control feature will allow every aspects of the OS on Macs and iPhones to be accessed via speech commands.
Find My is also getting an update to include devices, laptops and computers that are offline.
It does this by sending an encrypted and anonymous bluetooth beacon to nearby Macs in order to find its location.
Macs with a T2 security chip will also get an Activation Lock feature that will prevent the computer from booting without your credentials.
Project Catalyst (formerly known by the code-name Marzipan) will now allow a single codebase for developers to create cross platform apps across the Apple ecosystem.
And if your iPhone wasn't already shaming you enough, Screen Time is now coming to MacOS.
Read more here:
With Apple Music, Apple TV+ (and other streaming services) making owning gigabytes of MP3 and video files a thing of the past, iTunes, the iOS desktop companion app that's been around since the iPod first debuted, is finally dead. In its place are a collection of purpose-built apps that might make the next version of macOS—Catalina—worth the upgrade. iTunes, you probably won't be missed.
Read more
---
AR
The keynote wrapped up with some AR related content that seemed to be primarily aimed at devs.
Some cool highlights included AR Kit, which allows users to occlude content in real time based on where people are moving.
It was also extremely fun to watch a new mocap tool that lets you aim a camera at someone and record their movement for AR app development.
Swift also got a mention, as well as a lot of applause for how much code it cuts down for UI.
---
And that's it for the Dub Dub 2019 keynote! Be sure to keep your eyes on Gizmodo throughout the day for all our coverage! It's time for me to get a much-needed coffee.