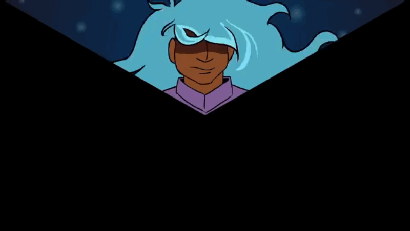 I would kill for a wind machine to flip my hair around like that. (Image: The Doubleclicks,
YouTube
)
It's awesome being awesome, isn't it?
This new song and music video from nerdy duo the Doubleclicks, "I'm Winning," is all about video games and identity, celebrating the feeling that comes from living with your authentic gender. And the band brought 16 non-binary, trans, and genderqueer artists onboard to bring that winning vision to life. Rebecca Sugar would be proud.
---
The Doubleclicks' "I'm Winning" is an awesome tribute to gender identity. Directed by Laser Malena-Webber, the video stars a group of four non-binary heroes as they battle evil, fall in love, and have amazing adventures together. It definitely has a Steven Universe vibe, which I am very much into.
The music video features scenes from artists like Victoria Watkins, Annie Luu, Geo Barnett, and Dhurata Mehmetaj, among many others. They've also started sharing stats pages for the heroes—starting with Moon, the warrior.
Our new music video features four heroes saving the world. But who are they, really? This week we'll tell you, starting with MOON, the warrior!!https://t.co/372ZqVycHl#imwinningdc pic.twitter.com/cf6MUvQYCX

— The Doubleclicks (@TheDoubleclicks) February 25, 2019
"I'm Winning" will be featured on the Doubleclicks' next album, The Book Was Better, which is currently nearing its fundraising goal on Kickstarter.