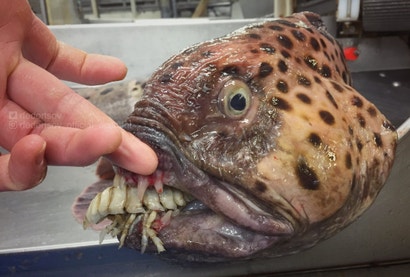 A horrifying fish discovered by deep-sea fisherman Roman Fedortsov (Photo:
Instagram
)
Back in 2016, we introduced you to the photos of Roman Fedortsov, a deep-sea fisherman who posts his discoveries to Twitter and Instagram. The monsters he pulls from the deep are horrifying, to say the least. So it seems like a good time to check back in with Fedorstov's social media.
I wonder how he's doing with his... OH DEAR GOD WHAT IS THAT.
Я предупреждал, что 18+!
I have told you that 18+ pic.twitter.com/Gvzw6yDUiM

— Роман Федорцов (@rfedortsov) April 1, 2018
Hello everyone! I will be at sea for 2,5 months. Without internet(((. See you in late autumn. I hope you will like my new photos!
Good luck!
Добрый день, друзья! Ухожу в море на 2,5 месяца. Интернета не будет.
Не теряйте меня.
Всем удачи!
???? от Алексея Ермашова. pic.twitter.com/PHpeBvdA7G

— Роман Федорцов (@rfedortsov) September 4, 2018
Unusual Cod from Norway ???????? pic.twitter.com/ihiBc2OX6F

— Роман Федорцов (@rfedortsov) September 5, 2018
My new photo of... EYE... well... and photo of sea creature too) pic.twitter.com/3OZv4TKREe

— Роман Федорцов (@rfedortsov) November 10, 2018
My another photo of #frilledshark. Ideal predator pic.twitter.com/E3xkebIyjN

— Роман Федорцов (@rfedortsov) May 10, 2018
Call of Cthulhu/Зов Ктулху pic.twitter.com/Q8VUBAUm4T

— Роман Федорцов (@rfedortsov) February 8, 2018
Rat fish pic.twitter.com/Sc0Oiwyi1A

— Роман Федорцов (@rfedortsov) February 15, 2018
When you drink to much coffee
Когда выпил слишком много кофе pic.twitter.com/s47oSEwY5A

— Роман Федорцов (@rfedortsov) January 5, 2018
The underwater space is impressive pic.twitter.com/EfeWJYTBuX

— Роман Федорцов (@rfedortsov) January 18, 2018
#Fish-rubber ball. #Рыба-резиновый мячик. #Fishing at #Norwegian_Sea pic.twitter.com/u72zaZplaE

— Роман Федорцов (@rfedortsov) September 15, 2017
I want this guy????))) Rare squid which appears to have human-looking teeth - although they are actually just flaps of skin
????Richard E Young pic.twitter.com/n6jC1qKftJ

— Роман Федорцов (@rfedortsov) October 9, 2017
Cheshire Cat. My Sea Edition. Чеширский кот. Моя морская версия. Съедобен. pic.twitter.com/w67vEZ0u4E

— Роман Федорцов (@rfedortsov) February 6, 2017
Dragons are disguised as fish) Драконы, которые замаскировались под рыбу) pic.twitter.com/vIFF1776f5

— Роман Федорцов (@rfedortsov) June 22, 2017
Starry night for You! pic.twitter.com/So9zNGN3QY

— Роман Федорцов (@rfedortsov) August 22, 2017
Teeth like fence)... Зубы как забор) pic.twitter.com/YST5BL1jYX

— Роман Федорцов (@rfedortsov) August 3, 2017
HELLBOY'S FISH pic.twitter.com/WVYYBp9lCK

— Роман Федорцов (@rfedortsov) August 10, 2018
One more strange fish. Еще одна странная рыба pic.twitter.com/ncowFAfTnj

— Роман Федорцов (@rfedortsov) August 8, 2017
Looks like cartoon dragon. No photoshop
Выглядит как мультяшный дракон. И никакого фотошопа pic.twitter.com/hWJW5f3PFY

— Роман Федорцов (@rfedortsov) December 30, 2017
No need to invent "Monsters"
Nature has already done it pic.twitter.com/rWCOkfWAdB

— Роман Федорцов (@rfedortsov) November 22, 2017
Total Recall. Sea Edition pic.twitter.com/HR6NQuIazx

— Роман Федорцов (@rfedortsov) May 19, 2018
Еще немного больших лун в ленту. Было дело-подняли #промысел #Атлантика #луна #фото_с_борта_судна pic.twitter.com/LmaFn42ovq

— Роман Федорцов (@rfedortsov) December 16, 2016
Another photo with crab). Keep the crab). Еще одно фото с крабом. Держи краба, в прямом смысле) pic.twitter.com/UZsfCV2pp7

— Роман Федорцов (@rfedortsov) March 20, 2018
Like a Boxer after the last round pic.twitter.com/NMTlO6wMoW

— Роман Федорцов (@rfedortsov) May 5, 2018
Wake up) pic.twitter.com/yhvKnLHZLI

— Роман Федорцов (@rfedortsov) September 16, 2017
#FrilledShark. Ideal weapon pic.twitter.com/4iMS93hFzm

— Роман Федорцов (@rfedortsov) November 15, 2017
Quick rise from the depths pic.twitter.com/XMs8PaMLya

— Роман Федорцов (@rfedortsov) December 17, 2017
My wife knows how I'm afraid of spiders. This is a spider from the depths pic.twitter.com/O1iWpgJHVV

— Роман Федорцов (@rfedortsov) December 23, 2017
New artifact for Stalker. Disgusting beauty from the depths.
It's alive
Новый артефакт для Сталкера.
Живая Омерзительная Красота со дна моря pic.twitter.com/gUOtDiTIuy

— Роман Федорцов (@rfedortsov) January 12, 2018
С такой мордой этой рыбе можно идти в политику)
Fish that is ready to go into politics) pic.twitter.com/HSBYsQZCzG

— Роман Федорцов (@rfedortsov) April 19, 2018
Макрурус pic.twitter.com/qwqNS2vS5K

— Роман Федорцов (@rfedortsov) April 8, 2018
Another strange fish pic.twitter.com/oicPsXQv0e

— Роман Федорцов (@rfedortsov) April 7, 2018
Teeth. Terrible teeth pic.twitter.com/3T8sNY6rLu

— Роман Федорцов (@rfedortsov) April 6, 2018
Sad ugly #fish pic.twitter.com/70bzSBFxFg

— Роман Федорцов (@rfedortsov) October 4, 2017
Natural born Killer pic.twitter.com/3lsBbxVdb0

— Роман Федорцов (@rfedortsov) October 21, 2017
Disapproving look pic.twitter.com/Ge9Q7HFKcg

— Роман Федорцов (@rfedortsov) November 16, 2017
Sad Grenadier. Грустный макрурус pic.twitter.com/MZNGypPoGB

— Роман Федорцов (@rfedortsov) April 4, 2018
Big squid once again. Strange creature.
Ничего необычного, просто большой кальмар.
P.S. Тем, кто не видел раньше pic.twitter.com/8EoVuY2Wum

— Роман Федорцов (@rfedortsov) February 19, 2018
RT if you like this fish! It's Remora, unusual creature from ocean. Ретвит, если нравится это морское создание. Прилипала, она такая необычная. pic.twitter.com/A6ZrMBwI0V

— Роман Федорцов (@rfedortsov) March 21, 2018
Squid's blue eye pic.twitter.com/bhjn6gd5ew

— Роман Федорцов (@rfedortsov) March 19, 2018
All Girls with 8th of March!
Всех Девушек с 8-м марта! pic.twitter.com/SXo8EJFNwN

— Роман Федорцов (@rfedortsov) March 8, 2018
This fish was catch in Greenland Sea. Does anyone know how this fish is called?
Эта рыба была поймана в Гренландском море. Кто-нибудь знает как она называется? pic.twitter.com/bKB6A4ktSd

— Роман Федорцов (@rfedortsov) March 1, 2018
Little pretty shark and my friend. Сегодня попалась такая вот красавица #фото_с_борта_судна pic.twitter.com/kCjWx9ylCf

— Роман Федорцов (@rfedortsov) January 15, 2017
It's like advertising... Advertising toothpaste)... Это как реклама... Реклама зубной пасты) pic.twitter.com/QcMRF1oODL

— Роман Федорцов (@rfedortsov) June 26, 2017
Red, Yellow... Green? Красный, Желтый... Зеленый? pic.twitter.com/wh0J0tWtse

— Роман Федорцов (@rfedortsov) May 4, 2017
Chimaera monstrosa, also known as the rabbit fish or rat fish
Химера, она же кролик, она же крыса, она же акула-призрак pic.twitter.com/LQYFwHT3ex

— Роман Федорцов (@rfedortsov) February 1, 2018
Hello from Hell... pic.twitter.com/HsWXkbmOyH

— Роман Федорцов (@rfedortsov) December 1, 2017
Nothing interesting... it's just inside a mouth of a leatherback sea turtle
Ничего интересного... Просто пасть морской черепахи изнутри pic.twitter.com/bDQF1mbeOT

— Роман Федорцов (@rfedortsov) July 29, 2018
Linophryne Brevibarbata,commonly called the "Bearded SeaDevils".This is a female????
Удильщик.Называют «Бородатый Морской Дьявол».Это девочка ???? pic.twitter.com/sIB6pkEQVL

— Роман Федорцов (@rfedortsov) November 24, 2017