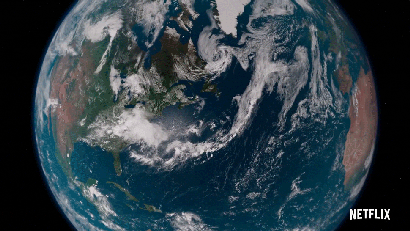 GIF: Netflix
No one will ever say there's too much Planet Earth. Sir David Attenborough, the voice of some of the greatest nature documentaries ever, has almost exclusively spent his career at the BBC. But on Thursday, Netflix announced that it has successfully delivered a big enough dump truck filled with money to sign the 92-year-old broadcaster for its own nature series, Our Planet.
In a press release, Attenborough said, "Our Planet will take viewers on a spectacular journey of discovery showcasing the beauty and fragility of our natural world."
The eight-part series, which debuts April 5, 2019, has been in the works for four years and was filmed in 50 countries with the help of 600 crew members. The company said that it "will showcase the planet's most precious species and fragile habitats, revealing amazing sights on Earth in ways they've never been seen using the latest in 4k camera technology."
Attenborough isn't the only one lending this Planet Earth clone legitimacy. Alastair Fothergill, the creator of both the Planet Earth and Blue Planet series, is directing. Fothergill said this is "our most ambitious endeavour to date."
With the announcement comes a teaser. Awe-inspiring music? Check. Sweeping vistas? Check. Unreal close-ups of wildlife? Check. The smoothest British voiceover in the business? Well, they wisely withhold that until he simply intones the words, "Our Planet, only on Netflix."