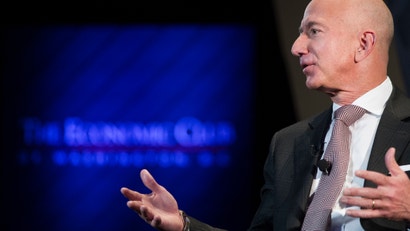 Photo: Cliff Owen, AP
Jeff Bezos, the richest man in modern history, finally announced the first recipients of his charitable Day One Fund. The initial round of grants total $134 million, representing about 1/20th of his proposed investment in the fund, and about 0.0006 per cent of his net worth.
The Day One Fund, named after Bezos's axiom to treat every day like the first day of business (the meaning of which, I'll admit, is totally lost on me), was formally announced in September as a $US2 ($3) billion commitment consisting of two parts: one for funding homeless services, and the other for building "Montessori-inspired preschools." The latter, dubbed the Day 1 Academies Fund—the website uses both "1" and "One" interchangeably in its nomenclature—still invites readers to "stay tuned for updates."
Bezos's $134 million charitable gift will be split between 24 organisations located in 16 states and Washington, DC. While there's no doubt groups like New York's Urban Resource Institute will make good use of a $7 million windfalls, it's worth remembering that Bezos bitterly opposed and succeeded in overturning legislation in Amazon's home city of Seattle to tax massive, successful businesses like his to combat homelessness.
Just last week, Amazon finalised its plans for two new, heavily subsidized headquarters, with the Queens, New York location impeding the construction of 1,500 units of affordable housing, and the overall impact of the project likely to push hundreds into homelessness.