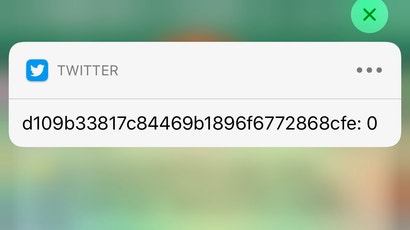 Screenshot: Charles Pulliam-Moore, Gizmodo
Huge numbers of Twitter users found their push notifications turned to useless strings of letters and numbers today, and so far no one — including CEO Jack Dorsey — seems to know why.
The bizarre notifications appear to be related to Twitter's newest iOS update, version 7.34, and have caused confusion for a large swath of the service. Some users even suspected these notifications might represent some form of phishing attack or data breach.
Thus far, the cause of these garbled messages is unknown, but the bug was confirmed this morning by Dorsey, who tweeted bluntly, "We're seeing this issue too. On it," accompanied by a screengrab of what appears to be his own non-functioning notifications stream.
We're seeing this issue too. On it. pic.twitter.com/pzjd6248gJ

— jack (@jack) October 16, 2018
Six minutes later, he added, "Should be fixed now. Working to understand why it happened."
We've reached out to Twitter for clarification on the cause of this issue but had not heard back at time of writing.