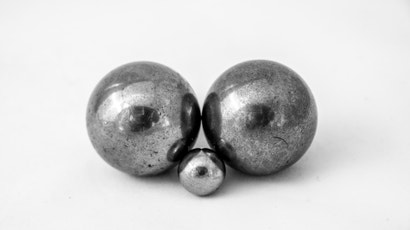 Image: LeoNeoBoy, Pixabay
The Seattle Police Department (SPD) was forced to shut down a road in West Seattle on Wednesday after a semi-truck unleashed its massive load of steel balls onto its streets. The 900g grinding balls, ultimately totalling a dumped load of 10t of steel, wreaked havoc on the neighbourhood and damaged several cars.
The Seattle Times reported Wednesday that the SPD and the city's Department of Transportation temporarily shut down part of Southwest Genesee Street following the incident. Seattle Police spokesman Detective Patrick Michaud confirmed the report in an email to Gizmodo, though while he referred to the objects as "just really big ball bearings" to the Times, he referred to them as "grinding balls" in correspondence with Gizmodo.
Video of the incident captured by neighbourhood resident Robert Duffy shows the steel spheres skipping down the street and hitting a car in the process. The video was shared to Twitter by journalist Morgan Chesky.
NEW VIDEO: This is why @SeattlePD has shut down 30th Ave SW and SW Genessee. Truck carrying metal balls loses its load, sending the two pound balls tumbling down hill. #KOMONews pic.twitter.com/zjxuY1UAfE

— Morgan Chesky (@BreakingChesky) October 18, 2018
As the Times notes, it's unclear how the load got loose, though the truck's driver Robert Herman told ABC News Radio-affiliate KOMO News that he did notify the authorities. Per KOMO News:
Robert Herman, who was driving the truck, said he had just picked up the heavy grinding balls [3.22km] away from where the spill happened. He was headed to Salt Lake City when his load began to pour out of his truck.

"I'm looking back and I see all these balls rolling down the street," he said.

Herman told KOMO News the balls spilled out because they weren't load and secured properly. [sic]
No injuries were reported, though several cars were reportedly damaged during the incident.
"I'm going to check the load better and make sure something like this doesn't happen again. They've got to have some blocks in there, some wood blocks, otherwise I won't take it unless they do it," said Herman, who was issued a citation for failing to secure the truck's load.
The SPD did not immediately return Gizmodo's request for comment about how the hell they managed to clean up 10t of loose steel spheres. We'll update if we hear back.