When Apple announced a bunch of new iPhones back in September without mentioning any other devices, things sort of felt incomplete. So now, nearly two months later, Apple is coming back around to finish the job with a number of hardware refreshes highlighted by a pair of new iPad Pros.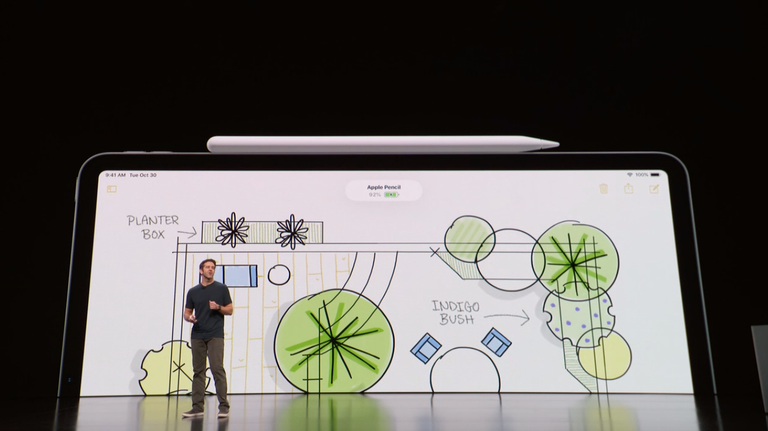 The new iPad Pro has arrived and it's slimmer than ever. It's also packed with some brand new features that were rumoured for months. Spoiler alert - say goodbye to the Lightning port. Here's how much it will cost in Australia and when you can get your hands on one.
Read more
Design and specs
The old iPad Pro is on the left, the new one is on the right. (Screenshot: Apple)
Like rumours have suggested for months, the biggest change on the new iPad Pros is the loss of the traditional front-mounted home button in exchange for slimmer bezels and Face ID. This move follows in the footsteps of the iPhone X and iPhone XS, and continues to pave the way for an all Face ID future from Apple, whether you like it or not.
That said, by reducing extra features on the front of the tablet, Apple was able to increase the iPad Pro's screen size from 10.5 to 11 inches on the smaller model, while also reducing the overall size of larger 12.9-inch version, which retains the same screen size as before.
Screenshot: Apple
Thankfully, even with the iPad Pro's new slimmer dimensions, Apple still had enough room to hide the tablet's Face ID sensors in its bezels, instead of sticking out into the display using some sort of notch.
Additionally, while the iPad Pro's new Face ID sensor is positioned across the top of the tablet when in landscape orientation, Apple claims you'll be able to unlock the device in portrait mode too without issue.
Inside, the new iPad Pros are powered by Apple's new A12X Bionic chip which boasts an 8-Core CPU and a 7-core GPU that the company claims is 35 per cent faster when performing single-core tasks and 90 per cent faster in multi-core workloads. And on the storage side, Apple says the new iPad Pros can be configured with up to 1TB of storage.
Screenshot: Apple
However, one of the most fundamental changes for long-time iPad users is that the new iPad Pros are ditching Apple's traditional Lightning port for USB-C. This has several advantages such as the ability to send out 5K video to external monitors, faster data transfer, and speedier charging.
But the real neat trick is that Apple says the iPad Pro's USB-C port can also be used to reverse charge other devices such as an iPhone (assuming you have the necessary USB-C to Lighting cable).
Sadly, it seems Apple's courage regarding headphone jacks (or lack thereof) has claimed another victim now that the iPad Pro's lone USB-C port will be its only option for connectivity.
Revamped Apple Pencil and Smart Folio Keyboard
Screenshot: Apple
If new specs weren't enough, the iPad Pro's stylus is also getting an update in the form of the new Apple Pencil. Now you'll be able to tap and swipe along the side of the pen to do things such as change fonts or stroke weights.
And when you need to recharge the new Pencil, you can attach it magnetically to the side of the iPad Pro, which also doubles as a way to store the Pencil when it isn't in use.
And as a final nod to Apple's continuous quests towards simplicity, the company has streamlined the Pencil 2's design by removing the thin strip of metal found on previous models.
Screenshot: Apple
Apple didn't forget about the iPad Pro's keyboard either, as the Smart Folio has been updated with a new Smart Connector on its back that uses 102 magnets to attach and communicate with an iPad Pro.
This should make connecting the keyboard a much simpler process, and with a new second angle of adjustment, it should be easier to use an iPad Pro in awkward environments such as an aeroplane tray table.
Unfortunately, it seems the new Smart Folio still doesn't have a touchpad, which means you'll still have to rely on an Apple Pencil for more precise movements.
Price and Availability
Screenshot: Apple
The new 11-inch iPad Pro starts at $1229, while the 12.9-inch iPad Pro starts at $1529. Pre-orders for both are live today, with shipments going out starting November 7.