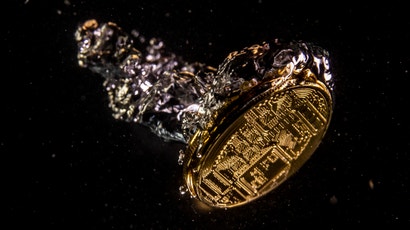 Photo: Dan Kitwood, Getty Images
The cryptocurrency markets saw a significant crash on Thursday, with just short of $US13 billion ($18 billion) in value wiped out over the course of just three hours, CNBC reported.
As of Thursday afternoon, cryptocurrency-tracking site CoinMarketCap listed Bitcoin as down 4.26 per cent, Ethereum down nine per cent, XRP down 9.95 per cent, and Bitcoin Cash down 10.54 per cent in the last 24 hours. Of all the major cryptocurrencies listed on the site's front page, a mere handful had gained value, with the vast majority posting losses.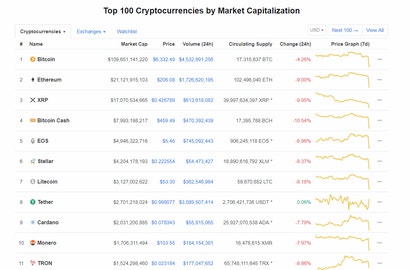 Screenshot:
CoinMarketCap
CNBC wrote:
At around 10:23 a.m. HK/SIN, bitcoin had fallen nearly 5 per cent to $6,303 [$AU8,911], while XRP and ethereum both tanked over 10 per cent, according to data from Coinmarketcap.com. It's not unusual to see bitcoin lead other digital tokens lower.

... Bitcoin, XRP and ethereum have not recovered to the record highs seen toward the end of 2017 and beginning of this year. On Thursday, bitcoin was more than 68 per cent off of its record high of $19,783.21 [$AU27,968], which it hit on Dec. 17 of last year.
Last month, Bloomberg reported that the MVIS CryptoCompare Digital Assets 10 Index had plummeted 80 per cent from its high in January, exceeding the "Nasdaq Composite Index's 78 per cent peak-to-trough decline after the dot-com bubble burst in 2000".
Markets.com's chief market analyst in London, Neil Wilson, warned the news agency that "It just shows what a massive, speculative bubble the whole crypto thing was — as many of us at the time warned".
Other analysts have issued similar warnings as of late, saying that the cryptocurrency market could be heading for an imminent implosion. As CNBC noted, the International Monetary Fund recently issued a report containing a dire advisory that continued rapid growth in cryptocurrencies could "create new vulnerabilities in the international financial system".
In the past year, US regulators such as the Securities and Exchange Commission have (slowly) begun cracking down on suspected fraudsters in the crypto market, while their overseas counterparts in places such as China have been far more aggressive.
Cameron and Tyler Winklevoss, the twin brothers who once sued Facebook founder Mark Zuckerberg before investing heavily in cryptocurrency, had their bid to create the first-ever bitcoin exchange-traded fund shot down by the SEC earlier this year.
As CNBC noted, regulators reviewing the Winklevoss proposal were particularly concerned that bitcoin was susceptible to fraud and market manipulation. Yesterday, Reuters reported that theft in the form of "hacking of exchanges and trading platforms" had risen 250 per cent in the first nine months of 2018 from the prior year, with total losses estimated at $US927 million ($1.3 billion).
The cryptocurrency boom-and-bust cycle is nothing new, and as The Wall Street Journal reported last month, seasoned cryptocurrency investors tend to "remain sanguine about the market's long-term potential, pointing to its short but turbulent history". (A common talking point is that anyone who bought in years ago when prices were far lower would still have made immense profits, though one might point out that a lot of other people were left holding the bag.)
A quick survey of posts on cryptocurrency's Reddit board and industry publications indicated that some are blaming a bad day in the stock market. Others pointed the finger at deliberate manipulation by a "whale", one of an estimated 1000 or so investors believed to collectively control 40 per cent of all bitcoins, or just a "sensationalist narrative" in the media for the downturn.
It is, of course, possible that this specific downturn is a blip on the radar, though do keep in mind that CoinMarketCap measured the cryptocurrency market cap at just over $US835 billion ($1.2 trillion) earlier this year. At the time of this writing, it stands at just above $US202 billion ($284 billion).
[CNBC]