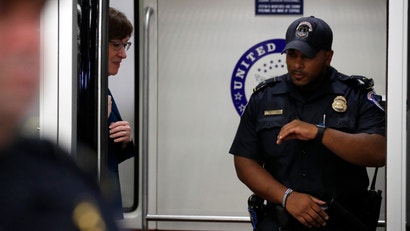 Sen. Susan Collins, R-Maine, stands in a Senate subway car with a Capitol Hill Police officer, on Capitol Hill, Wednesday, Oct. 3, 2018 in Washington. (Photo: AP)
The U.S. Capitol Police on Wednesday announced the arrest of a suspect accused in the online doxing of "one or more" U.S. senators.
Capitol Police identified the suspect as Jackson A. Cosko, a 27-year-old of Washington. The police did not indicate which U.S. senator, or potentially senators, the suspect has been charged with doxing.
Last week, personal information belonging to multiple GOP lawmakers, including Senators Mike Lee, Lindsey Graham, and Orin Hatch, appeared on their respective Wikipedia pages. The pages were edited to include the lawmakers' home address, and multiple phone numbers, including private mobile phone numbers.
The Capitol Police investigation was first reported by Gizmodo on Thursday.
The three lawmakers are supporters of Supreme Court nominee Brett Kavanaugh and were hearing his testimony, along with that of Dr. Christine Blasey Ford—one of the women accusing him of sexual misconduct—at the time the doxing occurred.
On Monday, similar details were posted on Wikipedia belonging to Senate Majority Leader Mitch McConnell and Senator Rand Paul, though the perpetrator responsible claimed to be a different person.
Cosko has been identified as an intern who worked for Rep. Sheila Jackson Lee, a Democrat of Texas. According to Politico, Cosko was fired following his arrest, per Lee's chief of staff, Glenn Rushing.
Politico further reports:
Cosko graduated from George Washington University in 2014 and previously worked for Democratic Sens. Maggie Hassan of New Hampshire and California's Barbara Boxer, who has since retired. Cosko most recently worked for Hassan as a "legislative correspondent/systems administrator," according to Legistorm.
Cosko has been initially charged with making restricted information public, making threats in interstate communications, unauthorised access to a government computer, identity theft, second-degree burglary, and witness tampering.
The investigation is ongoing and further charges may be coming, police said.
The senators' information also circulated widely on Twitter, thanks, in part, to a bot that retweets screenshots of Wikipedia pages edited from IP addresses assigned to the U.S. House of Representatives. The bot, CongressEdits, has been suspended by Twitter, though it's not clear if the suspension is permanent.