Tesla heads back to court later this month to continue a trial over allegations from the National Labour Relations Board that the automaker's management violated federal labour laws. When both sides meet in court, they'll duke it out over a new, potentially thorny legal issue that emerged in late August: a tweet from CEO Elon Musk.

The NLRB accused Musk last month of violating federal labour laws when he sent out a tweet in May that said his employees would lose their stock options if they organised a union. The agency asked a judge overseeing the ongoing case to allow the tweet allegation to be roped into it as well.
Tesla had sought to have the request dismissed. But on Tuesday, a judge sided with the NLRB, and said Tesla has to prepare to defend the NLRB's allegation that Musk's stock-option tweet violated the National Labour Relations Act by "interfering with, restraining, and coercing employees" involved in union activity protected under the law.
Nothing stopping Tesla team at our car plant from voting union. Could do so tmrw if they wanted. But why pay union dues & give up stock options for nothing? Our safety record is 2X better than when plant was UAW & everybody already gets healthcare.

— Elon Musk (@elonmusk) May 21, 2018
The NLRB's allegation followed an earlier complaint filed with the agency by the United Auto Workers, which has been attempting to organise a union at Tesla's California assembly plant.
"Moreover, the relevant facts indicate that the Charging Party [the United Auto Workers] conducted a union organising campaign for at least the past two years.," wrote NLRB Administrative Law Judge Amita Tracy, in an order dated Sept. 11.
"This alleged unlawful touches upon such activity. The General Counsel has not rested its case, and Respondent will have ample opportunity in its case-in-chief to address this additional allegation."
A Tesla spokesperson referred Jalopnik to a statement issued last month about the NLRB's tweet complaint.
"Elon's tweet was simply a recognition of the fact that unlike Tesla, we're not aware of a single UAW-represented automaker that provides stock options or restricted stock units to their production employees, and UAW organisers have consistently dismissed the value of Tesla equity as part of our compensation package," the spokesperson said.
"We fundamentally believe it's critical that all employees be owners of Tesla so that everyone is on the same team, with all sharing in the company's success. This has been highly successful and led to Tesla compensation being the highest in the auto industry."
Tesla had attempted to scuttle the NLRB's bid to consolidate the tweet complaint into the current case, and in one filing, takes to citing a string of tweets that, it appears, are intended to contextualize what Musk meant. The filing includes screenshots of tweets, too, underscoring the novelty of a labour dispute sparked by social media.

Tesla filing (Screenshot: NLRB)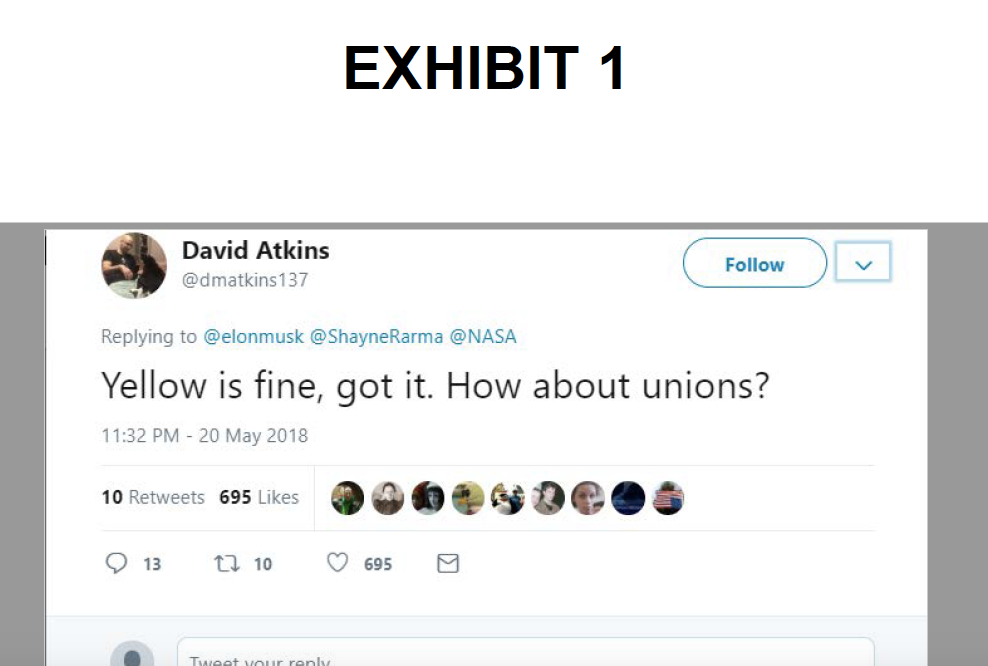 Exhibit 1: (tweet) (Screenshot: NLRB)
A NLRB spokesperson didn't immediately respond to a request for comment. The trial resumes Sept. 24.