Some war crimes are so bad they can literally be seen from space.
And having eyes in the sky is becoming one of the essential tools for groups trying to identify, document – and perhaps even prevent – human rights abuses across the planet.
Late last year Human Rights Watch's senior researcher in Iraq, Belkis Wille, heard rumours of an atrocity in northern Iraq. There had been a big surrender of Islamic State fighters and their families to Kurdish forces in the north. But only women and children ended up in the camps.
"The very obvious question was – what happened to all the men?" Wille says.
A street in eastern Mosul, in northern Iraq, in 2017.
There were reports they had been bused away – but months of research turned up no clues as to where they had gone. She heard of images and footage of executions, but no Kurds would break ranks until one person, "Nadim", told her he wanted to testify. He handed over explicit video clips and photos.
Wille sent them immediately to Josh Lyons, HRW's technical guru back in Geneva. Lyons dug into the metadata and was quickly able to determine when and where they were taken – and confirm there was no evidence the images had been doctored.
Usually, HRW would not rely on just one eyewitness. But because the imagery and analysis were so compelling, Wille headed out into the field, following the coordinates dug out by Lyons.
She drove around a flat, dusty plain, literally in circles, looking for clues. She found big piles of soil on a lake bed that is flooded every year. They were new.
"So then I called Josh from the location. I said 'I'm standing here, these are the coordinates, we are 40 metres away from where the photos were taken'."
Lyons tracked down satellite imagery from the spot when the video was taken and confirmed – to the day – that these mounds of earth had appeared at the same time.
It was a mass grave and compelling evidence of an atrocity.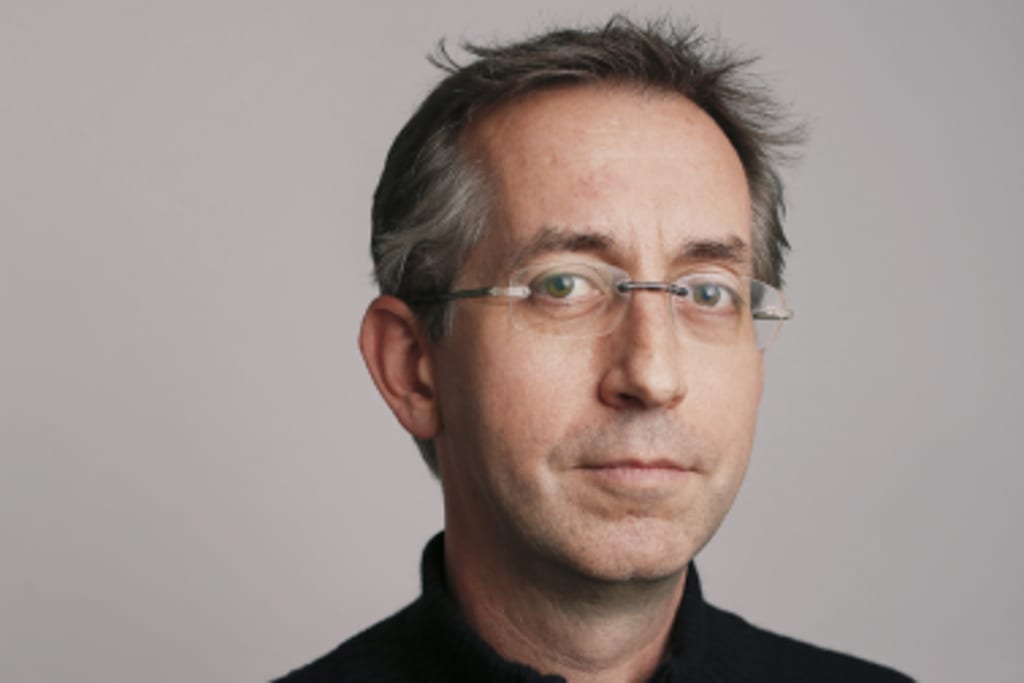 Lyons is used to this kind of call. Sometimes he anticipates it. When he heard news of an attack on Rohingya villages in Rakhine state in Myanmar last year, his first thought was "this is going to be a catastrophe", he says.
His second thought was: "I wonder what the weather is like there."
Lyons is the only investigator at HRW who doesn't travel into the field of operations. He sits at a desk in Geneva, working with digital photography analysis tools and a huge resource of satellite photographs.
This was a tough job. Myanmar was in the tail end of the monsoon season, covered in deep cloud and rain. He tapped all the satellites he could find, receiving endless, beautiful images of fluffy cloudscapes, hoping for a break.
Soon it came. Here and there were saturated pixels – bright spots – telltale signs of burning villages. As the monsoon cleared he built a database that grew and grew, cross-referencing it with a database of Rohingya village locations. It showed this was a widespread and sustained campaign of arson against Rohingya homes and villages, along a 100-kilometre arc, for two weeks.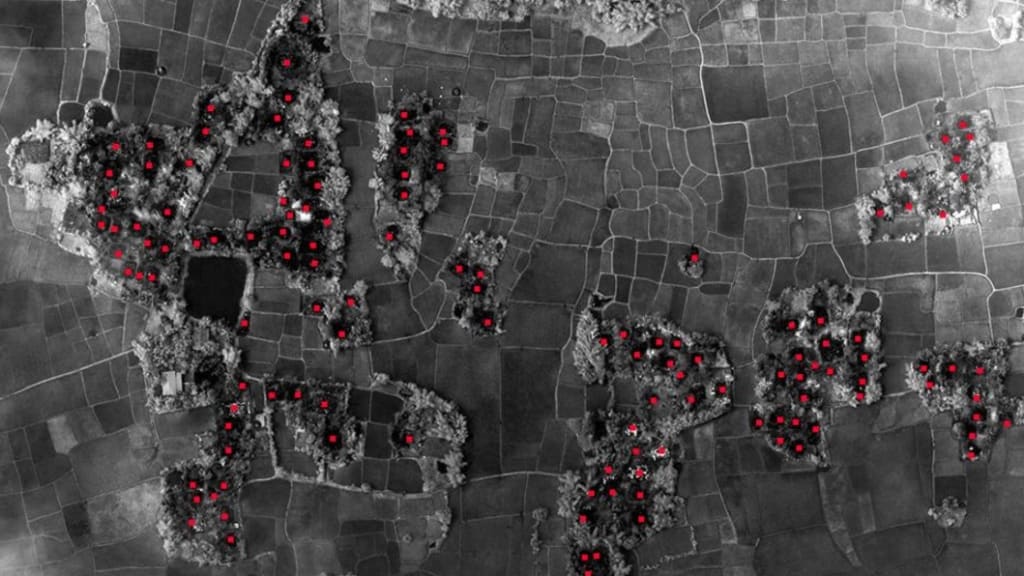 A satellite-based assessment by Human Rights Watch of the arson damage of villages in Myanmar.
Photo: HRW
HRW's researchers on the ground interviewed refugees fleeing into Bangladesh to give a human face to these burning pixels.
Akshaya Kumar, deputy United Nations director for HRW, says the Myanmar military will deny such attacks. "Before satellite imagery, they would say 'Burning, what burning, we don't see any burning. The Rohingya exaggerate, that's what they do'," she says. There was a culture of "dehumanisation and denial".
And international bodies including the United Nations were reluctant to challenge the military – they wanted to move on.
"It was about changing that narrative," Kumar says. "Being able to confront the denialism was really important."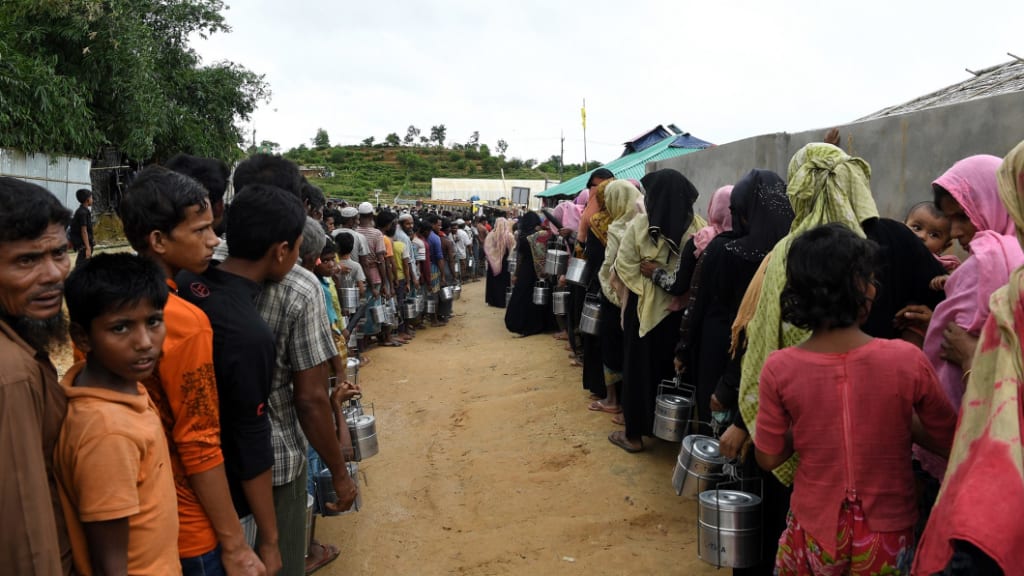 Rohingya refugees queue for a meal provided by an aid agency in Bangladesh.
Lyons has been with HRW since April 2012 – and he is about to expand from a one-man operation into a team of geospatial researchers.
He was previously at the United Nations doing similar work but he hit a "red line", he says. At the UN he felt political pressure to pull back in some cases: specifically, he felt he didn't have the backing to use his techniques to expose indiscriminate bombardment by the Syrian regime or to share the material with human rights bodies outside the UN.
"We had a lot of material on particular bombardments and there was a decision not to release it," he says. "That was professionally, morally and personally unacceptable to me."
So he moved to HRW, who brought him on as an experiment to see if he could help.
He could.
In recent years there has been a revolution in Earth observation, Lyons says. Hundreds of new satellites produce commercially available images of almost anywhere in the world in astonishing detail.
"The challenge used to be getting an image, now the challenge is trying to make sense of a firehose of data that is streaming down to Earth on an hourly basis," Lyons says.
Some satellites collect images of the whole world every day. Others – the higher resolution cameras – can be asked to take photos at a particular time and place.
There are limitations – often Lyons hears allegations of atrocities months later but can't find images to "rewind" in enough detail to really prove the HRW case. But he may still be able to identify smoke plumes or large-scale destruction from months before.
The most common use of Lyons' skills is evaluating the scale of village destruction, through bombardment or arson. He takes a series of images over days, weeks and months to show which villages were affected and when.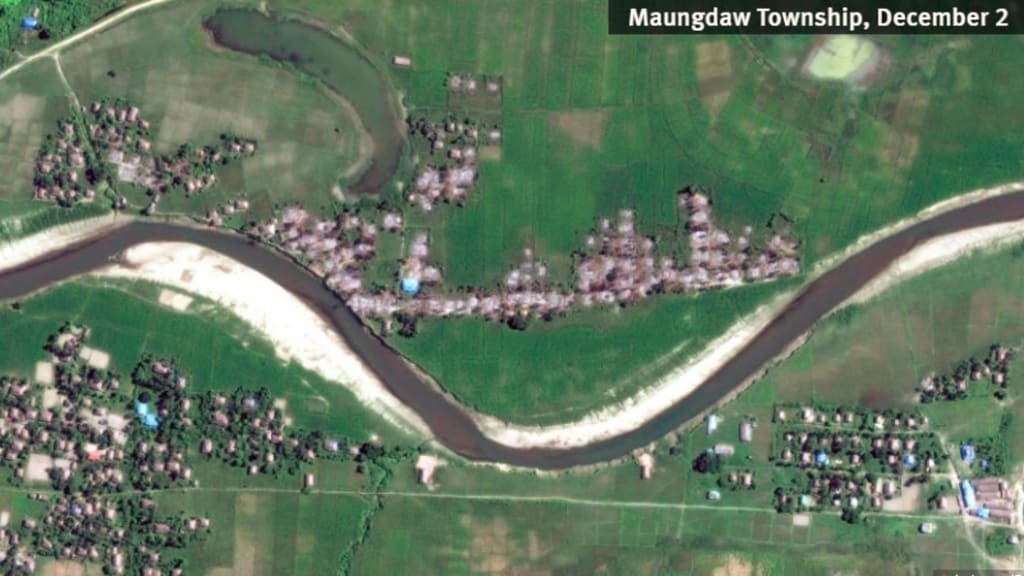 Satellite imagery shows the destruction of villages in Rakhine state in 2017.
This helps quantify tragedy at a scale impossible on the ground. It corroborates eyewitness testimony and disproves counter-claims from the perpetrators, who usually claim testimony was fabricated or the destruction came out of a conflict between armed groups rather than an attack on innocents.
On the horizon is a new leap forward, Lyons says: artificial intelligence could "data mine" tens of thousands of satellite images at a time to detect war crimes that would have required dozens of analysts and weeks of work.
It would be like having an automated human rights violation detector in space.
Lyons also does a lot of analysis of social media video and photos, to prove where and when they were taken, through metadata or by picking up on visual clues and cross-referencing with satellite imagery.
"When it works perfectly we have video that we have geo-located with satellite imagery, we have satellite imagery that captures the before and after of a particular event, and then we've got testimony related to the sequence of events," he says. "When this happens it's magical because it becomes a compelling body of evidence that is more or less fireproof."
It can be draining work. He's watched a lot of IS execution videos. "It is at times extremely distressing," he says.
He tries not to work on material that involves children, but sometimes it's unavoidable, and he feels obliged to the victims to do that work.
"You have to have very well-identified research objectives," he says. Before he watches the video he lists what he wants to work out: the time of day, the location, the number of perpetrators, any signs of digital manipulation. "Having that well-structured list of questions helps keep your mind focused. And knowing that by answering those questions as best I can, we will publish something on it and put pressure on the perpetrators and give some semblance of acknowledgement to the victims."
Wille has used Lyons' imagery to prove the scale of Kurdish destruction of homes and villages – proving it was a systematic campaign by the Kurdish regional government, leaving officials without a plausible comeback.
"You get to a point in the conversation where authorities stop trying to peddle excuses that don't work," Wille says. They are instead forced to conduct a serious investigation and respond to HRW's allegations.
"You're always looking to substantiate testimony in a way that's really irrefutable. When I'm able to walk into the prime minister's office and say 'I know these 10 villages were destroyed, I know who did the destruction because I have these 10 witnesses – and I'm able to give you photos that show you the scale and the exact dates when this happened' – that is really something that silences officials. They can't say much in the face of that."