For almost a decade, Macbook Pros have been my go-to notebook of choice. Being a tech reporter, I've also reviewed dozens of Windows laptops and, in my experience, they've almost always fallen short of Apple's offering for one reason or another.
But I have become increasingly weary of Apple's marginalisation of the Mac, and all too aware of the rapid strides Microsoft has made in recent years, that I've decided to take the plunge and make the switch to Windows.
Here's why.
Over the past few years, Microsoft has innovated some incredible machines.
Forced to buy the Touch Bar
Intel introduced its eighth generation of CPUs known as "Coffee Lake" designed for notebooks all the way back in November. The performance jump was so significant over the previous generation that the PC industry adopted the chips almost immediately. Except Apple. When Apple finally refreshed its Macbook Pros earlier this month, instead of updating the entire line it decided to upgrade only the Touch Bar models with the new chips.
This means that customers are forced to spend almost $1000 more for the Touch Bar model just so they can have a CPU that has become standard fare for a 2018 notebook.
Still, I would've given Apple a pass here if the Touch Bar was actually useful. It simply isn't.
When Apple first introduced the Touch Bar in 2016, the reception was split. One-and-a-half years later, the Touch Bar is almost universally regarded as nothing more than a flashy gimmick that actually gets in the way of even the most basic tasks. What used to be a single key press for adjusting the screen brightness or changing the volume is turned into a 2- or 3-step action with the Touch Bar.
The fact that Apple took so long to refresh its Macbook Pros also puts potential customers on the wrong side of Intel's release schedule. The chip giant is expected to drop its 9th-gen CPU as early as next month, potentially leaving new 'Pro' owners with outdated chips for another full year.
Faulty keyboards
After the recent refresh of the Macbook Pro, there was still one big question: did Apple finally fix the keyboard that spurred thousands of complaints, a mea culpa repair program, and several class action suits? One of the updates on the new Macbook Pro includes a 'third-generation' version of the much-maligned butterfly keyboard.
A recently leaked Apple service document obtained by MacRumors confirmed what many already suspected: the purpose of the redesigned keyboard is to prevent debris and dust from interfering with the sensitive keyboard mechanism that has proven to be so problematic for some users.
Despite this, Apple insists that the only real difference is that the updated keyboards are quieter, and is yet to confirm that they've solved the keyboard issue with new Macbook Pros. As someone who has had to have their 2016 Macbook Pro keyboard replaced twice now, that doesn't instil me with a great deal of confidence in the new models.
iOS-ification of the Mac
Once upon a time, Apple's desktop operating system was regularly updated with interesting features, but the progress has been incredibly small since the release of Yosemite all the way back in 2014. Bloomberg reported in late 2016 that Mac was getting "far less attention" within Apple, and it shows.
On July 10, 2008, Apple opened an online store selling iPhone applications. Ten years later, the app has changed daily life for billions around the globe.
In recent years Apple has been more interested in porting across half-baked features from iOS than listening to what Mac users actually want.
Airdrop, Apple's much touted feature of beaming files between the Mac and iPhone, is as unreliable as ever, while its two other recent features of note — Siri and the Touch Bar — actually hurt the experience of using a Mac.
Looking ahead to Apple's upcoming Mojave update, there's very little to get excited about for a long-time Mac user such as myself. Most worrying is Apple's decision to allow developers to port their iOS applications over to the desktop, which means the Mac platform could soon be inundated with lazy mobile apps.
Steam VR and HTC Vive support, which Apple integrated into the current version of macOS (High Sierra), has gone nowhere due to the company's continuing trend of equipping its Mac products with underpowered graphics. Meanwhile, Oculus dropped support for Mac altogether.
Microsoft has caught up
After the disaster that was Windows 8, Microsoft really turned things around with Windows 10. It mightn't be as refined as macOS, but it's more functional and is updated on a regular basis with useful software features.
The April update added a feature called 'Timeline' that makes it so much easier to go back to previous tasks and continue them on different PCs and mobile devices. Looking ahead to October with the Redstone 5 update, Microsoft will be adding a couple of noteworthy features such as 'Sets', which adds tabs to apps, allowing you to manage multiple apps and websites together under one tabbed window.
Meanwhile Microsoft's renewed interest in PC gaming with initiatives such as Play Anywhere, which lets users buy a game for Xbox and play it on Windows 10, in addition to native support for HDR and Dolby Atmos content gives Windows 10 more entertainment options.
But it's what Microsoft has been doing on the hardware front that's really won me over. It's designed several important innovative products over the last couple of years that have pushed the industry forward and forced its hardware partners to up their game in the process.
The Surface Book 2, for example, is not only one of the most impressive notebooks I've tested to date, but also the most versatile that I could recommend to almost anyone. While it's a powerful 2-in-1 built for serious work, it's just as fun off the clock with a capable graphics chip that had little trouble in chewing through my gaming backlog at respectable frame rates.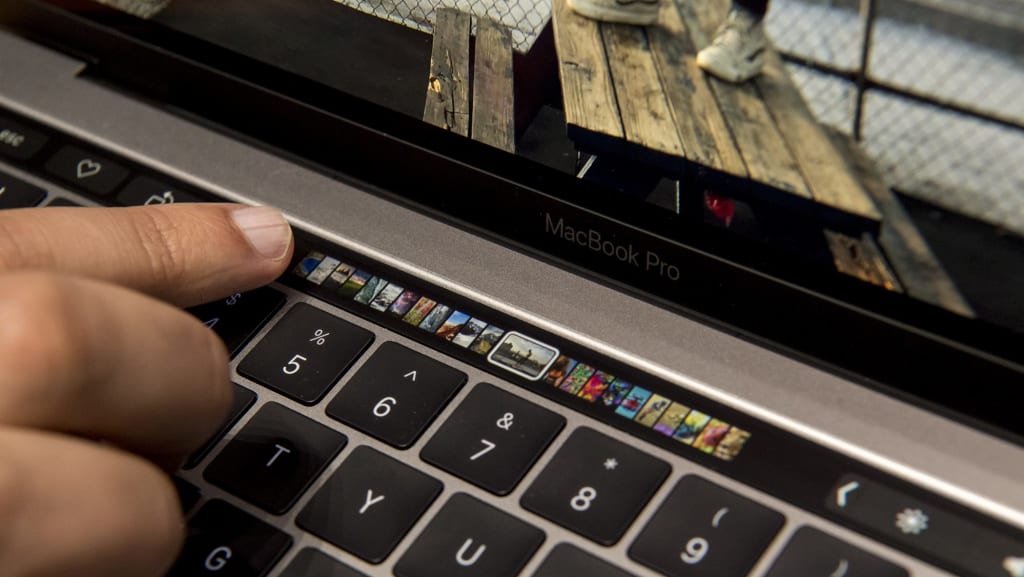 Goodbye Macbook: the new Pro machines just aren't enough.
It's impossible to deny that Apple makes some of the best computer hardware on the market, and many of its customers (myself included) are faithful for this alone. However, Apple's waning interest in the Mac means that recent Windows machines are surpassing Apple's once vaunted notebook line.
Microsoft's rapid update policy has given Windows 10 an edge over MacOS while its aggressive approach to producing attractive but powerful hardware is grabbing the attention of users that wouldn't have previously considered a Windows machine.
With Apple continuing to pitch the iPad as the computer for the mainstream, the future of the Mac seems more uncertain than ever. Apple's recent commercial where a child with an iPad asks "What's a computer?" suggests that the company is more than happy to cannibalise Mac sales to sell more iPads.
Products like the iMac Pro and the latest refresh of the Macbook Pro might be enough to keep some creative professionals on side, but for the rest of us who don't see the iPad as a suitable replacement, it's time to switch to Windows.