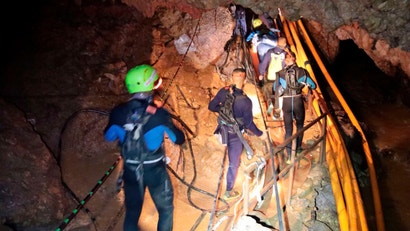 Rescue team members in the cave system in an undated photo.
Thai authorities announced on Sunday that they have successfully extracted four of the dozen boys who, alongside their soccer coach, have been trapped on a muddy ledge in the flooded Tham Luang cave complex in northern Thailand since June 23rd.
Per CNN, rescuers commenced with a daring plan to give the boys a crash course in diving techniques before escorting them through the winding, 2.5 mile (four kilometer) passage leading to the entrance of the submerged cave system. According to the New York Times, head of search operations and now-former provincial governor Narongsak Osottanakorn said that authorities had practiced the extraction for days and that the boys were accompanied by a team of 10 divers.
"They hugged the boys beneath them while they were wearing full-face masks," Narongsak told the Times.
CNN reported the four boys are alive and at nearby Prachanukroh Hospital; their exact condition is not known, though Narongsak referred to them as "perfectly healthy." The Times wrote some of the remaining members of the team have made progress along the route as well, though operations are currently paused as teams work to restock supplies. Per the BBC, the extractions are expected to recommence on Monday.
A former Royal Thai Navy special operations diver, Saman Gunan, died this week while on a mission to resupply the trapped soccer team with air — underscoring just how perilous the journey is. The trip through the passageway takes roughly six hours and, at points, is so narrow that divers have to remove their air tanks to carry them through openings.
Many of the boys do not know how to swim, common in Thailand, where drowning is a primary cause of mortality for children under the age of 15. Fortunately, per the Washington Post, conditions on Sunday left many parts of the cave system drier than they had been since rescuers made contact, with some formerly flooded areas able to be walked through.
While authorities have not been able to establish a phone line to the cave, the Times wrote, divers did carry handwritten letters to and from the boys and the coach to their families. 15-year-old Pipat "Nick" Poti wrote, "Mum, Dad, I love you guys, and little sister Toi. If I get out please take me to a pork barbecue place. I love you Dad, Mum."
In his letter, according to the Times, coach Ekkapol Chantawong wrote "I deeply apologise to the parents" — though the families had sent word earlier that they do not blame him for the incident.
Tesla and SpaceX CEO Elon Musk, who had dispatched a team of engineers to the site, had previously said he was building an oxygen-filled capsule from rocket parts to help extract the boys from the cave. Though it was not used in the rescue (and presumably won't be given that it has now been shown the boys can successfully navigate passages in dive gear), Musk posted a photo of their prototype to Twitter:
— Elon Musk (@elonmusk) July 8, 2018
Heavy monsoon rains are expected to continue in the coming days, meaning operations must recommence soon or risk the situation devolving.
"We have two obstacles: water and time," Narongsak told CNN. "This what we have been racing against since day one. We have to do all we can, even though it is hard to fight the force of nature."
[CNN]