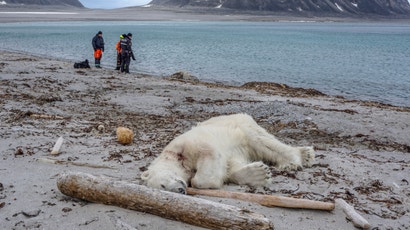 A polar bear shot on the archipelago of Svalbard, Norway, on July 28th, 20178Photo: AP
Guards for Arctic cruise line passengers shot and killed a polar bear on the island of Spitsbergen in the remote Svalbard region of Norway, resulting in condemnation on social media and swift apologies from the tour operator.
Per the Guardian, the Joint Rescue Coordination for Northern Norway tweeted that tourists on board the MS Bremen "landed on the northernmost island of the Svalbard archipelago, a region between mainland Norway and the North Pole known for its glaciers, reindeer and polar bears." (That's about 1,931km north of mainland Norway.) Negar Etminan, a spokesperson for German cruise operator Hapag Lloyd Cruises, told the paper that two polar bear guards had also landed on the island before one "was attacked by a polar bear and injured on his head," and the second guard shot the bear dead "in an act of self-defence."
In a statement on Facebook, the cruise line's story was slightly different and involved four guards, not two, and a failed attempt to "evict the animal" before opening fire:
The incident occurred when the four-person polar bear guard team, who are always on board for these expedition cruises as required by law, prepared for a shore leave. One of the guards was unexpectedly attacked by a polar bear that had not been spotted and he was unable to react himself. As the attempts of the other guards to evict the animal, unfortunately, were not successful, there had to be intervention for reasons of self-defence and to protect the life of the attacked person. The injured person was immediately provided with medical care and flown to a hospital with a rescue helicopter.
Hapag Lloyd Cruises spokesperson Moritz Krause emphasised that "We completely regret what happened" in an interview with the New York Times, but that no tourists were involved and that the company is "very aware of its responsibility when travelling in environmentally sensitive areas and respects all nature and wildlife."
Photos of the slain bear circulated widely online, with predictable anger for the tour operators. Wildlife conservationist Jeff Corwin told CNN the incident was "tragic" and "When you are in this ecosystem as a tourist, as an explorer or as a scientist, you have the responsibility to follow the protocols to ensure that you stay safe and that you don't interfere with the wild behaviour of polar bears."
Tourism...again proving itself to be harmful to wildlife https://t.co/1ebeLpx7x7

— Prof Adam Hart (@AdamHartScience) July 29, 2018
According to the Guardian, "Arctic tourism has risen sharply in the last few years" and it is now entering its most active annual phase. Alongside shipping, Arctic tourism is sometimes considered a threat to wildlife, as the region is becoming more temperate and thus amenable to human traffic. The Arctic is also warming at twice the rate of the rest of the globe, according to the National Oceanic and Atmospheric Administration, which has produced a glut of tourists eager to see it before it loses its pristine nature. Rising contact between humans and polar bears has often resulted in bad news for the latter, with Reuters reporting in 2016 about a growing number of polar bear shootings.
Polar bears are not doing well in general right now, with climate change reducing arctic sea ice at a rate of 14 per cent per decade and leaving the animals with a shrinking habitat and less access to prey like seals. A study released earlier this year found that many polar bears seemed to be struggling to maintain weight, while another found that bear ranges were becoming isolated from one another, raising the odds of local extinction. According to the IUCN Red List, polar bears are currently considered vulnerable with a very rough estimate of 26,000 in the wild, though it is gauging their abundance with any accuracy is considered "expensive and difficult because the animals often occur at low densities in remote habitats."
However, they are very dangerous predators, and with 3,000 on the island, the Norwegian government says they outnumber people, per CNN. The Norwegian Polar Institute urges everyone visiting Svalbard to carry weaponry "such as a big-game rifle and ammunition for self-defence, flare gun or an emergency signal flare pen for driving off polar bears and tripwire with flares for camping."