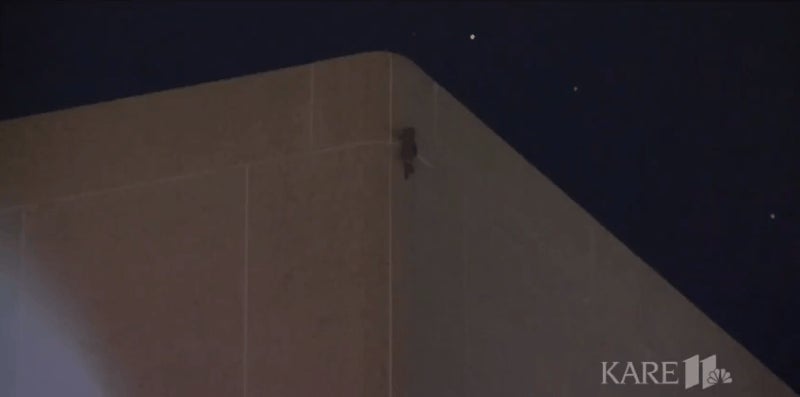 The MPR Raccoon has safely made it to the roof. And if you have no idea what I'm talking about, you missed quite a day on Twitter yesterday.
The moment that the MPR Raccoon triumphantly reached the top of St Paul's UBS Tower at around 2:50AM local time in Minnesota. GIF: KARE 11
Twitter users were captivated yesterday while watching the perilous journey of a small raccoon as it scaled a 23-storey office tower in St Paul, Minnesota. Local reporters at Minnesota Public Radio dubbed it the #MPRraccoon, and many people went to bed last night unsure of the little critter's fate.
We are pleased to report that MPR Raccoon is safe and has been captured on the roof! Thankfully the poor raccoon isn't pulling any more Spider-Man hijinks. Or Mission Impossible hijinks, as it were.
What you've all been waiting for... #MissionImpossible #MPRraccoon ???? @kare11 @ElleryTV @DPet_KARE11News @timnelson_mpr pic.twitter.com/SZKNem45yf

— Alicia Lewis (@alicialewisKARE) June 13, 2018
The raccoon was first spotted on Monday local time in downtown St Paul near the Town Square building just a couple of storeys up. On Tuesday, maintenance workers tried to coax it down, but the raccoon became frightened and started scaling the side of the nearby UBS Tower.
My picture from the 13th floor around noon. Hope he makes it down OK! #mprraccoon pic.twitter.com/gfVWysn9iO

— Ben (@Johnson88Ben) June 12, 2018
Office workers in the UBS building started posting photos on Twitter to provide updates as they saw the raccoon scale the skyscraper. The animal was clearly hungry and tired, but kept climbing anyway.
By evening, the journey of the MPR raccoon had become an internet sensation with write-ups around the globe. Social media users had become heavily invested in the fate of this little guy.
He is on the ledge on our floor. He seems to be doing well. We've been told that the building has live traps on the roof and are trying to get him to go up there. We all just have to keep our fingers crossed.. #mprraccoon pic.twitter.com/HY1PkuFKz0

— Paige Donnelly law (@donnelly_law) June 12, 2018
Local TV news station KARE11 in Minnesota started streaming the raccoon's movements, and MPR was constantly updating its story throughout the day on Twitter and Facebook. By the time it had reached the 23rd floor, people weren't sure if it was going to make it to the roof.
As MPR's Tim Nelson reports, animal control officers put a live trap on the roof with aromatic food so that once it made its way up there it could be captured and safely brought down to the ground.
As you can see from the livestream video by local TV news station KARE 11, MPR Raccoon reached the top of the building at around 2:50AM local time in Minnesota. But we're still waiting for any word on what condition the raccoon might be in.
We're standing by to hear from animal control officials in St. Paul to see if the #mprracoon found the cat food and live trap waiting for it atop the 23-story office tower the animal finally climbed atop just before 3A CDT.

— Tim Nelson (@timnelson_mpr) June 13, 2018
The raccoon gave people something to root for, but it sure was a perilous journey. If something bad happened to that raccoon now I think we'd all just have to crawl back into bed for the day.
UBS Plaza has since tweeted a photo of MPR Raccoon. The little guy is safe!
After a delicious meal of soft cat food, #mprraccoon has been caught and will be picked up by Wildlife Management. Goodbye friend! pic.twitter.com/twcBPpjOQk

— UBS Plaza (@ubs_plaza) June 13, 2018
What a relief!
Apparently the raccoon remained on top of the roof for a short time, enjoying a meal after its difficult journey.
RACCOON UPDATE: it has been trapped, its eating, still on top of tower, will be released "somewhere safe" by private Brooklyn Park contractor Wildlife Management Services

— Tad Vezner (@SPnoir) June 13, 2018
MPR reporter Tim Nelson has some more updates from UBS Tower:
Here is the #mprraccoon being picked up by technicians from Wildlife Management Services just now. Taken away by truck to an "undisclosed location." pic.twitter.com/x0iMZhW7zd

— Tim Nelson (@timnelson_mpr) June 13, 2018
Here's the #mprraccoon taking the easy way down, in a UBS Plaza freight elevator. pic.twitter.com/Tj8hDlXWMB

— Tim Nelson (@timnelson_mpr) June 13, 2018
Here she goes, the #mprraccoon with an extra can of cat food for the ride. pic.twitter.com/QGiwGDUtxp

— Tim Nelson (@timnelson_mpr) June 13, 2018