Like many of us, Drew Pearce misses the smaller, high-concept science fiction films of the 1980s such as RoboCop and The Terminator. But instead of just complaining about it, he went out and made one of his own.

Jodie Foster runs a futuristic hospital for criminals in Hotel Artemis. And yes, that's Jeff Goldblum and Zachary Quinto, too. Photo: Matt Kennedy (Global Road Entertainment)
The film is called Hotel Artemis and it will be out in the US June 8 (an Australian release has not yet been confirmed). Pearce, best known for co-writing Iron Man 3 and Mission: Impossible – Rogue Nation, wrote and directed the film, which is his feature directorial debut.
No, there aren't any killer robots in it, but it's a futuristic thriller – set in a hotel for criminals in Los Angeles that's about to have its worst night ever, with a 65-year-old nurse at the centre of it all.
"I wanted to [make] the kind of movie that inspired me when I was young," Pearce told us. "I feel like growing up I would watch RoboCop, Repo Man, The Terminator, The Warriors and Subway, and I wouldn't really differentiate between like, 'Oh, this is an indie movie,' 'This is a studio movie,' 'This an art house movie.' They all just seemed like specific, authored worlds, with really small stories in a much bigger universe. And that's one of the things I wanted to do with Artemis: The idea of a universe, but Artemis is the keyhole through which you see it."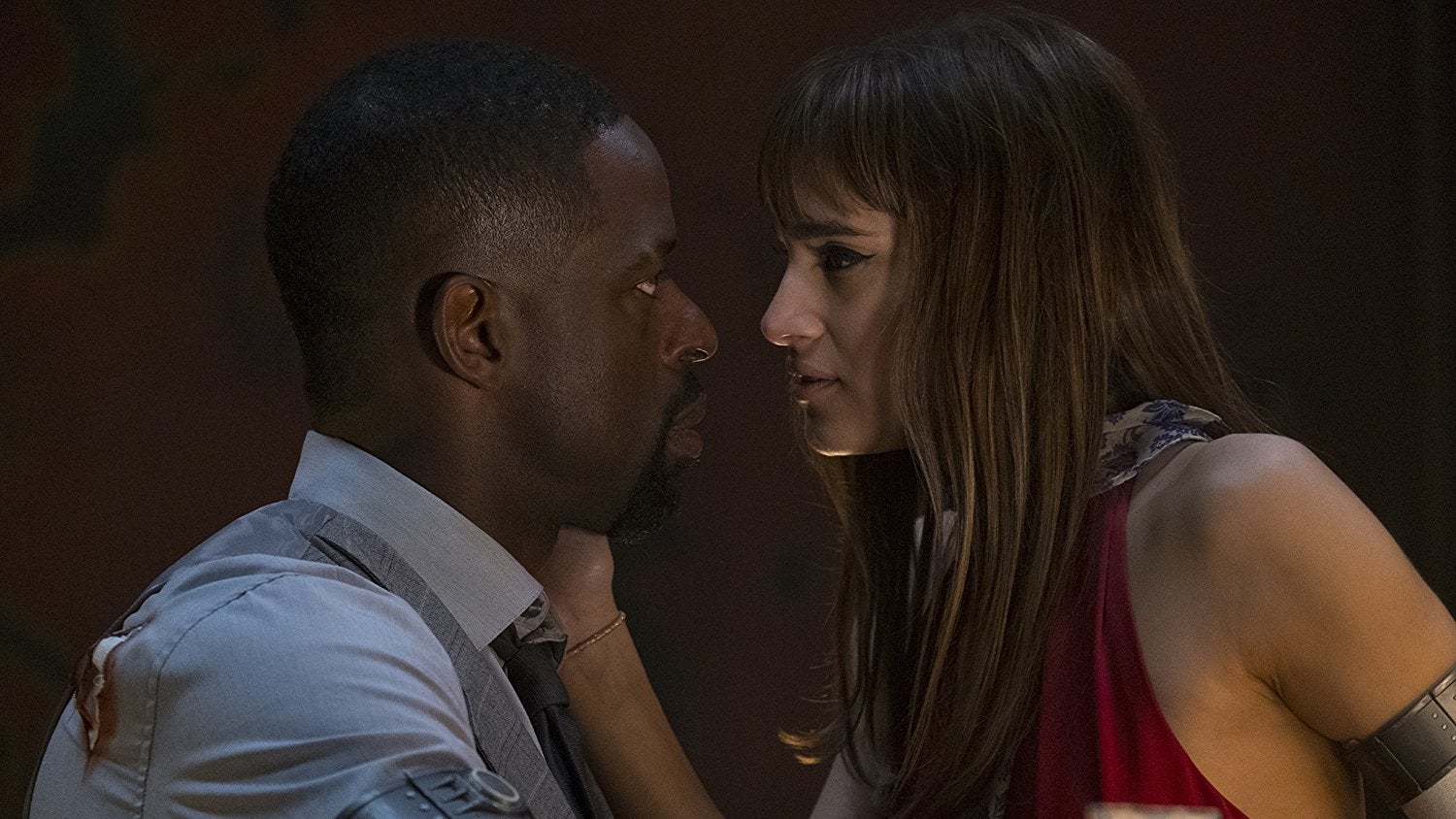 Sterlking K. Brown and Sofia Boutella in Hotel Artemis. Photo: Matt Kennedy (Global Road Entertainment)
Despite a "relatively low" indie budget, Hotel Artemis looks pretty damn big, in large part due to its insane cast. Jodie Foster stars as the nurse, leading a cast that also includes Sterling K. Brown, Dave Bautista, Sofia Boutella, Jeff Goldblum, Zachary Quinto, Brian Tyree Henry and Charlie Day, just to name a few.
"I got lucky," Pearce said. "A bunch of incredible people responded in a big way to the script." The first aboard was Foster, whose representatives contacted Pearce about the role before Pearce was even aware the script had been sent out. "We hadn't taken the script out but somehow Jodie got her hands on it," he said. "How? She refuses to tell me."
After that, Pearce cast Brown, shortly before the actor's never-ending deluge of awards for The People v. O.J. Simpson and This Is Us. Atlanta was only three episodes in when he cast Henry. In fact, Pearce believes that Bautista, who plays the nurse's right-hand man Everest, was the biggest name at the time because of Guardians of the Galaxy.
"He came on board because he'd never been offered a role that allowed him to do the stuff that he does in Artemis," Pearce said. "And I suspect because he hadn't been offered a ton of roles that were essentially a double act with twice Oscar-winning Jodie Foster."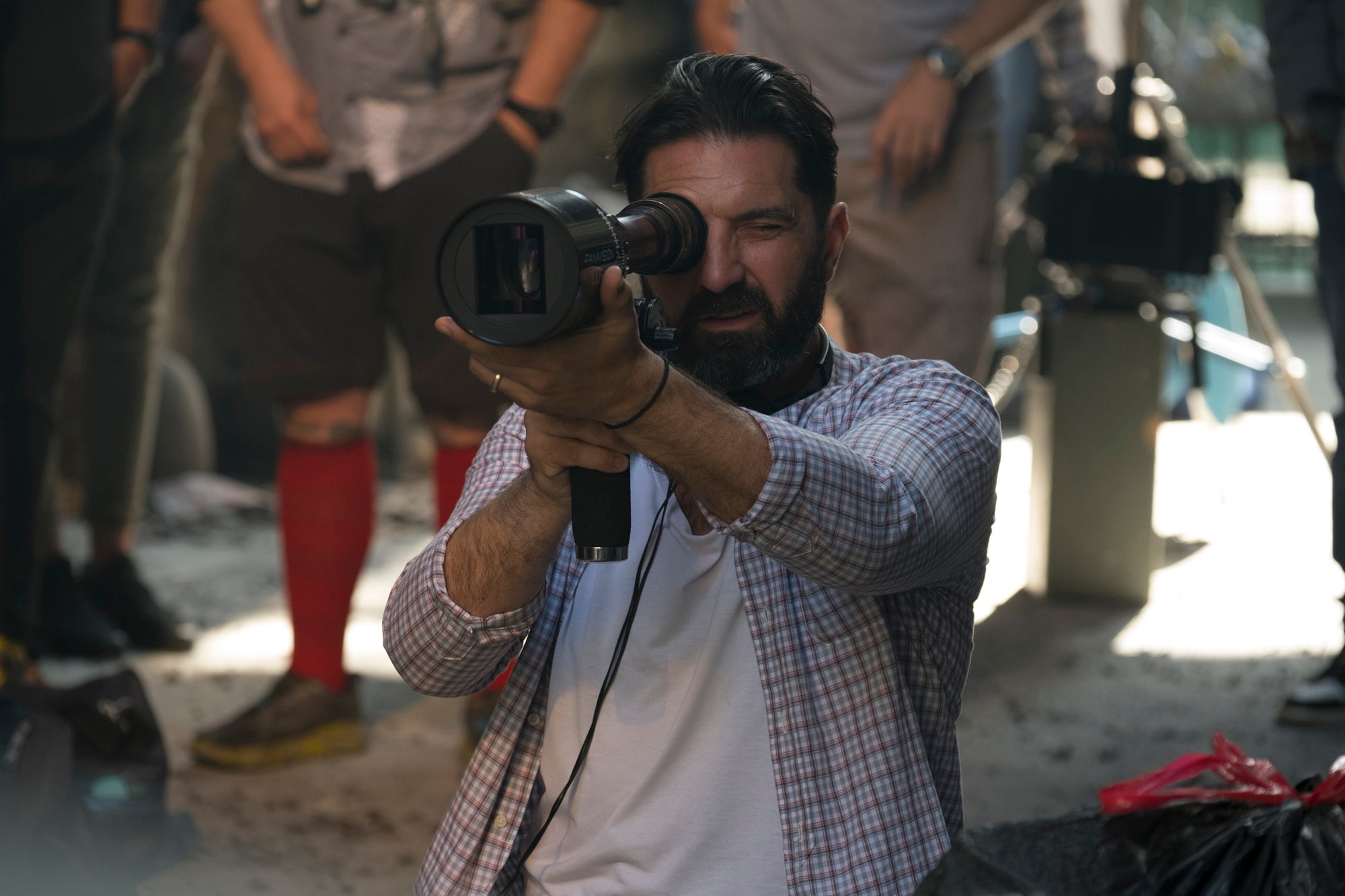 Drew Pearce on the set of Hotel Artemis. Photo: Matt Kennedy (Global Road Entertainment)
But a movie where an aged-up Foster plays a nurse in a hotel for criminals doesn't exactly sound like a sci-fi film, right? Pearce explained he leaned into sci-fi with Hotel Artemis for two reasons.
First, it was practical. To create the right level of tension, the film had to be set in one night. But the characters also had to be injured enough to warrant some stakes and a trip to the hospital. Usually, super injured people are bedridden, but sci-fi gave Pearce a way around that.
"I can't do a movie set over the course of one night where people are in just total pain and unable to stand up the entire time," Pearce said. "I need these people to be ready and able to stand up and run around a bit." So he talked to a team of futurists about new or likely future tech we might be using in 10 years that could heal bullet wounds and other traumas much, much faster, to get his characters up and moving in this high-tech hospital.
The second reason for the sci-fi elements was to distinguish the setting from society today, where cheering for criminals may not feel right.
"I wanted it to be set a little bit removed from the reality of the world we live in," Pearce said. "I wanted the ability to enjoy it on a level of fun and pop so… if you're going to do a hospital for criminals and they're all bad guys to some degree, if you distance that from the moment you're in, even by a little, then I think it allows you to suspend your disbelief."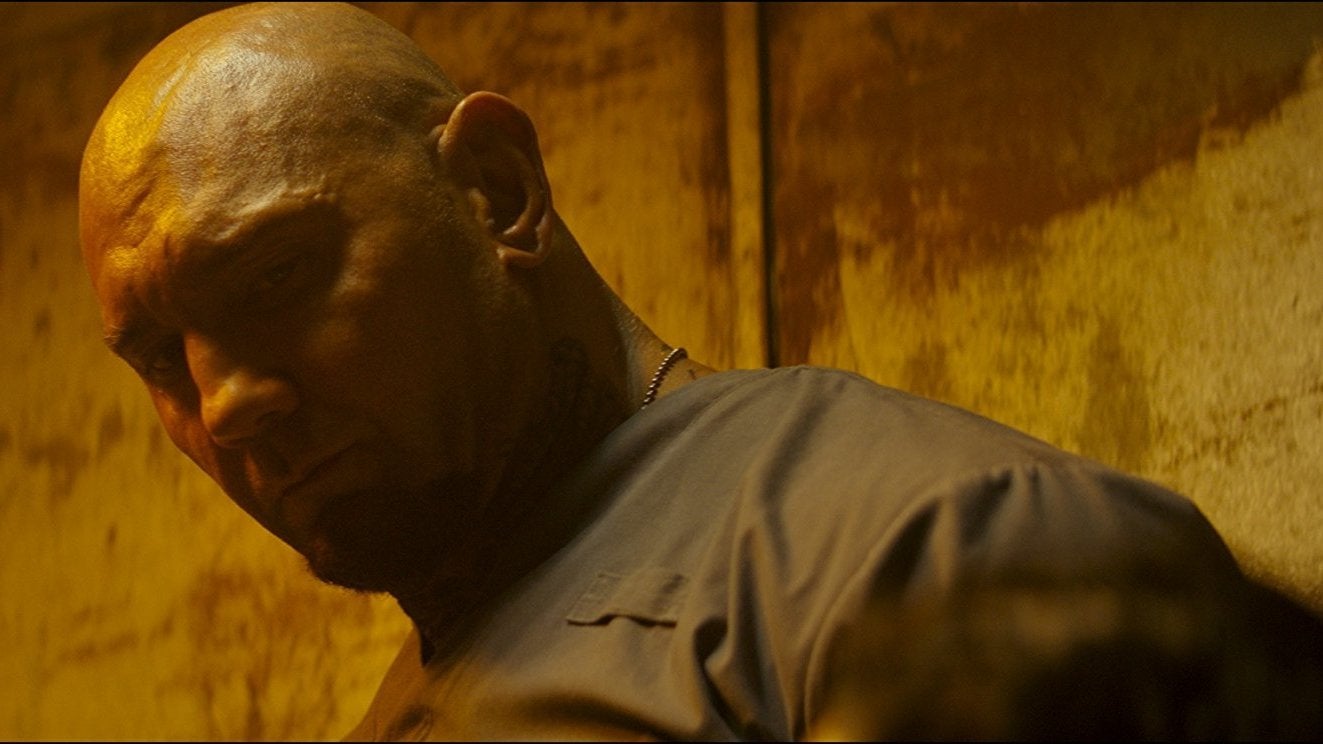 Dave Bautista looks down on the rest of this article. Photo: Matt Kennedy (Global Road Entertainment)
One place Pearce himself didn't suspend disbelief, though, was in the big picture of Hotel Artemis. Yes, he has a big cast and a high concept story – but this is a smaller movie released during blockbuster season. The only way he felt it could be its own thing was if he was very, very honest with the film's intentions and stayed true to his vision.
"We never took it to a major studio," Pearce said. "Because, knowing them all as well as I do, I feel like the conversation would be, 'Good news. I've got a movie about a hospital for criminals set in the near future in LA.' That sounds exciting, what else? 'The lead is a 65-year-old woman.' That wouldn't have stuck."
So he made the movie on his own with a very simple, very unique mantra in mind. "When you're making a studio movie, there are certain aspects of it where you have to make a movie everyone thinks is OK as a base level," Pearce said. "And, with Artemis, I wanted to make a movie that would be one person's favourite movie. That's literally been the guiding principle the whole way through. It's why the movie is somewhat eccentric. Because I wanted it to be."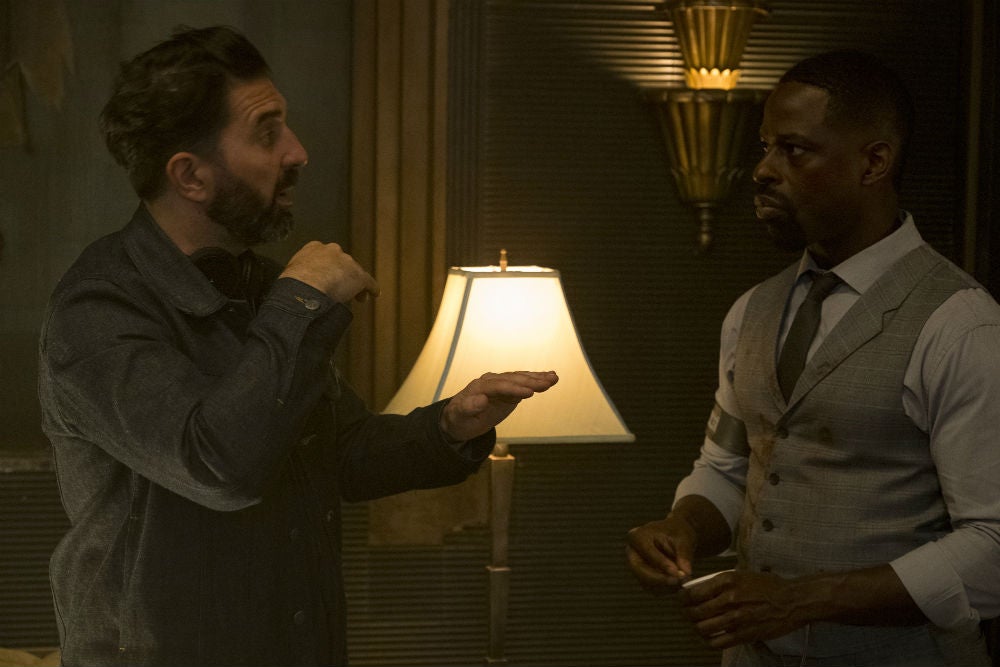 Pearce directing Brown in Hotel Artemis. Photo: Matt Kennedy (Global Road Entertainment)