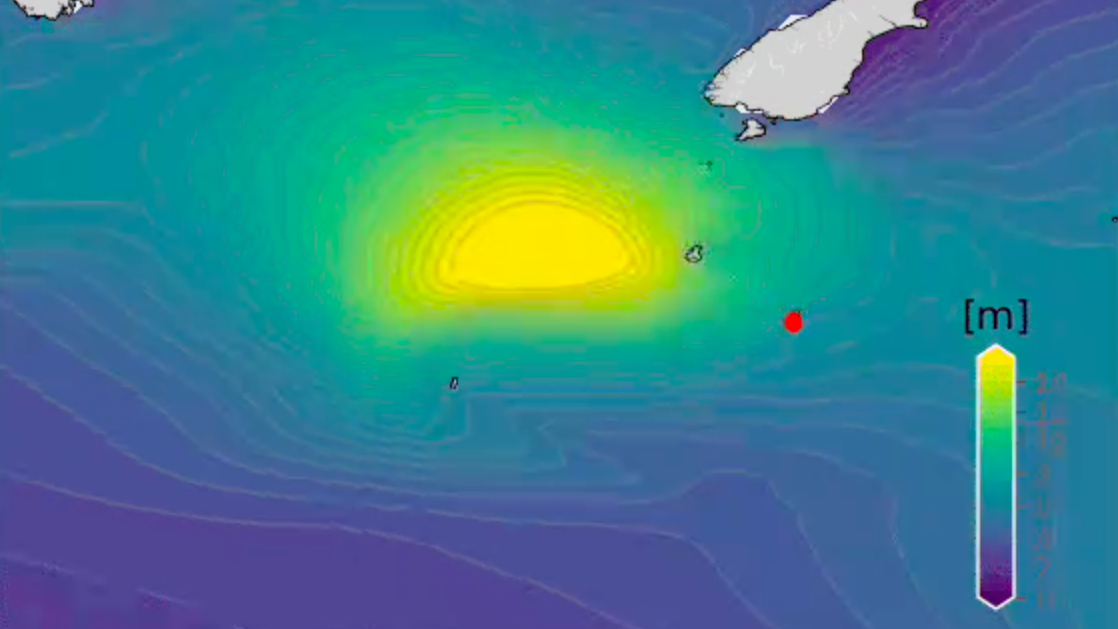 At 23.8m tall, and churned by a fierce storm, it's the largest wave ever recorded in the southern hemisphere, New Zealand scientists report.
Simulation of significant wave height passing over South New Zealand. Image: MetOcean Solutions
"This is a very exciting event and to our knowledge it is largest wave ever recorded in the southern hemisphere," said Tom Durrant, a senior oceanographer with MetOcean Solutions, in a statement. "So, this is a very important storm to capture, and it will add greatly to our understanding of the wave physics under extreme conditions in the Southern Ocean."
The wave was recorded on the night of May 9 by a MetOcean buoy, which is currently floating in the Southern Ocean near Campbell Island about 692km south of New Zealand. The wave reached a height of 23.8m as a storm rolled through the region. The previous record, also recorded by MetOcean Solutions, was a 19.4m wave that rolled through the same patch of ocean last year.

Simulation of the storm: Wind and mean sea level pressure (left) and significant wave height (right) passing over south New Zealand. GIF: MetOcean Solutions
The wave was detected by a single solar powered buoy, which samples wave conditions for 20 minutes every three hours. The intermittent sampling is done to conserve energy. During the recording period, the height, period and direction of each wave is measured, and the data is transmitted to a receiving satellite.
Oceanographers with MetOcean Solutions, a subsidiary of the state-owned Meteorological Service of New Zealand (MetService), believe the peak heights of waves were even higher during the storm. Their wave forecast predicted individual waves reaching heights of 25m.
The Southern Ocean is one of the least-studied areas on Earth. Its persistent and energetic winds make it an "engine room" for wave development, producing waves that traverse the globe, including the iconic surfing waves that reach the California coast.
The May 9 storm was generated by the easterly passage of a deep low-pressure system, and accompanied by winds reaching 65 knots (120km/h). These low-pressure storms are typical in the Southern Ocean, and they can strike at any time of the year, unlike in the northern hemisphere where similar storms only happen in winter.
When measuring waves, oceanographers use a metric called "significant wave height". It's a standard value that characterises sea conditions, and it takes the average of the highest third of a measured wave. The May 9 storm produced a significant wave height of 14.9m, which is now a record for the Southern Ocean.
But it isn't the biggest ever recorded; that distinction goes to a 2013 North Atlantic wave with a significant wave height of 19m.