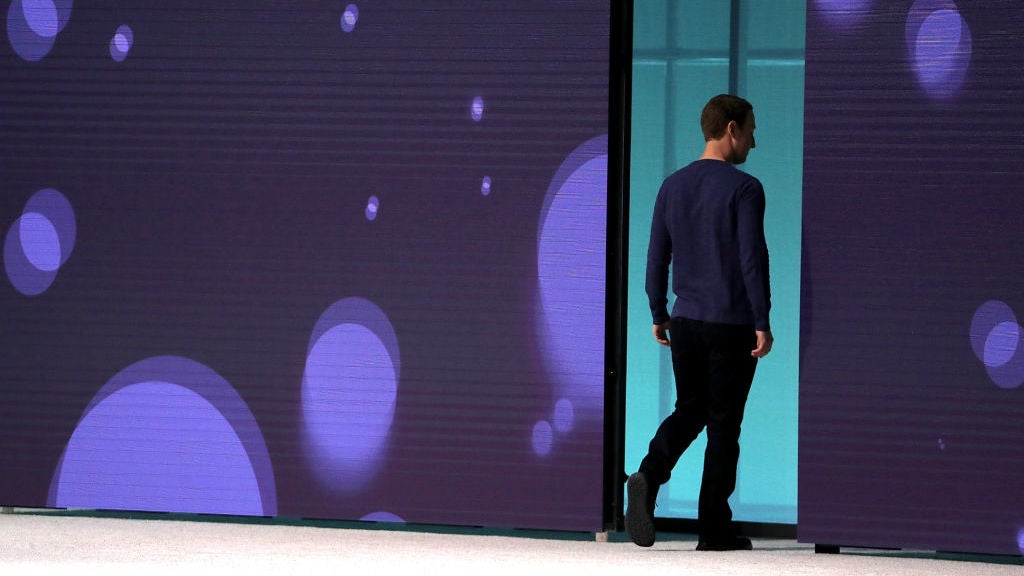 After Mark Zuckerberg appeared before the US House Energy and Commerce Committee last month, Facebook braced for another barrage of questions, this time to be delivered in writing. Asked about everything from potential legislation to claims that Facebook had censored conservative outlets, Zuckerberg repeatedly stalled, saying he'd follow up with his team to get real answers.
Photo: Justin Sullivan (Getty Images)
As he concluded the April 11 hearing, Rep Greg Walden, the committee's chair, reminded the members of the committee's rules: Ten days are allowed to compile any lingering questions and submit them to Facebook. Facebook, he said, would then have 10 days to respond.
But more than a month has now passed and, according to Facebook, it's still waiting to receive the follow-ups. Meanwhile - even though lawmakers have stressed the importance of correcting Facebook's errors before the election - four state primaries have come and gone.
The urgency with which lawmakers approached Zuckerberg's interrogation appears to have depreciated once the cameras were turned off, despite claims that America's security and the integrity of its democracy was at stake.
Yesterday the House Intelligence Committee released more than 3500 examples of Facebook and Instagram ads purchased by Russian operatives during the 2016 US election; as a patchwork, the material reveals a foreign power deeply cognisant of the political, religious and racial differences that fuel discord among American voters.
Exploiting this friction to amplify feelings of resentment and acrimony, with an eye toward further polarising the US population, was chief among the Kremlin's goals. Another aim, according to US intelligence assessments, was to influence the outcome of the vote.
More than two weeks ago, Democrats on the House Energy and Commerce Committee compiled a 59-page questionnaire to further their understanding of the steps Facebook is presently taking to prevent a repeat of 2016.
The questions also touch on widespread concerns over the misuse of Facebook user data, which led Cambridge Analytica to close its doors for good late last month. (The consultancy, founded by hedge fund magnate Robert Mercer, received more than $US5 million [$6.6 million] from the Trump campaign in 2016 alone.)
But the Democrats' questions have yet to be delivered, and a committee spokesperson told Gizmodo on today that the Republicans are still in the process of finalising theirs. Next week, primaries will be held in Idaho, Nebraska, Oregon and Pennsylvania; the following week, Arkansas, Georgia and Kentucky. Time is running out.
Known as "questions for the record", follow-ups to oral testimony from witnesses such as Zuckerberg are generally kept confidential until after a response is produced. It's unclear why the Democrats have already published theirs online - by mistake, perhaps, or to put pressure on the majority, for whom this entire debacle remains a sore spot, the leader of the Republican party being the primary beneficiary of the Russian games.
It seems that members of the Democracy Reform Task Force, a group made up of Democratic representatives, did not expect them to be revealed. On April 25, the group produced its own public Facebook questionnaire, with the intention of keeping public pressure on the company after Zuckerberg flew home to Palo Alto.
According to a Senate aide, the task force's questions were largely "paraphrased" versions of what they assumed would be non-public questions, and followed the same lines of inquiry.
Rep John Sarbanes, the chair of the task force, told Gizmodo it was his hope that Facebook would view the ongoing inquiries as an attempt to foster a partnership between Facebook and Washington to "safeguard the democracy".
He continued: "If we discover there's really significant and, in our view, unjustified resistance to the kinds of transparency and accountability that we think the public is interested in, then, you know, the tone of this could change, the posture could change."
At Facebook's F8 developer conference last week, Zuckerberg addressed the controversies that have snagged his company over the past year, and reiterated the same message he'd delivered to Congress - that he's taking a broader view of Facebook's responsibilities when it comes to fighting the election interference, misinformation and data harvesting that have overrun the platform.
"To some degree, I think the appearance before Congress may have been viewed by the company as an extension of being out on the PR circuit," Sarbanes told Gizmodo.
"I hope that they realised - and it's with things like the letter we sent in follow-up to the hearing we're trying to press upon them - that however much the first part of this engagement around these issues might have been about addressing some PR issues and image problems they were having, they need to move to the next stage, which is to step back and give a very serious, hard look at how they're handling data; how they're protecting against efforts to exploit their platform; whether they have to be more vigilant."