Jeff Goldblum really wants to return to the Marvel movieverse. The Halloween sequel/reboot will have references to the past continuations. Some familiar faces are returning to Agents of SHIELD. Jessica Parker Kennedy's The Flash character's secret identity has yet to be uncovered. Plus, a ton of new Tomb Raider footage. Spoilers!

The Robins of the DC Universe, past and present, in Batman and Robin #12. Image: Patrick Gleason, Mick Grey, and John Kalisz (DC Comics)
The Grandmaster/Marvel
In an interview with The Toronto Sun, Jeff Goldblum stated he'd be eager to return to the MCU as The Grandmaster if he could share screen time with the character's biological brother, The Collector.
Oh, that's an interesting idea. Well, I overlapped with one day of Cate Blanchett's shooting and she's so spectacular as Hela. I keep wanting to have scenes with her. We worked together on a Wes Anderson movie a while ago – The Life Aquatic with Steve Zissou – and I sure would love to do anything with her. But, in the comic books, the character of the Grandmaster is the brother of The Collector, played by Benicio del Toro, who I adore. So I would enjoy doing something with him. That would be fun.
---
Artemis Fowl
Production has begun on Kenneth Branagh's adaptation of Artemis Fowl.[Collider]
---
Halloween
In an interview with Flickering Myth, Danny McBride revealed the new Halloween still plans to reference its various sequels, despite being a direct continuation of the events of the first movie:
This picks up after the first one. The Halloween franchise has kind of become a little bit of like choose your own adventure, you know like there's some many different versions, and the timeline is so mixed up, we just thought it would be easier to go back to the source and continue from there. It was nicer than knowing you're working on Halloween 11, it just seemed cooler, "we're making Halloween 2". We do [reference the other movies]. For fans, we pay homage and respect to every Halloween that has been out there.
---
Solo: A Star Wars Story
A new theatre standee puts you in the cockpit of the Millennium Falcon.
Prepare to make the jump into hyperspace. Solo: A Star Wars Story is in theaters on May 25. #HanSolo pic.twitter.com/Mf39OAGW7M

— Star Wars (@starwars) March 9, 2018
---
Tomb Raider
Four new clips see Lara Croft solving a puzzle box doorway, facing foreclosure, receiving a message from beyond the grave, and battling Walton Goggins on a step ladder.
---
Avengers: Infinity War
"The end is near" according to the latest TV spot.
---
Titans
Titans TV claim to have the very revealing titles for the first seven episodes of the live-action Teen Titans series, which appear to reveal that Jason Todd, the former Robin who goes on to become the violent vigilante Red Hood in the comics, will be appearing in the show's seventh episode.
#1.1 "Titans" (Pilot)

#1.2 "Hawk and Dove"

#1.3 "Starfire"

#1.4 "Rachel"

#1.5 "The Doom Patrol"

#1.6 "The Messenger"

#1.7 "Jason Todd"
---
Agents of SHIELD
Reed Diamond reprises his role as the late Hydra leader, Daniel Whitehall, while General Glenn Talbot awakens from his coma in the synopsis for season five's 15th episode, "Rise & Shine".
Coulson uncovers General Hale's true agenda, and it could be the end of the world if S.H.I.E.L.D. doesn't help her, on "Marvel's Agents of S.H.I.E.L.D.," FRIDAY, MARCH 30 (9:01-10:01 p.m. EDT), on The ABC Television Network, streaming and on demand.

Guest starring are Adrian Pasdar as Brigadier General Glenn Talbot, Catherine Dent as General Hale, Dove Cameron as Ruby, Peter Mensah as Qovas, Reed Diamond as Daniel Whitehall, Raquel Gardner as Carla Talbot, Jack Fisher as George Talbot, Alyssa Jirrels as teenage Hale, Adam Faison as teenage Jasper Sitwell, Joey Defore as young Baron Von Strucker, Graham Sibley as Professor Steger, Rocky McMurray as General Fischer and Lyn Alicia Henderson as Dr. Ford.

"Rise and Shine" was written by Iden Baghdadchi and directed by Jesse Bochco.
---
The Flash
Speaking with TV Guide, executive producer Tod Helbing stated he doubts "anybody ever is going to [correctly] guess" the identity of Jessica Parker Kennedy's mysterious new character, who's been cropping up in the show since the big crossover special Crisis on Earth-X.
---
Timeless
The crew must save Benjamin Franklin's mother from being burned at the stake in the synopsis for episode 2.04, "The Salem Witch Hunt".
While Wyatt (Matt Lanter) sneaks away from the bunker to face an unbelievable truth, Lucy (Abigail Spencer), Rufus (Malcolm Barrett) and their former enemy-turned- teammate, Garcia Flynn (Goran Višnjic), chase the Mothership to the Salem Witch Trials. There they must prevent the execution of a headstrong young woman who, it turns out, is mother to one of the most consequential Americans of all time — the yet to be born Benjamin Franklin. When Lucy is accused of being a witch, the team rallies together not only to save Abiah (guest star Sofia Vassilieva) and Lucy (Abigail Spencer), but all the accused women.
---
Fear the Walking Dead
Finally, Spoiler TV has pictures and synopses from the first two episodes of season four. Click through to see the rest.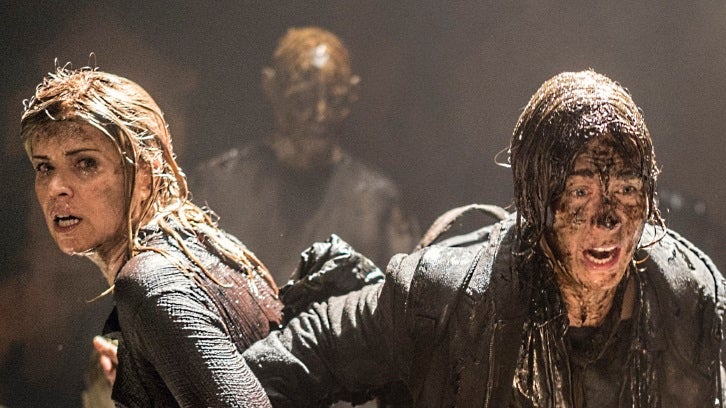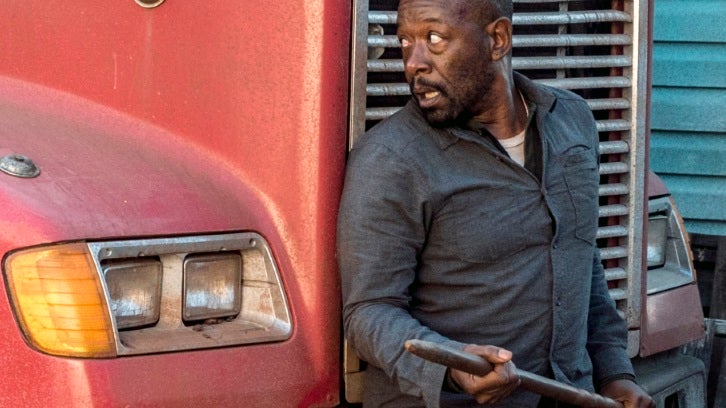 Episode 401: A lone traveller's wearying journey is interrupted by new acquaintances, some who become friend, others who become foe.

Episode 402: A troubled survivor finds allies in an unexpected place. Meanwhile, the life Madison has fought to build comes under threat.
---
Banner art by Jim Cooke.