We are here in Barcelona for Mobile World Congress, and the stage is dark. Join us as we watch the Samsung Galaxy Unpacked event together.
We're on the ground on Barcelona for Mobile World Congress, where Samsung just released the full details of its next flagship smartphones - the Galaxy S9, and Galaxy S9+. </p> <p>We'll be covering the phones in more depth throughout the day, but for now - here are the basics, folks. How much it will cost you, and what it is made of.
Read more
4:04am The event has begun, with a video all about the word "can't". And fighting against it, really. It's all very inspirational.
Now DJ Koh, President head of IT and Mobile Communications Division has taken to the stage.
We're all very excited by Artificial Intelligence, Machine learning, Augmented and Virtual reality…the Internet of Things.
"It's not technology companies that change the world," Koh says, "It's people."
Researchers, innovators, designers and engineers make up Samsung, Koh says.
Look, I'm just going to jump in here and say that the word "can't" is said very harshly throughout this whole thing.
4:10 The new Galaxy smartphone is unveiled, "designed to simplify your life and control all of your smart devices" Koh says.
The heart rate monitor is getting an upgrade! I'm a sucker for these additions to a phone – I can't help but think of the possibilities.
4:13 I think I might be responsible for a big chunk of those emojis and gifs sent per year. I make no apologies for this.
4:18 Justin Denison, Senior Vice President of Marketing hits the stage, and takes a quick dig at the "notch".
Ahhh the fingerprint scanner – can I just say how happy I am this has moved? No more grease on my lens, Thank. You. very. Much.
These colours are pretty nice – Samsung is really pushing this Lilac Purple.
4:24 Yep, that's augmented reality alright. Fun to play along with here from the event.
4:25 Jon Wong, Director of Product Marketing gets the grooviest of entrances.
Okay, so I tried this low-light functionality he's talking about at the hands on preview event (full write up is going up later today), and it is legit.
Ahhh, another iPhone dig. These never get old.
4:30 THE SLO MO GUYS ARE HERE OMG
This is a such a perfect partnership, it's so obvious. Imma go learn how to do awesome slo mo videos, y'all.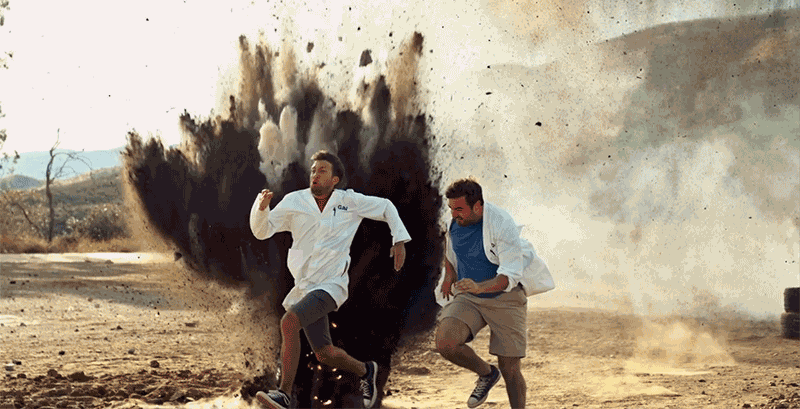 Tired of waiting weeks for the Slow Mo Guys' latest experiment with their high-speed cameras? Over the next 12 weeks, the duo's new YouTube Original series Super Slow Show is going to deliver an almost daily dose of slo-mo goodness with bigger explosions, celebrity guests and bigger risks, all recorded at thousands of frames per second.
Read more
4:32 Samsung knows the internet way too well. It is targeting people making cat videos. Who like to watch cat videos. Probably even cats.
BUT WAIT THERE'S DOGS.
That 400GB expandable storage is definitely going to come in handy.
We're making art, y'all.
4:37 Erin Willis, Senior Manager Channel Marketing is here to chat cameras…still. There's a lot going on with the cameras.
Map yo face, make yo emoji = hilarity.
When I gave this a go, it worked pretty well – more on that later.
Oh, that bunny looks familiar, doesn't it, iPhone X fans 😉
4:42 "Saturday Night Justin." Just gonna leave that one with you, forever. Good luck escaping that.
4:45 wait, Bixby can help me try on and buy makeup? LOL NO I'M IN AUSTRALIA
We never get the good features on launch :/
4:53 aaaand the wi-fi came back on. Just in time to talk about AI and machine learning.
I WANT THAT FOOD FUNCTION, DAMMIT
4:57 What is your most valuable possession? Mine's a drumstick signed by Butch Vig.
My data is important, too, I suppose.
4:59 Bixby sounds like it could really help you through a rough time in your life at some point.
5:00 DJ is back – he really does get the best intro music. I wonder if he's a wrestling fan.
Yep, that's the release date right there – March 16. You can pre-order from today, though. We have all the details, including specs and prices here.
And that's it! Be sure to keep an eye on Gizmodo as we'll be updating with news of the S9 all day long.
Gizmodo Australia travelled to Mobile World Congress as a guest of Samsung.