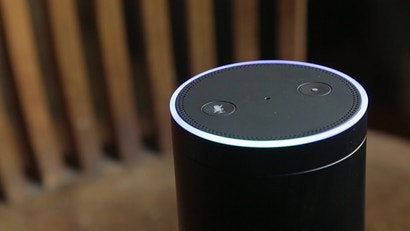 Amazon has finally released its Echo smart speaker range in Australia. With multiple versions hitting store shelves at the same time, there's a lot for prospective buyers to unpack before making a purchasing decision. Here's a rundown of each model, with links to buy.
At its core, Amazon Echo is a hands-free, voice-controlled 'smart' speaker powered by a digital assistant called Alexa. Like the Google Home, it responds to your voice in a variety of ways, offering hands-free access to music, weather, news and information.
The Echo speaker's far-field voice recognition allows you to access Alexa from anywhere in the room. All you need to do is say "Alexa" and the device wakes up and links to the cloud, listening for what it can help with. (A ring-shaped blue light on the top of the device lets you know when it's listening.)
Alexa can hear you clearly, even in a busy environment, thanks to seven microphones using e beam-forming technology and noise cancellation. Beam-forming combines the signals from the individual microphones to suppress noise, reverberation, the music currently playing, and other people talking.
The Alexa App is compatible with Fire OS, Android and iOS devices. It can also be accessed through your desktop browser.
Amazon Echo Vs Amazon Echo Dot Vs Amazon Echo Plus
Amazon is bringing three smart speaker models to the Australian market simultaneously: the Amazon Echo, which retails for $149, the miniature Echo Dot, which costs $79, and the feature-packed Echo Plus, which will set you back $229. Let's take a look at each model in turn.
Amazon Echo:

This is the standard or "classic" version of Amazon Echo (and the closest equivalent to Google Home, which currently retails for $50 more.) You can use it to stream music, ask questions, check the weather, set alarms and timers, manage shopping lists, consult your calendar, check the traffic and make hands-free phone calls on your mobile: basically anything you can use your smartphone for. It can also be used to control compatible smart home devices such as lights and heating.

Amazon Echo Dot:

This is Amazon's answer to the Google Home Mini. Also hands-free, it uses the same far-field voice control as the regular Echo. It lacks the standard Echo's 2.5-inch woofer which translates to less impressive sound but it can still belt out tunes at a reasonable volume. You can also connect it to your existing speakers via bluetooth or cables. The idea is to have one of these in every room so you can talk to Alexa from everywhere.

Echo Plus:

This is the deluxe model which comes with a built-in smart home hub. "Alexa, discover my devices" triggers the echo automatically finding and setting up lights, smart plugs and switches. On launch, Zigbee-supported lights, smart plugs, and switches will work. It also comes with a larger 0.8" tweeter. During the launch window, Amazon is giving away a free Edison screw or Bayonet Philips smart bulb when you buy the Echo Plus. The discount will be applied at checkout.
The table below outlines the chief differences between each model. (You can see a larger version by opening the image in a separate tab.)
Image: Amazon
---
So which model is best? This obviously comes down to an individual's use case. Personally, we feel the $149 Amazon Echo strikes the best balance between price and functionality - it comes with everything you need straight off the bat with options for smart home functionality should you choose to explore them.
With that said, if you already own a decent Bluetooth-enabled audio setup, the Echo Dot provides an identical experience for around half the price. For those super keen to buy into Amazon's "smart home" ecosystem (Echosystem?), the Echo Plus is also worth a look. But for our money, the "classic" version is the one to buy.
Additional reporting by Rae Johnston.