Have you seen this viral tweet? It looks like it's from Shane Missler, a 20-year-old lottery winner in Florida, and he's promising $US5,000 to every person who retweets the account. But it's 100 per cent fake.

The fake tweet reads: "Hey guys! I am the lottery winner of $US451 Million. With this incredible opportunity I am giving back $US5,000 ($6,273) to the first 50k followers that retweet and like this post. This is to much money and I love helping people!"
Unfortunately for the people who are retweeting, liking, and following that account, the entire thing is one giant hoax. In real life, Missler did win $US451 ($566) million and opted to take the lump sum payment, which comes to roughly $US211 ($265) million after taxes. But he's not giving away money for free on Twitter.
Again, thank you all for tuning in. This journey has only just begun, mark my words. Unfortunately many fake accounts have already circulated. My only active and real accounts are Instagram and Twitter both @TheShaneMissler ???????? ???? #GratefulBeyondWords

— Shane Missler (@TheShaneMissler) January 13, 2018
The photo being used in the viral fake account is from Missler's real Facebook page, but it's not him. Missler's real Twitter account is @TheShaneMissler, which was started in February of 2016. The fake account was created just days ago.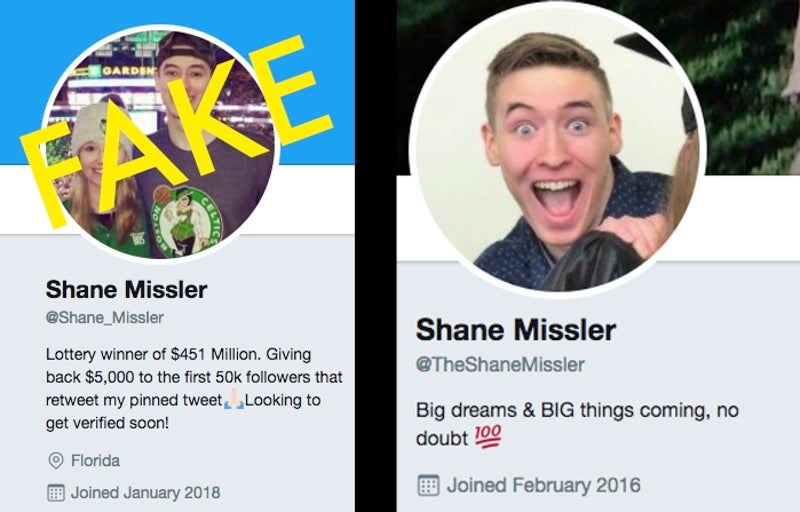 Missler did say in a statement that he hopes to "do some good for humanity," but that doesn't mean giving away his Mega Millions winnings to random strangers on Twitter $US5,000 at a time.
"I intend to take care of my family, have some fun along the way, and cement a path for financial success so that I can leave a legacy far into the future," Missler said in a statement. "I have always been one to encourage the idea of chasing dreams and I believe life is about the pursuit of passion. I am 20 years old and my journey has only just begun."
A lot of different fake Shane Missler accounts have sprung up, each offering different amounts (this one promises $US1,000 per retweet and follow) but they're too good to be true.
There's no such thing as a free lunch, as the old saying goes. Nor is there anything to gain from retweeting fake lottery winners. Imagine the logistics of handing out that money. How would you even give 50,000 different people money? If anyone really wanted to actually distribute money that way, they'd go crazy just trying to juggle the DMs alone.