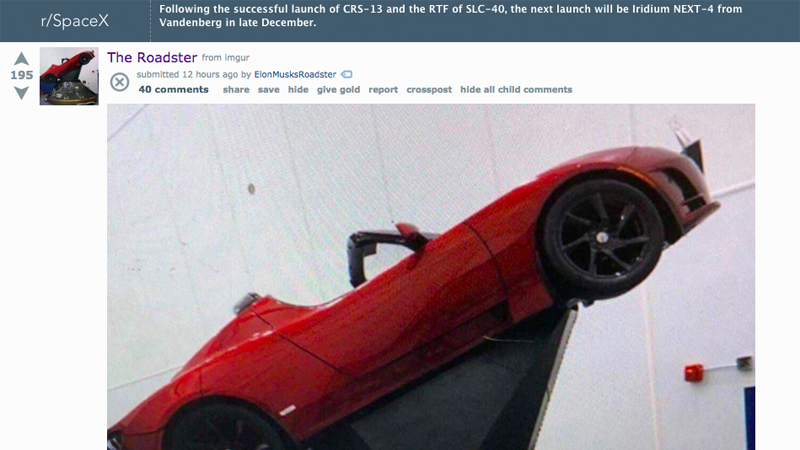 An apparently leaked photo emerged on Reddit late last night purportedly showing Elon Musk's Tesla Roadster getting fitted atop a Falcon Heavy cargo capsule. Which poses the question: Is Musk actually serious about all this?
Screenshot: Reddit
This whole thing got started in early December when the SpaceX CEO announced on Twitter that he was planning to use his own personal Tesla Roadster as the dummy payload for the inaugural Falcon Heavy Launch, which is scheduled for January 2018.
Musk, who's actually sceptical the Falcon Heavy will even make it into Earth's orbit on its first flight, said the payload would launch on a trajectory towards Mars.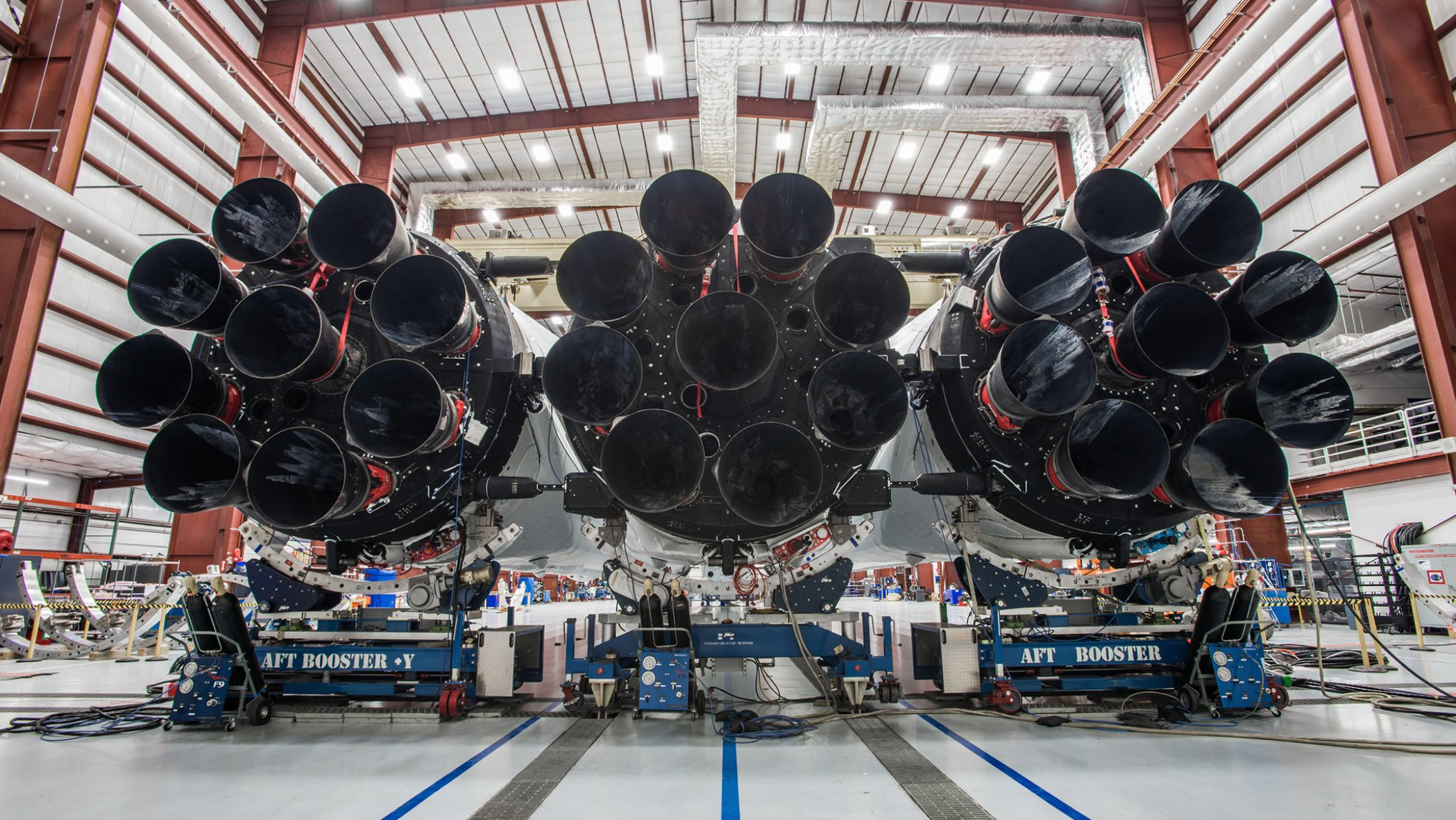 Falcon Heavy preparing for launch. That's 27 Merlin engines staring you right in the face. (Image: SpaceX)
This next-gen rocket will be capable of lifting a 140,700 pound (63,800 kg) payload to low Earth orbit, or a 37,000 pound (16,800kg) payload to Mars. So what better way to flex the muscle of the Falcon Heavy by having it fling a 1810kg Tesla Roadster into the Great Beyond?
Payload will be my midnight cherry Tesla Roadster playing Space Oddity. Destination is Mars orbit. Will be in deep space for a billion years or so if it doesn't blow up on ascent.

— Elon Musk (@elonmusk) December 2, 2017
Trouble is, The Verge reported that Musk later denied the whole thing. But then, speaking to Ars Technica after that, Musk and another Space X official said it was very much on.
Fact is, we don't know if Musk is being serious or not, but we're not one to throw it past him. The man seems thrilled with the idea of his sexy midnight cherry Roadster drifting for eternity through the depths of space.
I love the thought of a car drifting apparently endlessly through space and perhaps being discovered by an alien race millions of years in the future

— Elon Musk (@elonmusk) December 2, 2017
As for the authenticity of this photo, the image appears to have originated from this anonymous Reddit account before getting picked up by the SpaceX subreddit. The photo shows what seems to be a red Tesla Roadster atop a Payload Attach Fitting (PAF) — one that looks virtually identical to the PAF shown in SpaceX's Falcon User's Guide.

Image: SpaceX/Reddit
Given that a sports car has never been shot into space, it's difficult to know how it would be oriented as cargo. This seems as good an orientation as any. There's nothing to immediately suggest the image itself is fake, but there's nothing proving it's real either. And even if it is real, this shot could have been posed as an elaborate continuation of Musk's weird joke.
We reached out to SpaceX and Elon Musk for comment and will update this post should we get a response.