A famous work of art has captured more than just van Gogh's impressions – it's preserving a hundred-year-old grasshopper corpse, too.

Image: Vincent van Gogh (Dutch, 1853 – 1890). Olive Trees. 1889. Oil on canvas. Dimensions: Unframed: 28 3/4 x 36 1/4 inches (73.03 x 92.08 cm). Framed: 37 3/4 x 45 1/2 x 2 inches (95.89 x 115.57 x 5.08 cm). Purchase: William Rockhill Nelson Trust. 32-2. Nelson-Atkins Museum of Art
Researchers spotted the critter while taking a closer look at over a hundred paintings at the Nelson-Atkins Museum in Kansas City, Missouri. This probably beats burial or burning at a pyre, as far as funeral rites go.
Van Gogh painted outdoors, but the practice came with some intruders. The museum's press release quotes an 1885 letter from Vincent van Gough to his brother: "…All sorts of things like the following happen – I must have picked up a good hundred flies and more off the four canvases that you'll be getting."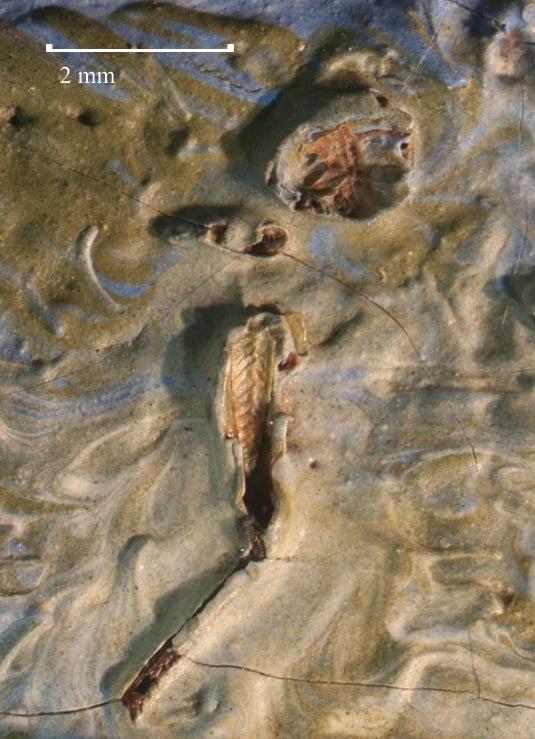 "Photomicrograph, Olive Trees, 32-2. This image, taken through a microscope, captures the grasshopper embedded in the paint of Olive Trees." (Image: Nelson-Atkins Museum of Art)
Researchers spotted the grasshopper while looking at the kinds of pigments used in the painting. It's a little too small for a regular museum goer to see, it was missing its thorax and abdomen, and didn't appear to have put up much of a struggle before dying. Either that, or it didn't want to disturb the work of a master. It's hard to tell what grasshoppers are thinking, after all.
The researchers wanted to use the bug to better understand what season the painting was painted in, according to Nelson-Atkins Paintings Conservator Mary Schafer (they couldn't). But they did confirm that some parts of the painting probably were redder when van Gogh painted them than they are today.
This is how I would like to go. No ceremony. No crying. Just drop my dead body onto a wet canvas and leave me there.