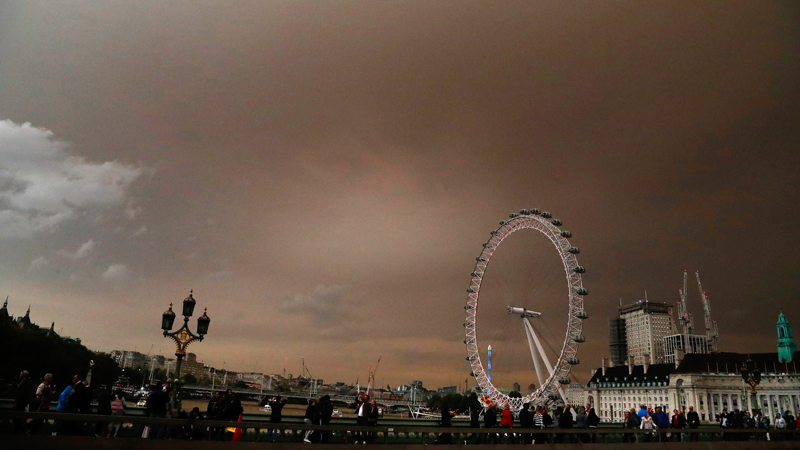 If you're in London right now you might want to look out your window. It's disturbing to say the least.
Photo: AP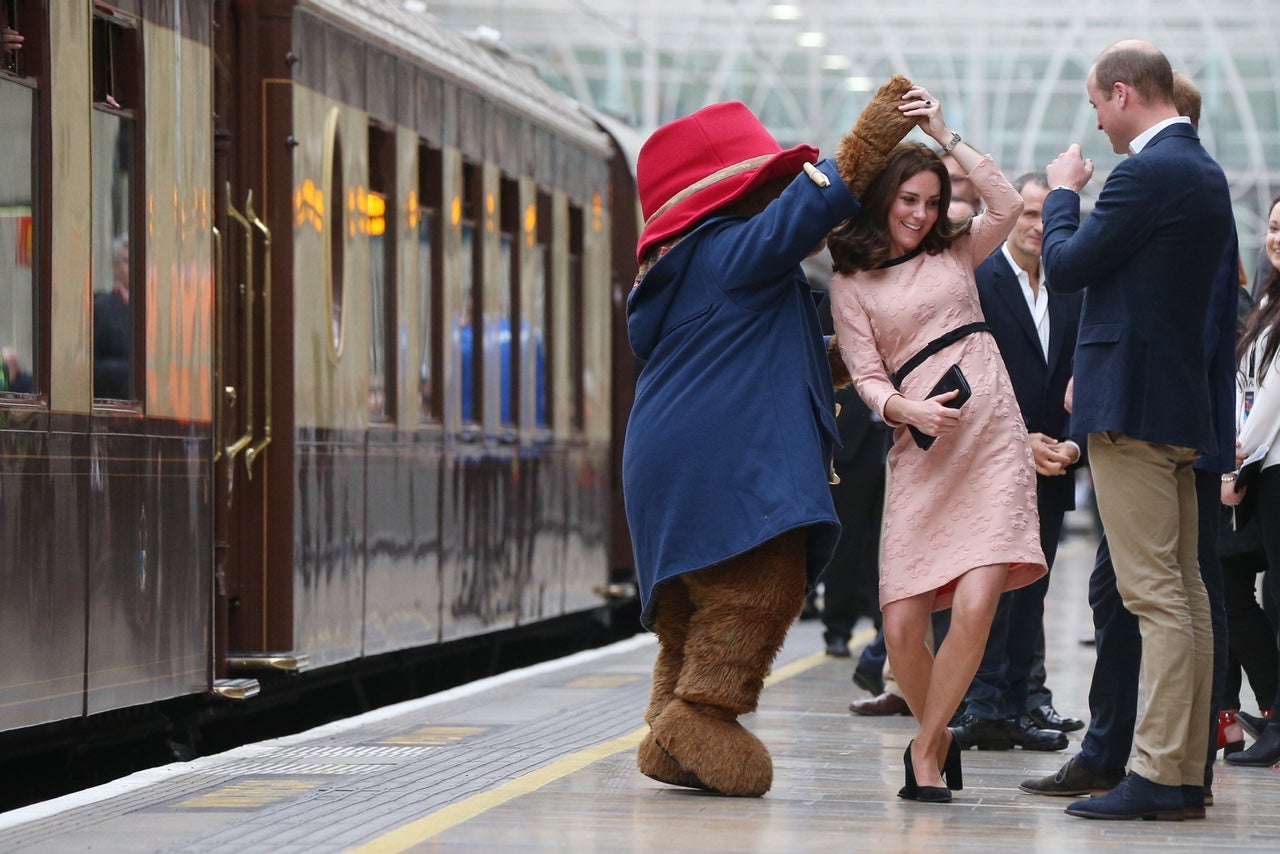 Photo: Jonathan Brady/WPA Pool/Getty Images
No, not that. That's just the Duchess of Cambridge dancing with Paddington Bear at Paddington Station to promote the movie Paddington 2. If you look up at the sky, however, you'll see an orange, apocalyptic hue — and it's all the fault of the cyclone formerly known as Hurricane Ophelia.
No the white balance on my phone camera isn't faulty, the London sky really does have jaundice. #ophelia #yellowsky pic.twitter.com/emrTZfAnCf

— Rosco (@the_silicon_god) October 16, 2017
The sky over #London takes on a very end-of-days hue as the remnants of hurricane #Ophelia reach the UK and Ireland. @PA pic.twitter.com/jCSFGOSAQn

— Dominic Lipinski (@domlipinski) October 16, 2017
Hurricane Ophelia is coming. This sky is MENTAL. :( pic.twitter.com/M9ir8Ps6rw

— Katie's Game Corner (@katiesgamecrner) October 16, 2017
London Sky with #REDSUN as a result of #Ophelia.
Time 3:25pm pic.twitter.com/nRCvol8all

— Moshe Zichmir (@mosezichmir) October 16, 2017
To be fair, Ophelia is now a post-tropical storm, but it's still incredibly bizarre for the region. Ophelia has brought Saharan dust and debris from forest fires in Portugal and Spain into the area, creating a dense orange haze.
Strangest sky over London- #Ophelia related? @IrishTimes pic.twitter.com/ovhrpaponC

— Meadhbh Hayden (@MeadhbhHayden) October 16, 2017
The sky in #London has turned into a CRAZY(!) reddish brown colour. It feels incredibly weird...and getting more weird by the minute. So many people are looking at the sky and taking photos. #Ophelia #SaharanDust #FireParticles #RedSun pic.twitter.com/nMQ2e7MdTb

— Tomasz Schafernaker (@Schafernaker) October 16, 2017
Freaky London sky! #londonsky pic.twitter.com/5xh4TSCKhn

— Freebs The Tree (@FreebsTheTree) October 16, 2017
The bizarre sky has given us a good deal of what the internet does best. That's right, jokes.
Weird sky in London today pic.twitter.com/92vTwyjPhq

— James Cook (@JamesLiamCook) October 16, 2017
We were warned, long ago pic.twitter.com/58WYigEHEe

— Paul Haine (@paul_haine) October 16, 2017
The sky in london today is weird pic.twitter.com/Azf5VzlhKo

— TechnicallyRaarrrghh (@TechnicallyRon) October 16, 2017
And plenty of people are making references to the apocalypse, half-jokingly or not.
Looking at the sky in London, I'd definitely say the end of the world is nigh... #EndOfTheWorld #ItsBeenEmotional pic.twitter.com/sxEiaC5q05

— Volunteer Copper (@VolunteerCopper) October 16, 2017
Are you in London? Do you have any photos of the sky? Share them with us before you're turned to dust in what we can only assume is the end. It was nice knowing you, Londoners.