At least one man is dead following a dramatic series of rockslides at Yosemite's iconic El Capitan on Wednesday. A second "significantly larger" rockfall occurred a day later, dropping thousands of tonnes of rock to the forest floor below.
Photo: AP
For a period of four hours on Wednesday, a series of seven rockfalls occurred on the Southeast face of El Capitan in Yosemite National Park. It all started at 1:52PM local time, and as around 30 climbers were making an ascent nearby. Preliminary estimates suggest the total volume of all seven rockfalls is about 450 cubic metres, representing about 1300 tonnes. The largest of the rocks that fell was about 40m tall (about the height of a 12-storey building), 20m wide, and about 3m thick at its widest point, according to a Yosemite release.
Larger rockfall on El Capitan today, with one injury. Debris reached a road, so detour in place; drive with caution in Yosemite Valley. pic.twitter.com/wciTNR5SkT

— Yosemite National Pk (@YosemiteNPS) September 29, 2017
Yosemite climber sent us this photo. He says a piece of granite the size of an apartment building came crashing down the Waterfall Route. pic.twitter.com/agFA0YjVPc

— Christina Fan (@ChristinaABC30) September 27, 2017
One man was killed in the incident, a 32-year-old British tourist identified as Andrew Foster. His wife sustained injuries and is currently being treated at a local hospital. The couple was not climbing at the time, but were preparing to make an ascent when the collapse happened.
A day later, another rockfall occurred, again on the Southeast face of El Capitan, at 3:21PM, but this one was sizably larger than the one on Wednesday. Geologists are currently assessing the size and weight of the second rockfall, but initial estimates suggest it was 10 times bigger. One injury was associated with Thursday's rockslide, but no deaths.
"We didn't know what had happened, but it shattered (the glass) and the dust just poured in," Rachel Evans, who was trying to leave the park when the rockslide happened on Thursday, told KSEE. "We were trying to outrun it; it was like 'Go! Let's go!' and at the same time my husband reached up and he was like 'oh, my head, my head' because it was bleeding profusely and hurting."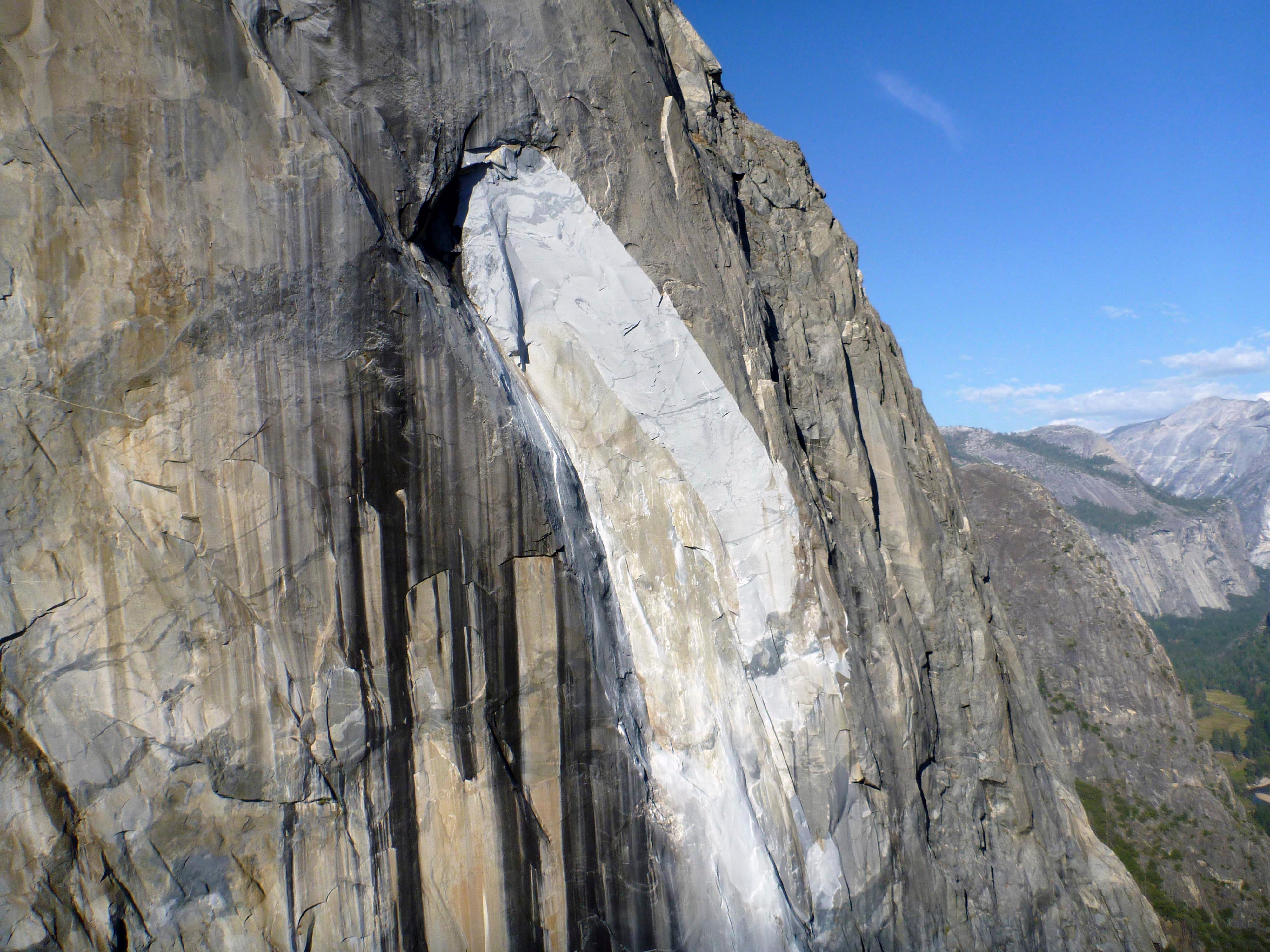 Photo: AP
With two major rockslide in two days, the features of el Capitan are irrevocably altered. The cliff face, popular with tourists and climbers, now features a fresh white gash. The slips happened along the popular "Waterfall Route" on the East Buttress of El Capitan. The tallest part of El Capitan is about 1220m above Yosemite Valley below. Park officials told tourists to use the Southside Drive to exit the valley, as the rockslide had closed down Northside Drive. The park remains open and all visitor services remain unaffected by the rockfalls, say Yosemite officials.
Images and videos posted to social media show various angles of the rockslide, both during and after the slips. Massive plumes of dust could be seen trailing the falling rocks.
Massive rock fall on El Cap. Video taken from Higher Cathedral Spire, with @bmdhacks. @nytimes pic.twitter.com/nDofgS2Myd

— Phillip Bay (@Phillipbay) September 29, 2017
A second rockfall in two days at Yosemite National Park has left one man injured: pic.twitter.com/YJPhHtCsbJ

— NBC News (@NBCNews) September 29, 2017
WATCH: Video shows climbers above recent rockfall in Yosemite. (Video by Peter Zabrok) pic.twitter.com/fD6zVrCNb2

— NBC News (@NBCNews) September 28, 2017
"Rockfalls are a common occurrence in Yosemite Valley and the park records about 80 rockfalls per year; though many more rockfalls go unreported," according to a second Yosemite statement. "The rockfall from El Capitan was similar in size and extent compared with other rockfalls throughout the park, though it is not typical that that there were victims."
Indeed, rockslides are a natural occurrence, and climbers need to be aware of the risks when they make an ascent. Yosemite geologist Greg Stock told The Los Angeles Times that the break was likely caused by the expansion and contraction of granite in the cliff wall as it heats up during the summer and cools during the winter. Eventually, the tips of the cracks weaken, the cracks get bigger, and gravity eventually takes over.
The last rockfall-fatality in Yosemite happened 18 years ago when a rock climber, Peter Terbush, was killed by a rockfall from Glacier Point. Wednesday's death marks the 16th fatalty since park records began in 1857.
[Yosemite, AP, Los Angeles Times, KSEE]