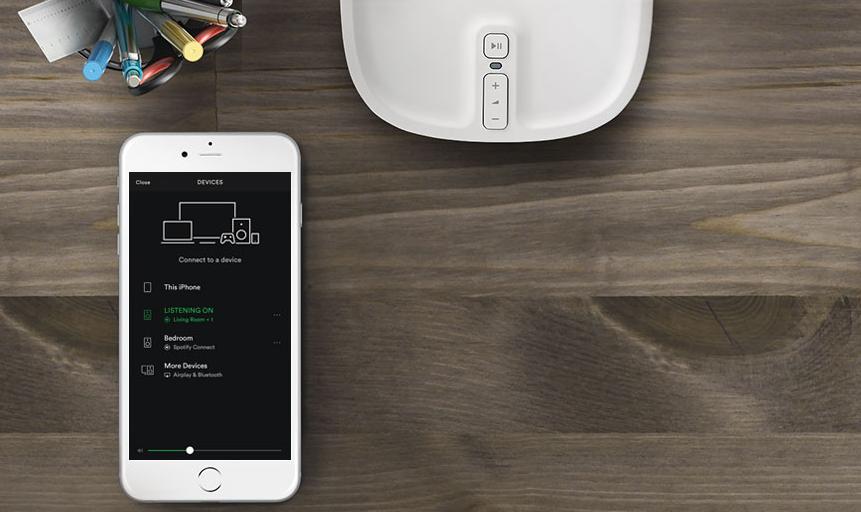 It's no secret Sonos is working on a smart speaker to rival products such as Amazon's Echo and Apple's HomePod. Last year, Sonos laid off a number of staff while simultaneously announcing a new shift in focus to help the company "remain innovative and successful". But jumping on the digital assistant bandwagon hasn't been easy, as the company's current integration with Amazon Alexa devices isn't exactly what you'd call straightforward.
Image: Sonos
However, based on a recent FCC filing discovered by David Zatz, Sonos could have a new all-in-one smart speaker on the way with built-in far field microphones to help pick up voice commands — the same kind of mics you get in an Echo or Google Home. Sonos CEO Patrick Spence previously teased the upcoming product during a January interview with Variety.
The filing also highlights the presence of a dedicated mic button and built-in Wi-Fi, and it suggests the upcoming speaker will support multiple voice platforms and streaming music services. While it's still too early to say exactly which voice assistants Sonos' speaker will work with, if the company could find a way to make Siri, Alexa and the Google Assistant all play nice on a single device, that could be a major win for Sonos and shoppers looking for a platform-agnostic smart speaker.
The potential irony in all this is that Sonos was once the leader in home audio streaming. But after years of stagnation, the company is being forced to play catch-up in order to stay competitive.
Apple's $US350 ($440) HomePod, which is due to be released in December, could be Sonos' biggest contender, thanks to its sleek design and big emphasis on audio quality via seven on-board tweeters and an upward facing 10cm woofer. And then there's Amazon's rumoured second generation Echo to worry about, which is also said to be stepping up its music-playing prowess with additional speakers.
While there's no expected timetable for when Sonos' new assistant-enabled speaker could arrive, a holiday release doesn't seem too outlandish. After all, the newest Sonos device to hit the market was the Playbase back in autumn.