Hurricane Harvey smashed into the Texas Gulf Coast on Friday night and Saturday morning after being elevated to Category 4 status, wiping out buildings with 209km/h winds and a 3.66m storm surge.
Photo: Getty Images
At least one person died in Rockport, Texas during the storm when their house caught fire, according to a county officials interviewed by CNN.
At least one person has died due to Hurricane Harvey in Rockport, Texas, according to county judge https://t.co/SV4cCliSts

— CNN (@CNN) August 26, 2017
According to the Associated Press, emergency crews teams were not able to deploy throughout the region due to high winds and whiteout conditions on roads, so the tally may change.
#Harvey made landfall at 10 PM CDT as a category 4 hurricane near Rockport, Texas, with max winds of 130 mph and min pressure of 938 mb. pic.twitter.com/98y5wpKmBw

— NHC Atlantic Ops (@NHC_Atlantic) August 26, 2017
According to ABC News, the Category 4 status was fortunately short-lived. After making landfall at around 10:00pm. local time, Harvey was downgraded to a Category 3 storm by three hours later and a Category 2 by four hours later. By morning, it was downgraded to a Category 1.
NOAA's National Hurricane Center warned Harvey could remain at tropical storm conditions as long as Wednesday, while the Houston branch of the National Weather Service noted all of southeast Texas remains under flash flood warning until Tuesday evening.
The city of Victoria took as much as 41cm of rain, per the New York Times, while totals of 40 to (on the extreme end) 152cm of rain by the end of the storm remain possible.
Reminder: Flash Flood Watch is in effect for SE TX this morning through Tuesday evening. 15 to 30 inch totals and with max 40 possible! pic.twitter.com/nmveAQIbT0

— NWS Houston (@NWSHouston) August 26, 2017
Massive damage was reported throughout areas of Texas near landfall, including Corpus Christi and Rockport-Fulton. According to the Corpus Christi Caller Times, Coast Guard vessels responded to distress calls in the area while "many homes and businesses have been destroyed and some residents had to be rescued by emergency crews, who are still trying to reach some areas of these communities."
Widespread flooding and wind damage in Rockport Texas this morning. #HurricaneHarvey #txwx pic.twitter.com/I29DIR430B

— Ian Shelton (@IanMckayWx) August 26, 2017
Dawn in Rockport, #Texas. Landscape is smashed, stripped, and scrubbed in #Hurricane #HARVEY's wake. A monstrous cyclone. pic.twitter.com/8tX6gwxC7O

— Josh Morgerman (@iCyclone) August 26, 2017
"We know there is widespread devastation," Rockport Mayor CJ Wax told the Weather Channel. "I think it's safe to say we took a Cat. 4 (hurricane) right on the nose, and we'd appreciate everyone's prayers."
Some 250,000-plus people in the area remain without electricity due to storm damage, per the New York Times. President Donald Trump declared a state of emergency, committing US federal authorities to respond.
10:30 pm. In the eye. Major damage to building. A whole wall collapsed. 943.5 mb. #HARVEY in Rockport pic.twitter.com/YTMiVWnnL9

— Josh Morgerman (@iCyclone) August 26, 2017
BREAKING: Massive damage to Rockport-Fulton HS after #Harvey makes landfall. pic.twitter.com/6ww6CXNGcw

— CBS Austin (@cbsaustin) August 26, 2017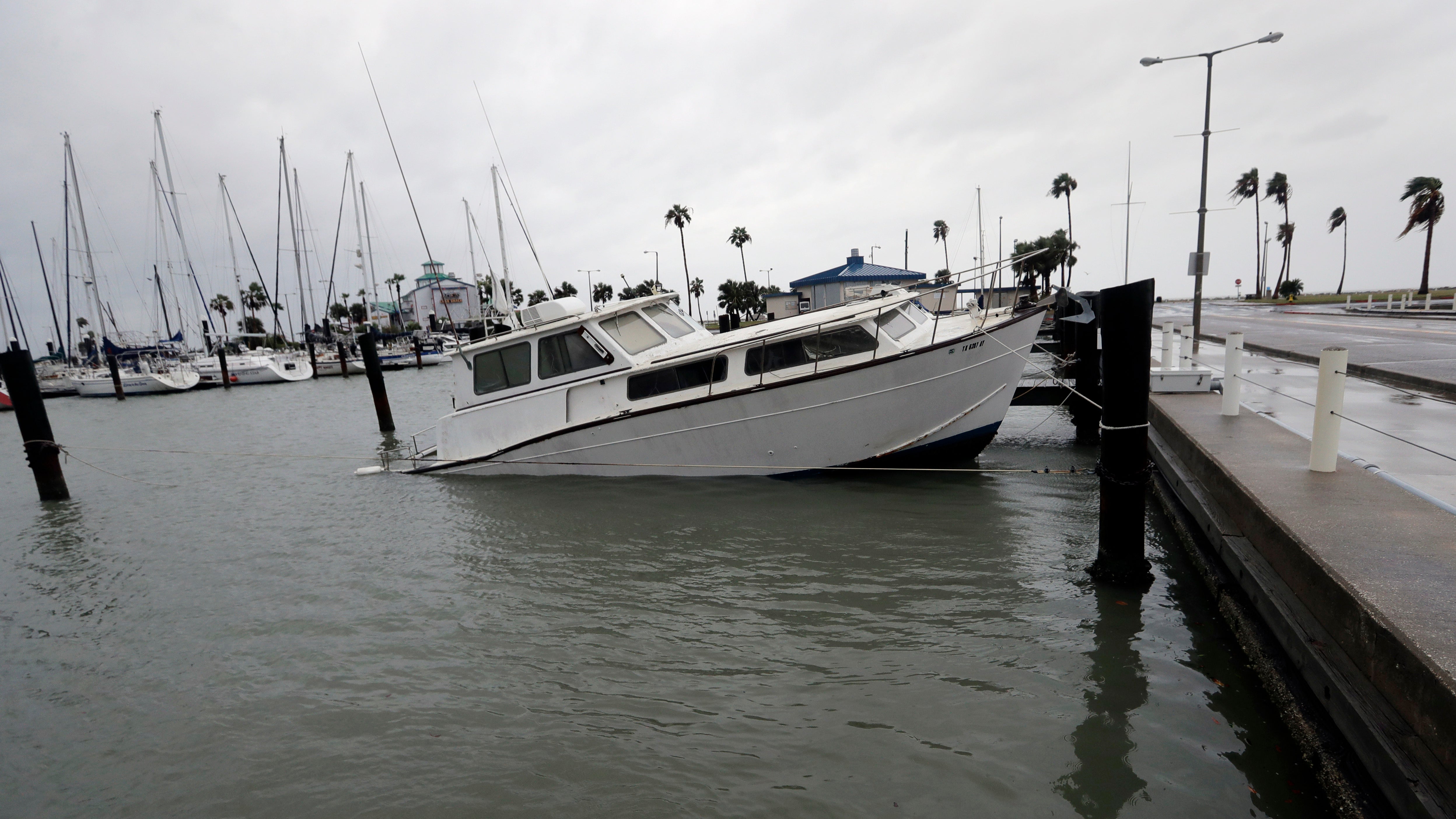 A partially submerged boat in Corpus Christi, Texas. Photo: AP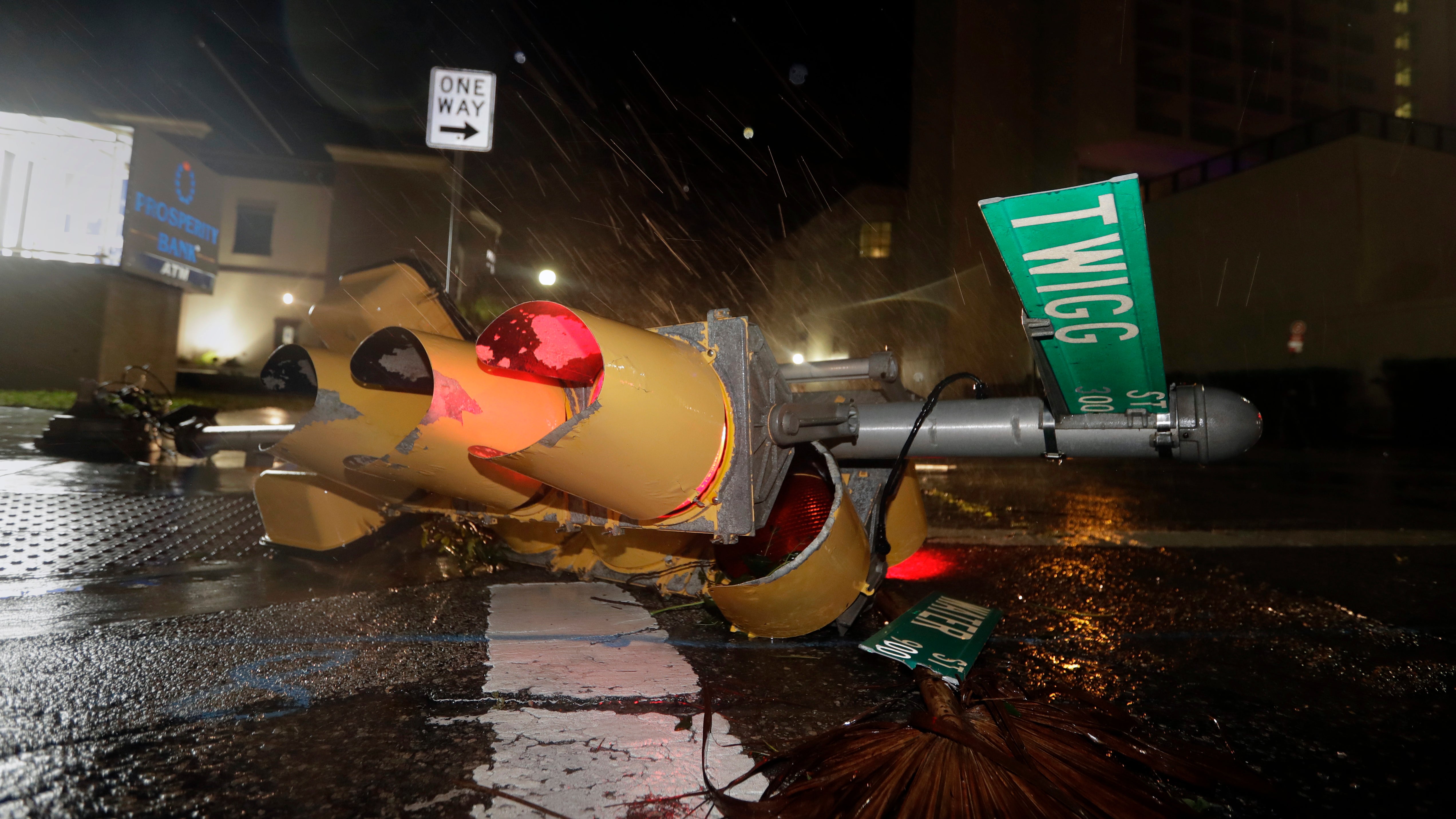 Traffic lights uprooted by the wind in Corpus Christi, Texas. Photo: AP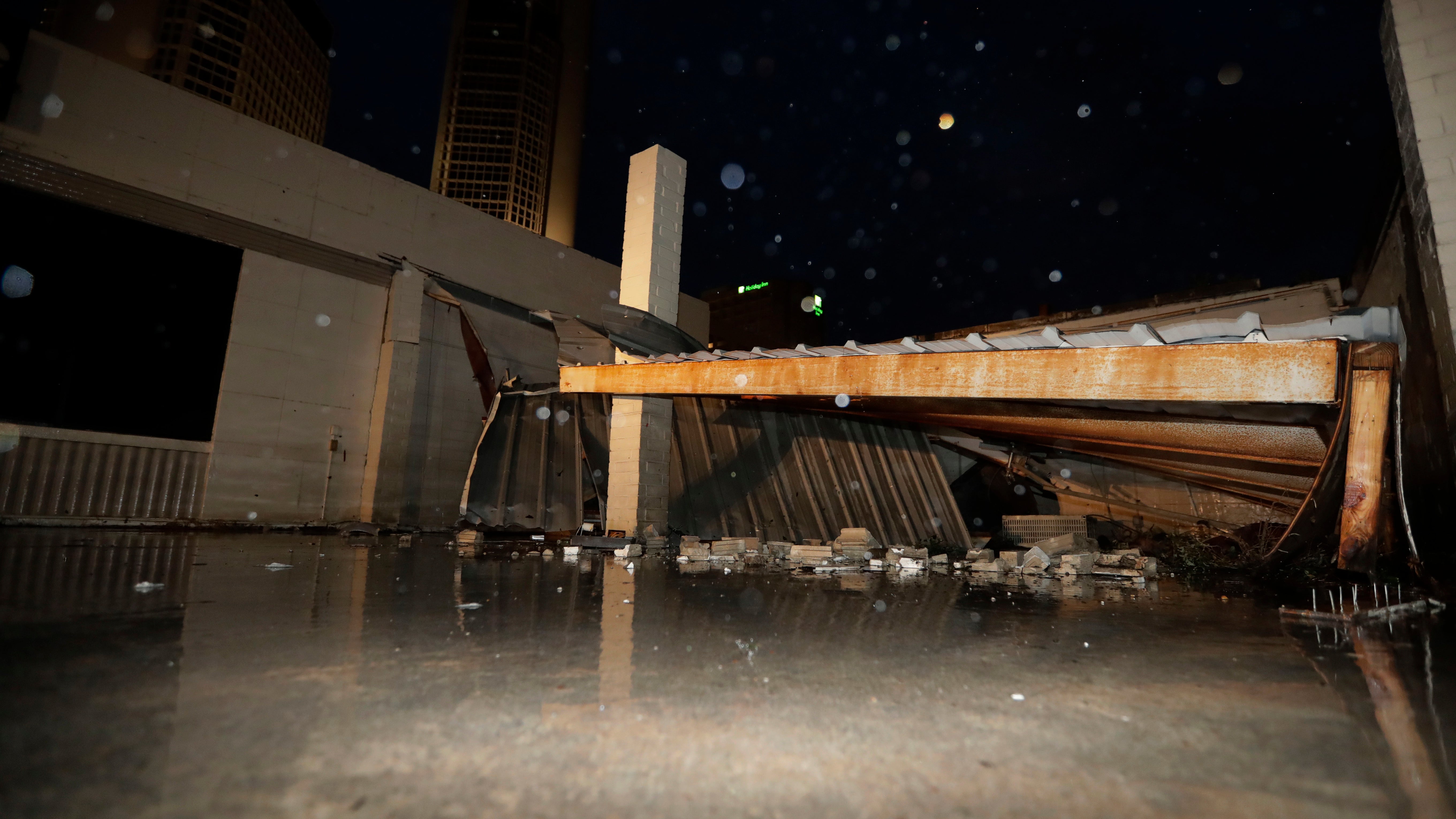 A destroyed garage in Corpus Christi, Texas. Photo: AP
Extreme Damage in Rockport, Texas #HurricaneHarvey pic.twitter.com/MecU4Y6mYT

— Mike Theiss (@MikeTheiss) August 26, 2017
Damage in the Katy area, west of Houston, from #Harvey. Along the I-10 feeder between 1463 & Cane Island Parkway. #khou11 pic.twitter.com/WOTIog1vY9

— The Bishop (@BillBishopKHOU) August 26, 2017
Island in the Sun United Methodist Church building has damage #HurricaneHarvey #Harvey #HarveyStorm #stxwx #CorousChristi #Texas pic.twitter.com/I7tlZPT54a

— Gabe Hernandez (@callergabe) August 26, 2017
MAJOR TORNADO DAMAGE in Sienna Plantation (Missouri City) roofs blown off, lots of big trees down. @abc13houston #HurricaneHarvey pic.twitter.com/Zctbg2IsIF

— Foti Kallergis (@FotiABC13) August 26, 2017
Finally made our way to #PortLavaca coast. #Harvey did a number on several boats. #abc13 pic.twitter.com/mUrq0rAnMr

— Courtney Fischer (@CourtneyABC13) August 26, 2017
Just got out of Rockport; no cell service there; catastrophic damage; homes, businesses destroyed. #hurricaneharvey pic.twitter.com/CJKPJOhEHZ

— Jeremy Schwartz (@JinATX) August 26, 2017
Rockport, TX damage via @StormVisuals. Feeling for those folks #HurricaneHarvey #khou11 pic.twitter.com/uoOuBEzPl0

— Jason Miles (@JMilesKHOU) August 26, 2017
Trailer park homes flattened by Hurricane Harvey in Victoria. @mattdpearce pic.twitter.com/l0kHnjtXA4

— Robert Gauthier (@rgaut999) August 26, 2017
One person was confirmed dead in Rockport, Texas as a result of the hurricane.