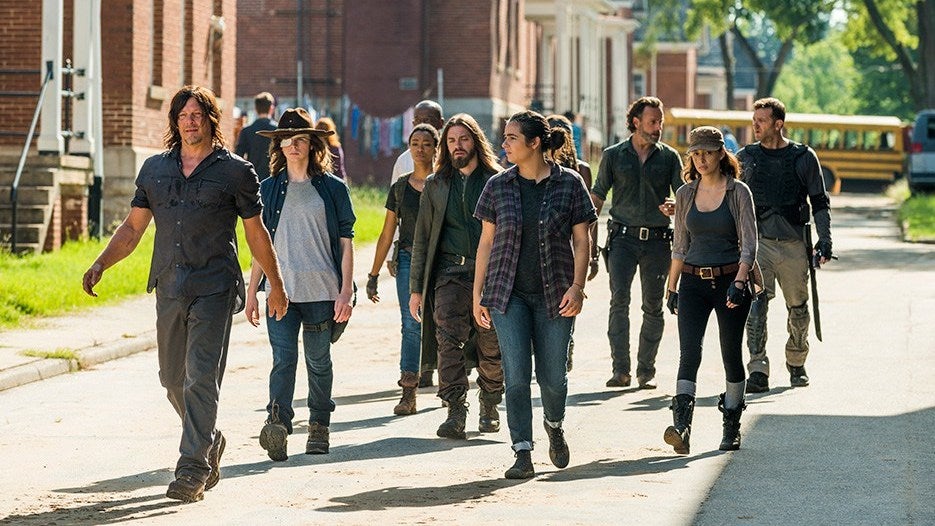 Production was halted yesterday on season eight of The Walking Dead following serious injuries to John Bernecker. Bernecker has since passed away.
Image: AMC
As first reported by ComicBook.com, and confirmed by Deadline and TMZ, Bernecker succumbed to the head injuries he received from the fall, passing away yesterday. Bernecker has an extensive resume on IMDb which includes stunts for Black Panther, Logan, The Hunger Games and Looper.
Sources told Deadline that Bernecker's injuries were the result of a 9m fall to a concrete floor while "rehearsing a fight scene that was supposed to end with a routine fall from a balcony". Bernecker was rushed to the hospital yesterday and AMC halted production following the accident.
In a statement given to Deadline at the time of the accident, AMC said, "We are saddened to report that John Bernecker, a talented stuntman for The Walking Dead and numerous other television shows and films, suffered serious injuries from a tragic accident on set." AMC continued, "He was immediately transported to an Atlanta hospital, and we have temporarily shut down production. We are keeping John and his family in our thoughts and prayers."
There is no word on when production might resume.