Image Cache: Usually with these kinds of stories, I'll pick out a few cool photos from the directory of images we're sent. But the Aston Martin Valkyrie, co-designed with Red Bull's Advanced Technologies racing and everything awesome division, is too good for that.
F**k it. You can have all of them.
The Valkyrie is a hypercar in every possible sense of the word. 1130 horsepower. 1030kg. A 6.5-litre V12 and a KERS-style hybrid battery-electric system. 7-speed dual-clutch F1-style transmission. And aerodynamics capable of pushing 1.8 tons of downforce under acceleration.
Serious aerodynamics.
[clear]
[clear]
Don't expect that it'll ever be street legal in Australia, but it'll be street legal somewhere in the world and that's Aston Martin's first boast for the Valkyrie — the world's fastest street legal car. It's set for production in 2018, and 150 will be built at a price of $US3.2 million each.
The news today is more info on the car's exterior and interior, including aerodynamics. And including the fact that even the Aston Martin badge was too softcore for the Valkyrie, too much of an air dam; it's been replaced with a chemically etched aluminium badge 70 microns thick — 30 per cent thinner than a human hair.
[clear]
[clear]
Inside, all switchgear is on the detachable steering wheel, which has a central OLED screen showing road speed and RPMs and all other vital stats. Two other screens on the otherwise featureless dashboard show info for your — likely screaming their head off — passenger.
Even the headlights have been shaved away in pursuit of ounces of weight reduction — they're 40 per cent lighter than the lightest headlights in any other Aston road car. The rear centre brake light is 9.5mm high and 5.5mm wide. There are no side mirrors, just rear view cameras in the car's front fenders behind the massive wheels.
Still, according to Aston Martin, the car's aerodynamics are only 95 per cent of the way there.
[clear]
[clear]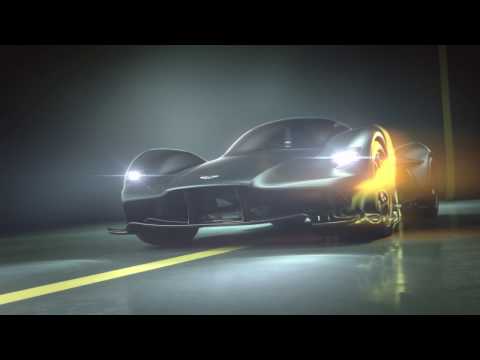 Co-developed by Aston Martin and Red Bull Advanced Technologies, the hypercar formerly known as AM-RB 001, has now been officially named the Aston Martin Valkyrie.
Read more