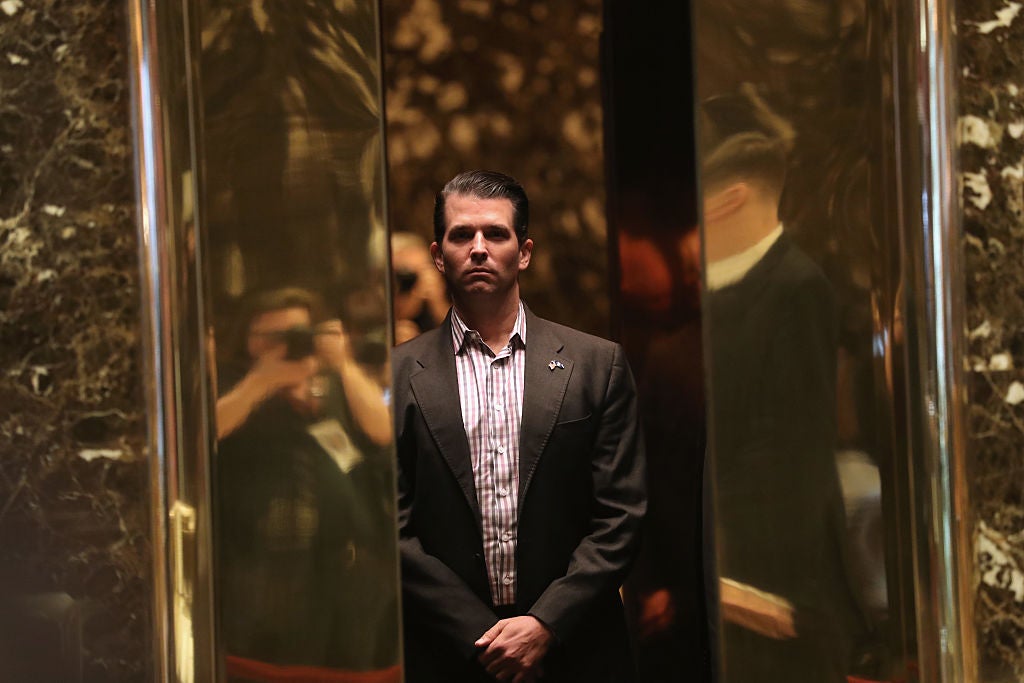 Have you ever wondered what it would have looked like if President Nixon had a Twitter account during the Watergate scandal? Wonder no longer.
(Photo by John Moore/Getty Images)
In an effort to get ahead of a New York Times story that shows he sought incriminating information on Hillary Clinton from a Russian government-affiliated lawyer, Donald Trump Jr. tweeted out his emails with Rob Goldstone, an intermediary who introduced the Trump campaign to a Russian lawyer who said she had dirt on Hillary Clinton.
Here's my statement and the full email chain pic.twitter.com/x050r5n5LQ

— Donald Trump Jr. (@DonaldJTrumpJr) July 11, 2017
The most damning email includes a section that describes information obtained by "the Crown prosecutor of Russia" and explicitly says that the information was "to provide the Trump campaign with some official documents and information that would incriminate Hillary and her dealings with Russia and would be very useful to your father."

An email (with highlights made by Gizmodo) from Rob Goldstone to Donald Trump Jr. dated June 3, 2016 asking if Trump would be interested in meeting with a Russian agent who had sensitive information about Hillary Clinton (Twitter)
That same email from Goldstone said that, "This is obviously very high level and sensitive information but is part of Russia and its government's support for Mr. Trump."
In the June 2016 exchange, Donald Trump Jr. replies to news of possible info on Clinton with,"If it's what you say I love it especially later in the summer." This would refer to something akin to an October Surprise, the name for unexpected game-changing information late in a presidential campaign.
The Trump regime acknowledged that the meeting between Trump Jr., Paul Manafort, and Jared Kushner happened with the Russian attorney Natalia Veselnitskaya. But they originally said that the meeting was just about "adoption" before revising their story twice. Obviously it's hard to make that case now.
Here is page 4 (which did not post due to space constraints). pic.twitter.com/z1Xi4nr2gq

— Donald Trump Jr. (@DonaldJTrumpJr) July 11, 2017
Veselnitskaya went on NBC News this morning and denied that she had any connections to the Kremlin but said that they really wanted any information from Russia that could be damaging to Hillary Clinton.
"It is quite possible that maybe they were longing for such information," she told NBC in an interview broadcast this morning. "They wanted it so badly that they could only hear the thought that they wanted."
Amazingly, Trump published the emails before the New York Times could, according to CNN's Brian Stelter.
Confirmed from an NYT source: "We were preparing to publish" story — Don Jr. camp "asked for more time" to comment "and then pre-empted us"

— Brian Stelter (@brianstelter) July 11, 2017
It's only going to get weirder from here. The only question is whether any price will be paid, given the fact that the Department of Justice is completely under President Trump's control at the moment. Trump fired FBI Director James Comey back in early May, setting off a constitutional crisis that frankly America hasn't yet resolved.
Update, 12:05pm: In retrospect, Donald Trump Jr's claims from July 2016 don't really hold up.
REMINDER: Don Jr. July 24, 2016. On the Clinton campaign's claims that the Russians were helping Trump: "It's disgusting. It's so phony." pic.twitter.com/GClcK7GDPp

— Kyle Griffin (@kylegriffin1) July 11, 2017
Update, 12:47pm: Vice President Mike Pence has released a statement saying that he didn't know about Donald Trump Jr.'s meeting. But perhaps most tellingly he'd really like to remind you that he wasn't part of the campaign yet.
Statement from @VPPressSec on Donald Trump Jr meeting and @VP's knowledge pic.twitter.com/iYiyoWfHRx

— Kasie Hunt (@kasie) July 11, 2017
Trump announced that Pence would be joining his campaign on July 15, 2016.
I am pleased to announce that I have chosen Governor Mike Pence as my Vice Presidential running mate. News conference tomorrow at 11:00 A.M.

— Donald J. Trump (@realDonaldTrump) July 15, 2016
Update, 1:27pm: The Democratic National Committee sent Gizmodo a statement about Donald Trump Jr.'s tweets.
"Let's be clear: Donald Trump Jr. was told in explicit terms that the Russian government wanted to help his father win the election, and he knew the information was coming from a family with close ties to Vladimir Putin," said DNC Deputy Communications Director Adrienne Watson. "Instead of reporting this to the FBI, the President's son said 'I love it' and invited the Trump campaign's most senior aides to participate."
"This investigation is far from over, but there is no longer any question that the Trump campaign welcomed the opportunity to collude with Russia in last year's election."