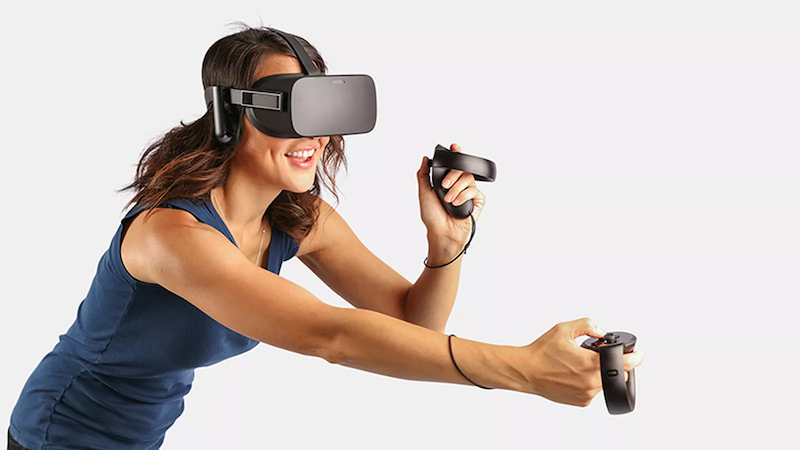 Virtual reality is cool and all, but it won't really become mainstream until a) it's affordable and b) it doesn't require a $1300+ gaming PC. But it seems Facebook is attempting yet again to make VR a thing.
Image: Oculus
Facebook is creating a new Oculus VR headset that isn't only untethered, but also cheap, according to Bloomberg. The new headset, codenamed "Pacific", is expected to be announced at the end of 2017 for only $US200 ($259). It will eventually ship in 2018.
The new headset will reportedly do many of the same things the current version does, but based on the price, it may be a lower-quality device. So it will be more of an alternative to the Rift — not its replacement. The Pacific will be more like Samsung's Gear VR, sans the requirement of a smartphone to operate. It will be able to play immersive games, display video content, and run Facebook's dorky social networking experiments.
"We don't have a product to unveil at this time, however we can confirm that we're making several significant technology investments in the standalone VR category," a Facebook spokesperson told Gizmodo. "This is in addition to our commitment to high-end VR products like Oculus Rift and mobile phone products like Gear VR."
The designs and features have not been finalised, but Bloomberg's sources reportedly said it will look like a more compact version of the Rift and that it will be lighter than the Samsung Gear VR. It will also come with a remote control to navigate the user interface.
The Pacific won't be as powerful as the Rift and will not include positional tracking, which means that the device won't be able to recognise where its user is spatially. It will probably cause more people to face plant while trying virtual rock climbing.
Facebook is also reportedly prototyping a wireless version of the higher-end Oculus Rift. This device is codenamed "Santa Cruz" and it sounds like the existing Rift, but without the need for an expensive computer.
There's still no price available for the Santa Cruz headset, but it will surely cost more than the current Rift, which is normally $US549 ($710); Facebook slashed the price down to $US449 ($580) for the winter.
If Facebook manages to produce a cheap and decent-quality VR headset that doesn't require a smartphone or computer, it might gain a competitive advantage over all the other companies that are making VR headsets. To be clear: Cheap, decent VR experiences do not exist today. It appears that Facebook is trying to solve two of VR's most frustrating problems in one fell swoop.
Facebook is currently in fourth place in the VR market space. Samsung is in the lead, according to the International Data Corporation. Sony and HTC are second and third place, respectively.