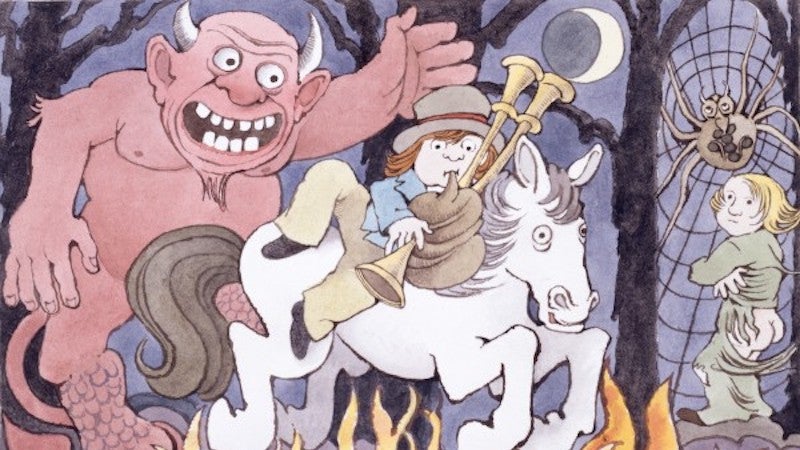 Last year, Maurice Sendak Foundation president Lynn Caponera stumbled across something weird while going through the late Maurice Sendak's collection of unpublished work. While she'd never heard of Presto and Zesto in Limboland, she'd found a manuscript for the unpublished book complete with illustrations.
Image: Maurice Sendak Foundation
The book, which Sendak co-wrote with Arthur Yorinks, began as a series of pictures Sendak drew for a 1990 London Symphony Orchestra performance of Czech composer Leoš Janáček's Rikadla — a symphony paired with traditional Czech nursery rhymes.
Initially, Sendak, Yorinks and their editor Michael di Capua contemplated getting translations of the nursery rhymes to pair with Sendak's illustrations, but according to di Capua, the translations read "like Edward Lear squared" and convinced the trio to shelve the project in favour of others. Years later, Sendak came across the illustrations again and Yorinks proposed that they write a story of their own to complement them.
"It was a hysterical afternoon of cracking each other up. But after a few hours a narrative thread began to coagulate," Yorinks told Publisher's Weekly of the book's beginning. "The story became an homage to our own friendship so we named the characters after ourselves — Presto and Zesto."
According to Yorinks, the book's titular Presto and Zesto are nicknames that he and Sendak used in reference to how close they lived to one another in their Connecticut homes. After betting that Yorinks had to have lived at least 30 minutes away from him one day, Sendak was shocked when his friend arrived on his doorstep a mere three minutes later, and from then on referred to Yorinks as "Presto", which Yorinks returned by calling Sendak "Zesto".
Sendak's most famous for Where the Wild Things Are, but he was a prolific writer and illustrator and his loss was a blow. It's nice to know we'll get one more book — one that he had mostly finished, rather than one cobbled together from what he left behind as a cash grab. We'll see it when Presto and Zesto in Limboland hits stores in the spring of 2018.