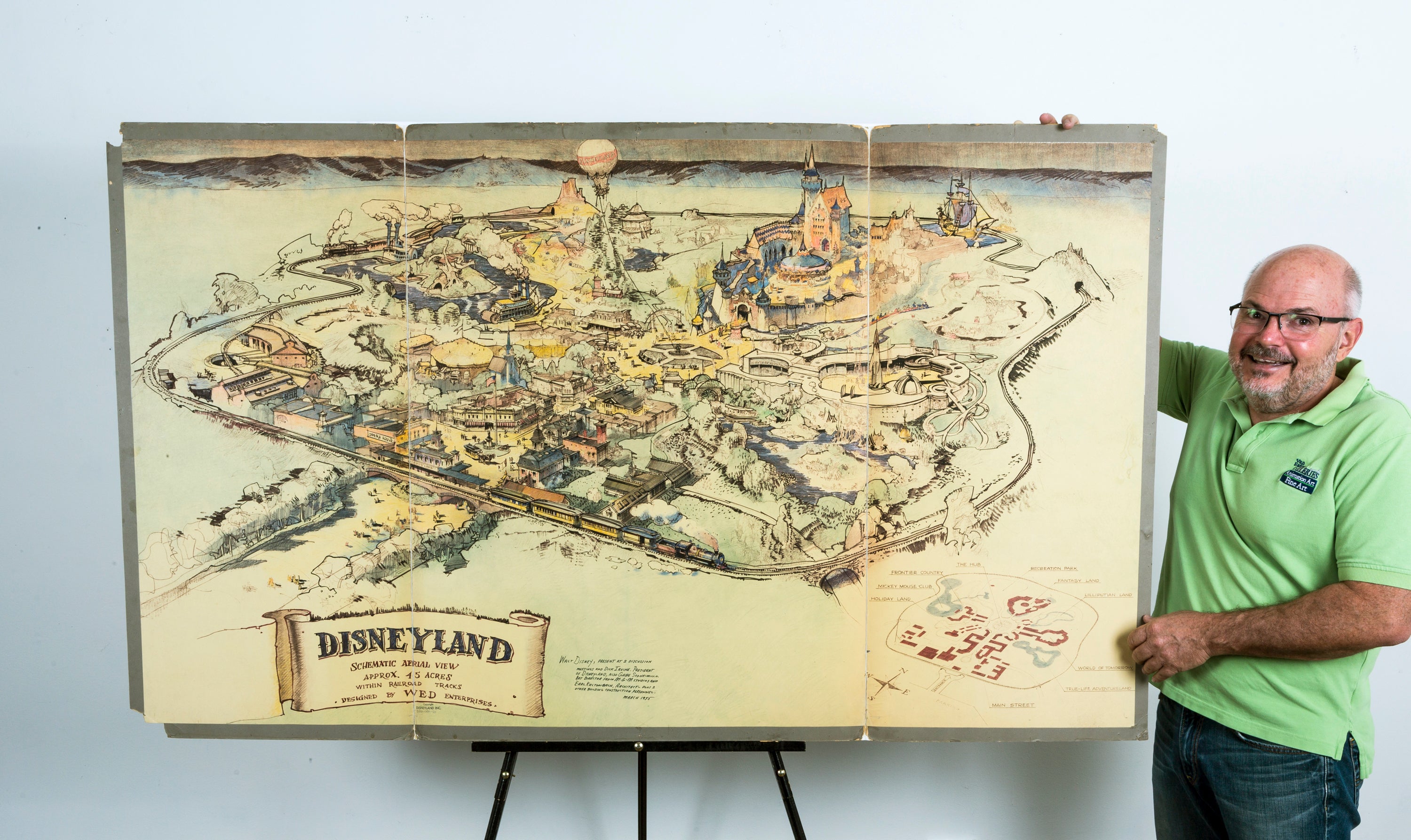 The Disney fan army can't get enough of Mickey Mouse and his magical empire. That's why its no surprise that someone spent $US708,000 ($933,465) on a hand-drawn map of Disneyland in California, conceived by none other than the MickeyMaster himself, Walt Disney. Disney and artist Herb Ryman drew the map one weekend in 1953 as part of a presentation for investors — now, the priceless piece of history will sit in someone's living room, presumably surrounded by Thomas Kinkade paintings and Epcot souvenirs.
Art dealer Mike Van Eaton stands next to an original hand-drawn map of Disneyland from 1953. Image: AP
According to Van Eaton Galleries, which sold the map yesterday, the drawing was "used Walt and Roy Disney to secure the financing they needed in order to build the park". It paid off, as the park opened just two years later on 17 July 1955.
Walt Disney's Original Disneyland Presentation Map Sells for $708,000 at Auction https://t.co/KzrtVcgsP2 pic.twitter.com/eNg6NQwH7m

— The DIS (@TheDIS) June 26, 2017
While $933,000 is a lot of money to blow, whoever bought the map, which was first acquired from a Disney employee by collector Ron Clark 40 years ago, got a good deal, as the auctioneers were hoping it would fetch around $US900,000 ($1,186,609). Unsurprisingly, the map's new owner isn't publicly known.
"As we had expected, this extraordinary Disneyland map sold for an outstanding price," Mike Van Eaton, Co-Owner of Van Eaton Galleries, told Forbes. "We are beyond thrilled that the map will continue to be appreciated and cherished just like it has been for all these years."
If the anonymous art enthusiast who purchased this piece would like to come forward and pay off my student loans, please get in touch.