How can blockchain technology be adopted across government and industry in Australia in a way that really benefits productivity and drives local innovation? That's the question CSIRO's Data61 has been working on an answer for, and they think they have it.
TL;DR version: we can't afford to be following the pack, we need to lead it.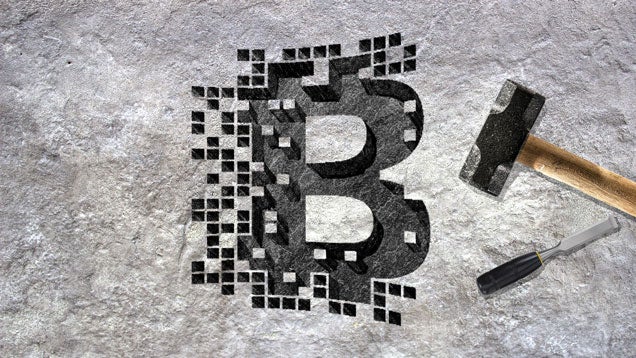 It's going to unshackle us from the oppressive dungeon of fiat currency! But also criminals and rogue cops use it to do nefarious drug stuff! Digital currency is often defined by its volatile hype cycle. And yet its most promising feature is incredibly mundane-sounding. a bookkeeping system called "the blockchain".
Read more
Over the past year, Data61 has been working with industry and government to deliver two reports on the regulatory, technical and societal implications of using blockchain based-systems across various industries.
"The pace of change we are experiencing as a nation is exponential and we can't afford to be followers in the adoption of emerging technology like Blockchain," says Adrian Turner, Chief Executive of Data61. "It has potential to reframe existing industries like financial services and seed new ones like food provenance and personalised health."
Treasurer Scott Morrison said the reports would help Australia build on its existing position as a leader in developing blockchain technology.
"It will give decision makers in business and government guidance on matters they need to consider in developing a system that uses blockchain technology," Morrison said. "The reports demonstrate the benefits of this technology could be profound – delivering productivity, security and efficiency gains. We should all be interested in blockchain developments and its potential application, right across our economy."
The first report developed by Rob Hanson and Dr Stefan Hajkowicz in Data61's Strategic Insight Team explores four plausible adoption scenarios of blockchain technology in Australian in 2030 including: aspirational, transformative, new equilibrium and collapse.
"Scenarios allow decision makers to consider if similar possibilities were to occur, what should they do to prepare for the future ahead of time," Hanson said. "Most importantly, each scenario examines the aspects of critical uncertainty for the use of blockchain technologies; human behaviour, technology and development, regulation and user adoption."
The second report takes a technical approach by exploring design alternatives for blockchain systems in three illustrative use cases: remittance payments, open data registries and agricultural supply chains.
"Looking at the range of critical requirements in these specific context helps us understand how blockchain-based systems can support new markets and business models," Group Leader at Data61, Dr Mark Staples said.
The government's just-announced 2016 Federal Budget will see the "encouragement" of private companies and the government itself exploring blockchain technology, the peer-to-peer protocol popularised by bitcoin. New legislation, too, will ensure that Australian citizens are not double-taxed when they use, buy and sell digital currencies like bitcoin itself.
Read more
The study highlighted that the path towards widespread adoption of blockchain based systems is still not clear. Further research is required to create evidence that blockchain systems will work as intended and how they will operate with legacy systems, CSIRO says.
It was recommended that further trials of blockchain systems should demonstrate responses to "rainy day" scenarios when problems arise like disputed transactions, incorrect addresses, exposure or loss of private keys, data-entry errors or unexpected changes to assets on blockchains.
In 2008, blockchain emerged as a technology to support digital currencies and it has quickly generated interest for its broad application across various domains such as health records, banking, voting, government services and provenance of data. A report by the World Economic Forum in 2016 found over $1.4 billion was invested in blockchain technology in just three years.
Australia already has a number of world recognised blockchain developments including the work of the Australian Securities Exchange in collaboration with Digital Asset Holdings, to examine the use of this technology in its clearing and settlement system for the Australian equity market.
Momentum in exploring these technologies has been building recently with developments by Australian firms including major banks, Australia Post and AGL; and blockchain innovators such as the agricultural supply chain application AgriDigital.
[CSIRO]