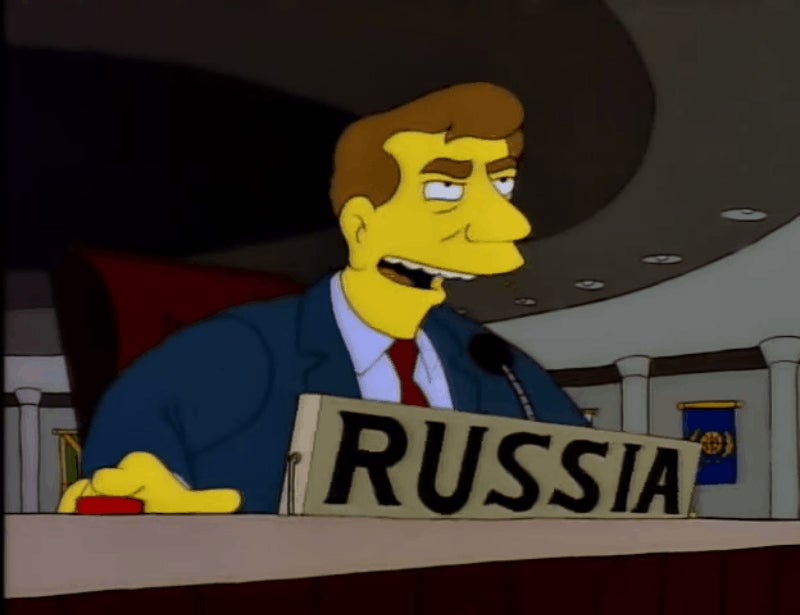 Just when you think 2017 couldn't get weirder, two countries get into a spat on Twitter and use a Simpsons GIF to accuse the other of aggression. Seriously.
Yes, it all started when the official, verified Twitter account for the country of Ukraine tweeted out this not-so-subtle jab at the fact that Ukraine had a diplomatic relationship with France long before Russia was on the scene:
When @Russia says Anne de Kiev established Russia-France relations, let us remind the sequence of events pic.twitter.com/nBKhQdyKql

— Ukraine / Україна (@Ukraine) May 30, 2017
The official, verified Twitter feed of Russia responded with a tweet saying that they were proud of their common history, imploring Ukraine that their heritage "should unite our nations, not divide us":
@Ukraine We are proud of our common history. ??, ?? & ?? share the same historical heritage which should unite our nations, not divide us. pic.twitter.com/hdmkuGy22p

— РоссиЯ ?? (@Russia) May 30, 2017
And then Ukraine responded with a GIF insinuating that Russia wanted to go back to the old days of the Soviet Union, back when Ukraine was part of the USSR:
@Russia You really don't change, do you? pic.twitter.com/HDfS9A8jWZ

— Ukraine / Україна (@Ukraine) May 30, 2017
Yes, not just any GIF. A GIF from the Simpsons. Specifically, the 19th episode of the ninth season, "Simpson Tide", which premiered on 29 March 1998.
2017 is truly the weirdest possible timeline.