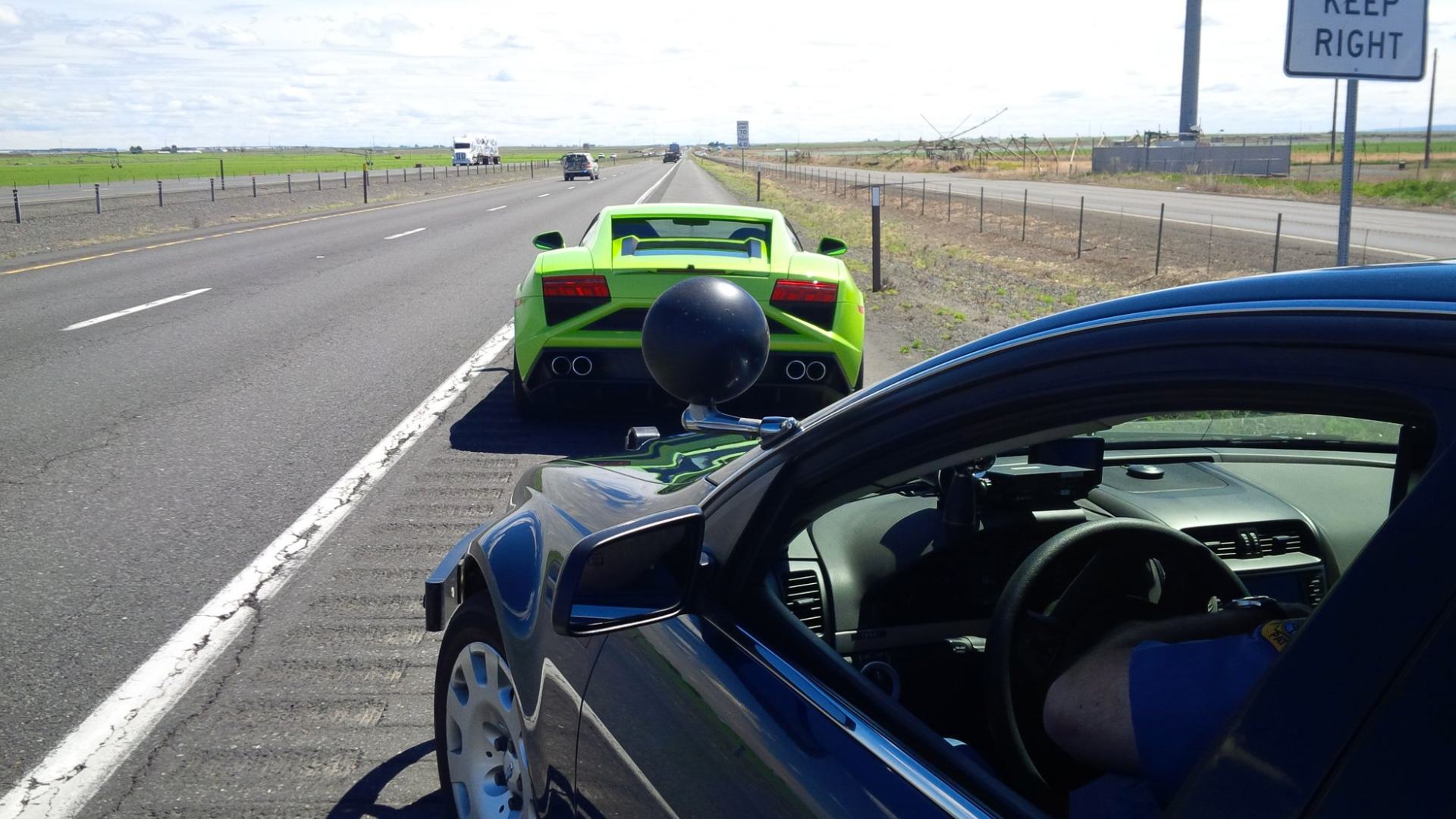 Now, I don't know about you, but I don't have $25,000 to blow on a nine-day luxury rally in my nonexistent supercar. If I did, maybe I'd understand this better: Washington State Patrol stopped more than 10 cars at the Gold Rush Rally in just two counties for going over 160km/h on public roads.
Image via Trooper Brian Moore on Twitter
The Gold Rush Rally, conveniently, is a big get-together for wealthy people with fancy cars. The full rally is $US20,000 ($26,807) to drive in, but if you're feeling like a penny pincher, you can choose to participate in the front half for $US9,500 ($12,733) or the back half for $US10,500 ($14,074). If you've got that kind of money, I guess paying successive speeding tickets is just a time nuisance.
The rally starts in California and goes through Oregon, Washington, Wyoming and Utah before ending in Las Vegas. Drivers run that route across nine days, starting May 12 and ending May 20 this year. Along the annual rally, its website says participants get to experience "the best routes, most luxurious hotels, and throwing the hottest, wildest and most memorable parties ever."
But they're getting to experience more than that — they're stacking up traffic tickets, too. Washington State Patrol trooper Brian Moore tweeted that across two counties, police stopped more than 10 Gold Rush Rally cars driving at or above 161km/h on public roads.
One was claimed to be this Lamborghini, which Moore said police stopped twice in that time frame at 164km/h and 159km/h. A Twitter user told Moore the car had no affiliation with the rally, but Moore told him the drivers "acknowledged they were with Gold Rush."
Either way, police eventually impounded the car.
Lamborghini stopped for speeding twice @ 102 and 99 mph. Veh was impounded for reckless driving #slowdown (ci) pic.twitter.com/FE8a7Y5kOw

— Trooper Brian Moore (@wspd6pio) May 17, 2017
Moore later posted a photo of this Bugatti Veyron with a nice "Speed Society" bumper sticker on the back and the logo for the whole rally on its driver's-right side. Going 180km/h is a bad example to set, dear Veyron driver!
.@wastatepatrol stopped 10+ exotic cars EB I-90 Kittitas/Grant County near 100mph. This one was 112mph. 50+ cont. to Spokane. 911 to report! pic.twitter.com/jmIXZ81Yc0

— Trooper Brian Moore (@wspd6pio) May 17, 2017
Another Washington trooper, Jeff Sevigney, tweeted over an hour later that cops in his area hadn't pulled anyone over yet and that the Gold Rush drivers "must have learned their lesson" for the time being. Sevigney added a nice "speed kills" hashtag to the tweet.
But if cops are stopping 10 cars across two counties, just imagine how wild the rally must have gotten across its six-state map. Yikes.