Image: Getty
Fernando Alonso's deal with the vengeful gods of speed and grace may be up. Fans noticed smoke pouring out of his car over the weekend at the Indianapolis Motor Speedway right before a new Honda engine was wheeled out for his Verizon IndyCar Series ride for the Indianapolis 500.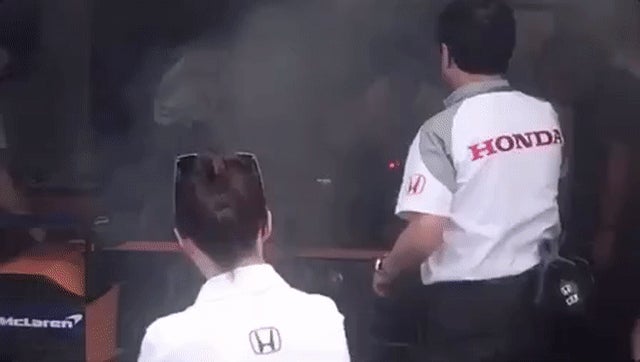 GIF via Jake Neely on Twitter
Smoke billowing out of the car pic.twitter.com/sCoQwAK0xS

— jake Neely (@indycarfan25) May 21, 2017
Ummmmmm there is a lot of smoke coming from fernando's pit box.... pic.twitter.com/73YD5NAAmq

— ?Sarah Connors ? (@sarah_connors) May 21, 2017
The whole reason he's here is because Honda can't get a functional engine together for his full-season McLaren F1 ride.
New engine on seek crew sprinting to get to work pic.twitter.com/iYb1wDr9ng

— jake Neely (@indycarfan25) May 21, 2017
Unfortunately, Honda seems to be having low-key reliability problems in IndyCar as the marque has lost five engines in the past seven days of running at Indianapolis Motor Speedway prior to Alonso's garage smoke-out. Honda has now instructed teams to limit how long they run each engine, according to Racer.
Hopefully that's enough to make it through qualifying and the race for the Honda teams. Otherwise, my best guess is that someone needs to pull the pin out of the engine cover on the voodoo dolls of Alonso's cars.
Last year's Honda IndyCar engine was generally reliable, and won the Indianapolis 500 in Alexander Rossi's car. Honda has it in them to build for reliability sometimes! But Alonso is here this year, and he has curse-grade bad luck with engines.