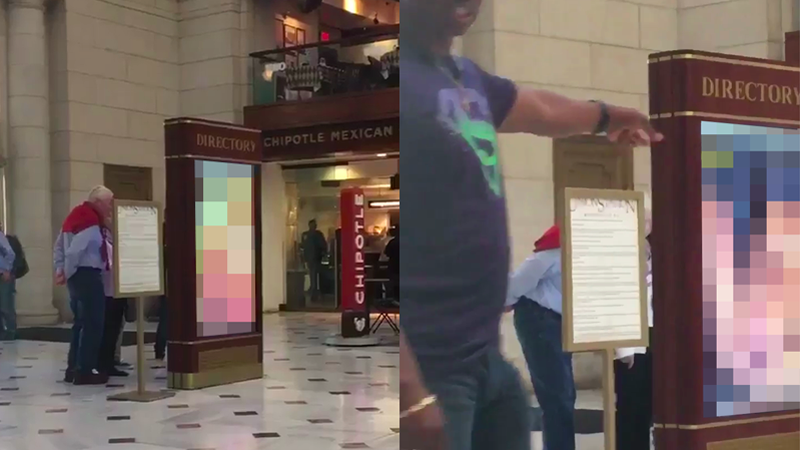 Last night local time, a display screen in Union Station — one of Washington DC's main transit hubs — found itself moonlighting as a tiny pornographic theatre.
As The Washington Post reported earlier today, bystanders were left "speechless" after the graphic video began playing on a display screen inside the station. The footage appeared to come from PornHub, a popular porn website, and lasted for about three minutes, according to an anonymous bystander interviewed by the Post. It remains unclear what caused the explicit video to play in this public train station.
Here are some eyewitness reactions from the story:
"What the hell is this?" proclaimed one man, pointing at the screen.

"Oh my God!" yelled a woman who watched from afar.
"With all this new technology comes a lot of things we don't expect," Beverly Swaim-Staley, president and CEO of the Union Station Redevelopment Corporation, told NBC. Crucially, the Post did not include footage of the incident itself, which it noted had been posted online before disappearing.
Gizmodo spoke to a tipster who wished to remain anonymous.
"It took a while for people to notice but when they did, they were surprised," the tipster told us. "I'm not sure if it's part of the larger hacks happening or just the most embarrassing kind of accident."
Corey Price, VP of Pornhub, provided Gizmodo with the following comment regarding the brand's surprise appearance in Union Station yesterday evening.
"Pornhub is accessed by nearly 75 million fans across the world each day. It's entirely possible the perpetrator of this incident was an avid fan who was perusing our content and unfortunately mishandled the technology behind the video screen at Union Hall. While we don't condone such behaviour — by any means — whatsoever, especially broadcasting unwarranted material to innocent passersby, we do hope it provided some…relief…in the midst of a hellacious commute home."
When shown the video, Gizmodo Media Group executive managing editor Alex Dickinson said, "What's that?" followed immediately by, "Oh."