Starting today, Americans can stream the first three episodes of Hulu's new sci-fi anthology, Dimension 404. (An Australian broadcast has not yet been announced.) While the show wears its many influences rather prominently — The Twilight Zone and Black Mirror are the most obvious — it does so in an enjoyable way, with great casting that makes a huge difference.

Adam (Robert Buckley) and Becky (Karissa Staples) in episode 101, "MatchMaker". Photo: Michael Moriatis/Hulu
As fans of those shows can already guess, part of the appeal of Dimension 404 is not knowing when or where the inevitable twist will turn the story upside down — and we're not going to spoil anything here.
The strongest of the first three episodes is the premiere, "MatchMaker". It's about a lonely music blogger named Adam (iZombie's Robert Buckley) who hesitantly joins an eHarmony-ish dating site run by a smarmy doctor (Joel McHale). Adam's doubts vanish when the app leads him to Amanda (Lea Michele), who is so perfect for him it's kinda eerie. Of course, all is not what it seems, and though the tone of this fast-paced episode is all over the place — a little 500 Days of Summer, a little Westworld, a little Cabin in the Woods — it actually works, with an increasingly bizarre chain of events that's grounded by Buckley's multi-layered performance.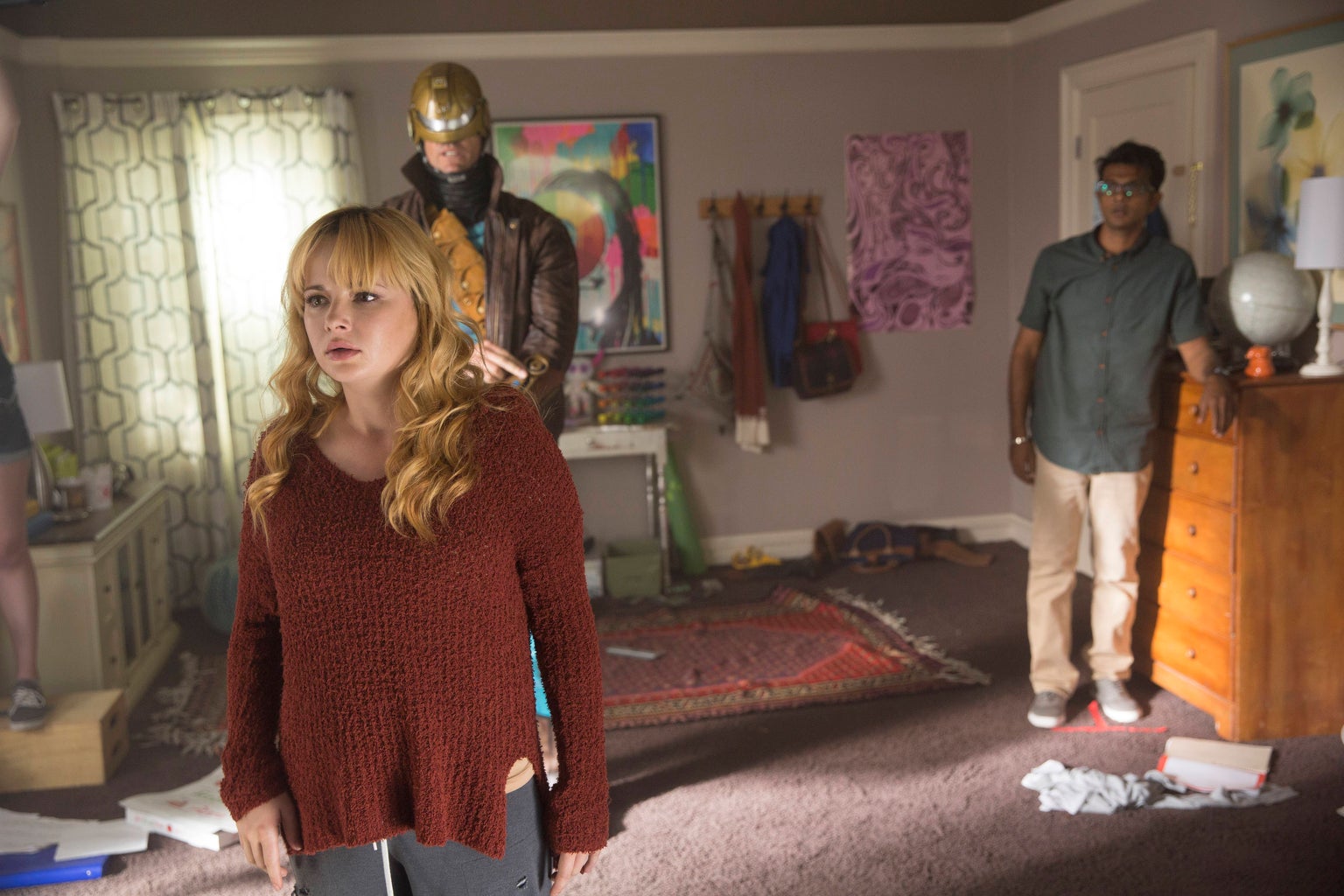 Sue (Ashley Rickards), Captain Chronos (Matthew Del Negro,) and Alex (Utkarsh Ambudkar) at a bogus moment in their journey. Photo: Patrick Wymore/Hulu
Somewhat less successful is "Chronos", about university student Sue (Awkward's Ashley Rickards), whose pop-culture distractions keep getting in the way of her scientific brilliance. A make-or-break research paper, still unwritten mere hours before deadline, suddenly becomes even more important (but at the same time, easier to put off) when Sue meets her childhood hero — a time-travelling cartoon superhero named Time Ryder (Matthew Del Negro). There's a certain amount of Bill and Ted's Excellent Adventure at work here, and madcap time travel is generally a reliably fun plot device. But the episode's ultimate lesson is more about the perils of nostalgia than about procrastination, which seems sort of out of place in this context.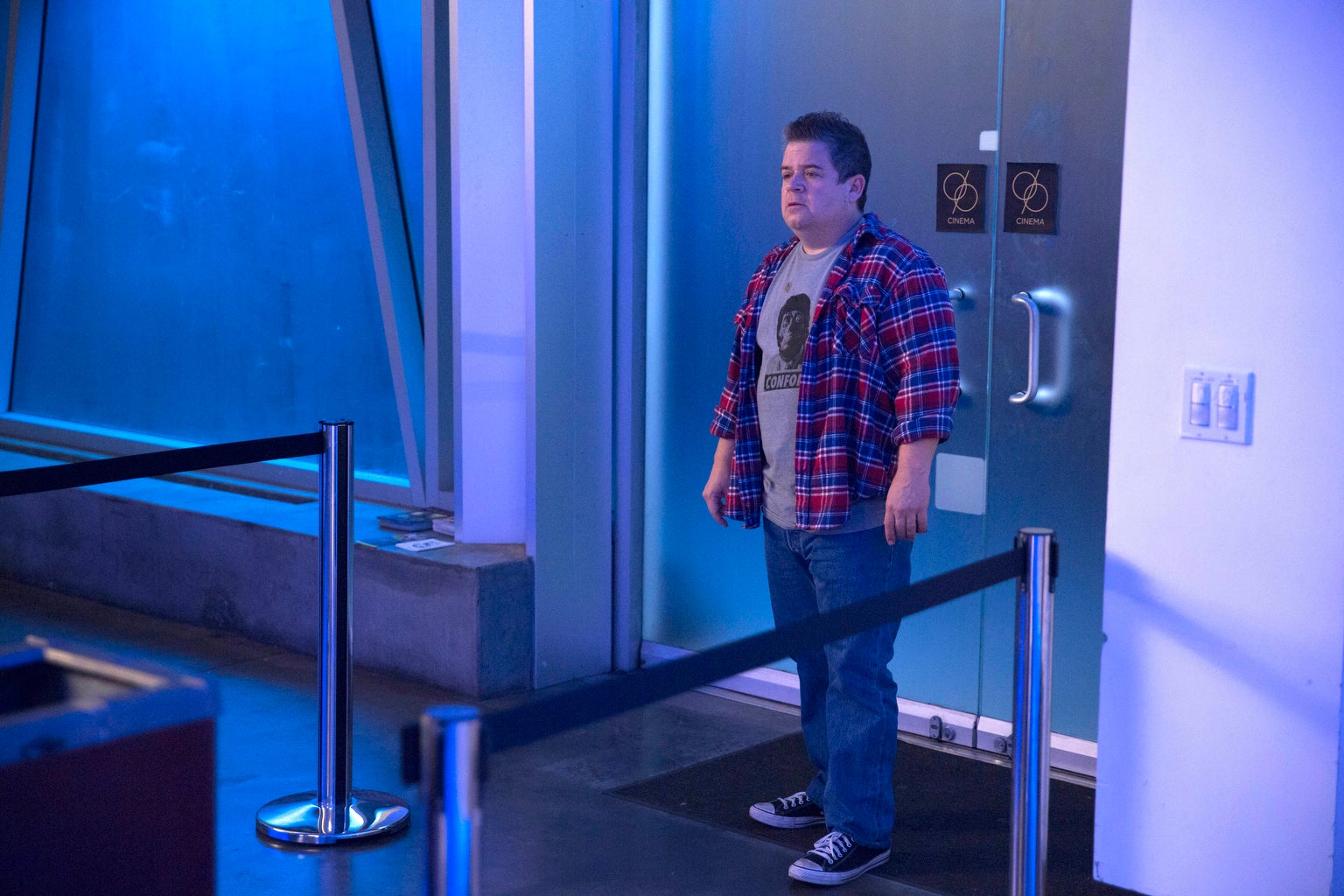 Uncle Dusty (Patton Oswalt) realises there's something sinister happening in the name of cinematic progress. Photo: Patrick Wymore/Hulu
Finally, if you're a Patton Oswalt fan, you absolutely must watch "Cinethrax", an outstanding showcase for the comedian that perfectly embraces both his well-known movie obsession and his well-honed curmudgeon persona. He's the schlubby Uncle Dusty to high schooler Chloe (Modern Family's Sarah Hyland), an uber-millennial who monkey-wrenches their standing movie date by insisting they skip Suspiria and watch the latest post-apocalyptic YA saga in an incredibly high-tech theatre instead. (The faux movie is titled Chosen: The Final Saga: Part I, and it is hilarious.) The episode's generation-gap jokes are spot-on, though the real conflict is heavily suggested by Uncle Dusty's They Live T-shirt, reinforced by a recurring theme of very special glasses.
Dimension 404 — which was created by Dez Dolly and Will Campos, with co-creators Dan Johnson and David Welch — adds to its cool cache by having Mark Hamill provide each episode's Rod Serling-like voice-over. There are three more episodes to come, with little info on what to expect (of course), though one apparently takes place in 1982 and revolves around a spooky arcade game.