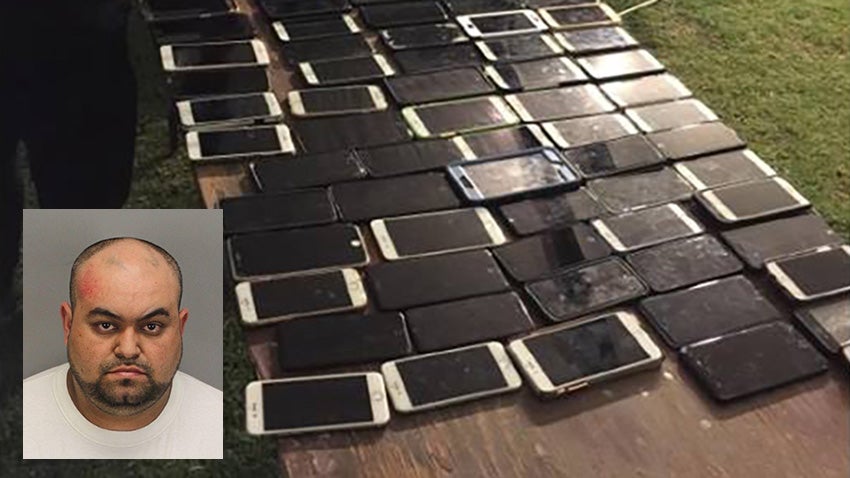 Coachella is always full of surprises (like when Radiohead quit earlier this week after audio problems), but this year's biggest surprise seems to have happened far away from the main stage. On Friday, a New York man was arrested after allegedly stealing more than 100 mobile phones from concert attendees in one of the more bizarre crimes ever committed at the music festival.
Images: Indio Police Department
Reinaldo De Jesus Henao, 36, was busted after several concert-goers activated the "Find My Phone" feature on their lost smartphones and noticed that the signals led them directly to him. The ordeal was several days in the making and, according to the Indio Police Department, it took an equal effort by authorities and music fans to catch the prolific smartphone bandit.
"I noticed some chatter on social media about phones disappearing on Reddit," said Indio Police Sergeant Dan Marshall in an interview with Gizmodo. "One of the common threads [among Reddit posters] was that they were all losing their phones at the Sahara tent."
The police then dedicated more resources to keeping a watch over the tent, but ultimately the extra sets of eyes didn't help. "In this case, the fans came through," Sergeant Marshall told Gizmodo. "People started using the 'Find My Phone' feature on their phones and sure enough — people spotted a dot going through the tent, and they alerted authorities. [The police] took over from there after security had him detained."
As you can probably imagine, it's fairly common for people to lose their phones during a party-filled weekend at Coachella. "Mobile phones are lost by the hundreds at Coachella, and that has been the case for many years," said Sergeant Marshall.
Now, most of the people who lost their phones can breathe more easily. According to Sergeant Marshall, more than 130 phones were collected from Henao's backpack and most of them have been returned to their rightful owners.
In the end, it actually brought a little solidarity between festival-goers and authorities. "The kids at Coachella are not here to do bad things," said Sergeant Marshall. "They turn in phones they find, wallets with cash in them. People hand you all kinds of stuff... The kids are just here to have a good time."