Video: Warner Bros. has released a new trailer for King Arthur: Legend of the Sword. It's the first solid look at the movie since the San Diego Comic-Con trailer premiered last year, and folks, we have yet another Chosen One on our hands. Also, this movie looks bananas.

The trailer goes into the destiny-laden journey of how Arthur went from street rat to the rightful King of England. Sure, the Arthurian legend is all about the true king being the only one who could pull the sword from the stone, but this is looking ridiculously complex. Richie's movie is turning Arthur into The Boy Who Lived. I am so sick of prophecies, folks. Why can't he just be a guy who got lucky? Anyway, here's the official synopsis:
When the child Arthur's father is murdered, Vortigern (Jude Law), Arthur's uncle, seizes the crown. Robbed of his birthright and with no idea who he truly is, Arthur (Charlie Hunman) comes up the hard way in the back alleys of the city. But once he pulls the sword from the stone, his life is turned upside down and he is forced to acknowledge his true legacy… whether he likes it or not.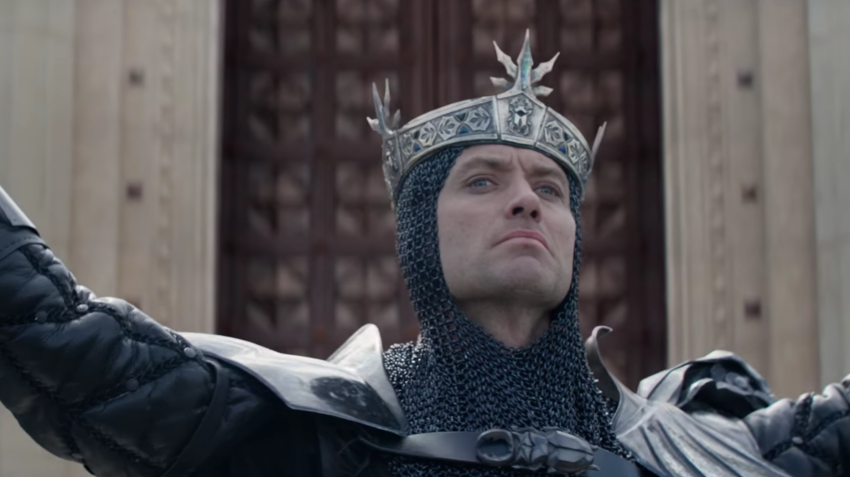 I'm going to give the trailer a specific bit of flack for being the latest victim of what I'm calling "Logan Syndrome". After the first Logan trailer brilliantly used Johnny Cash's "Hurt", every freaking trailer has been adding sensitive folk music, even when it doesn't fit. Also, points go to Law, who looks like he could not give less of a crap about this performance. Seriously, check out that face. That's the look of a guy who's trying to remember if his Thai takeout from three days ago is still good or not.
King Arthur: Legend of the Sword comes out May 11, but it's not the only Arthurian legend hitting theatres this year. We also have Transformers: The Last Knight in June. You can watch the latest trailer below.
[YouTube]