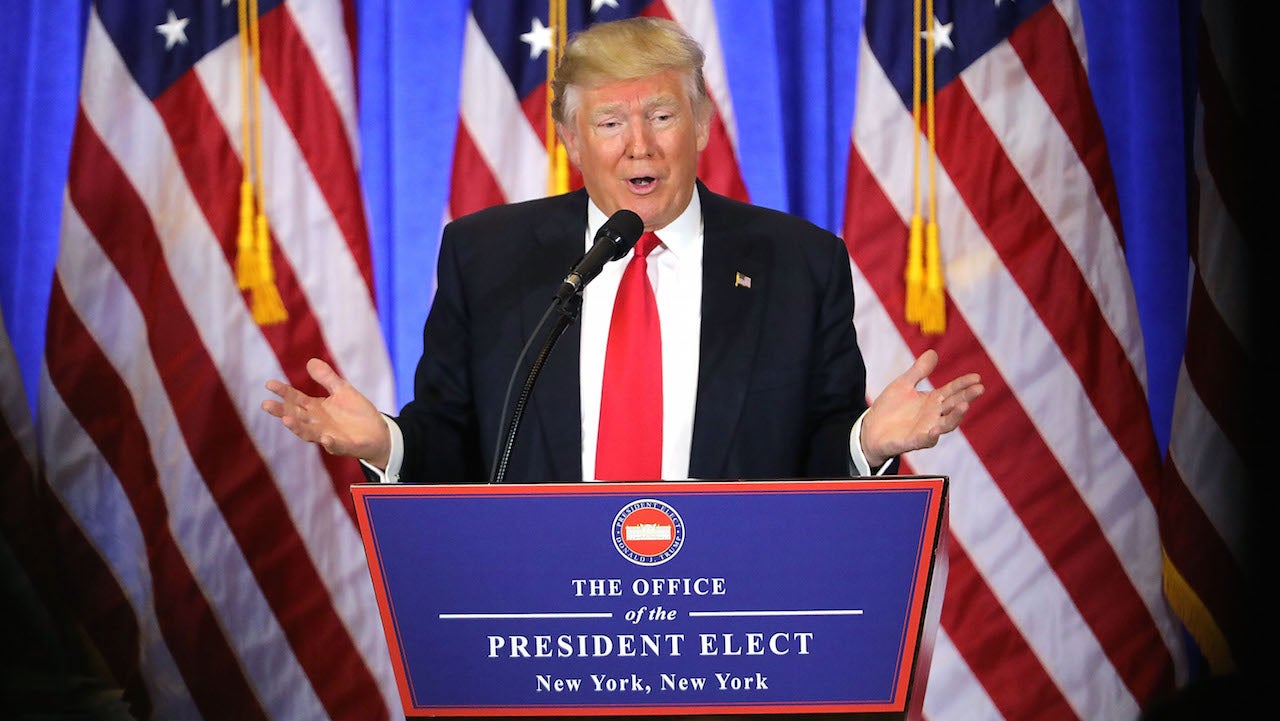 US President-elect Donald Trump went after drug makers and sent biotech stocks plummeting after calling the drug industry "disastrous" during his first press conference since the US election.
IMAGE: Getty Images
"We have to create new bidding procedures for the drug industry, because they're getting away with murder, pharma," Trump said. "Pharma has a lot of lobbies, a lot of lobbyists, a lot of power. And there's very little bidding on drugs."
The pledge to overhaul Big Pharma isn't exactly a new one. During his campaign, Trump promised to crack down on high drug prices and endorsed the idea of having Medicare negotiate drug pricing — a position that has in the past garnered Democratic support and Republican opposition.
After Trump's remarks, the Nasdaq Biotechnology Index fell by more than three per cent. The statement sent drug makers, who were hopeful that a Republican White House and Congress would mean friendlier policies, reeling.
Overheard in the #JPM17 hallway: If you're an investor dabbling in biotech, "today just told you why you should stay away, and keep away."

— Rebecca Robbins (@RebeccaDRobbins) January 11, 2017
I'm writing, but my note to drug companies: This is worse than you think. No, really. Worse than you think. #JPM17

— Matthew Herper (@matthewherper) January 11, 2017
While the particulars of how exactly Trump would go about making good on his promises are still unclear, it's likely that this is an issue that he would find support for across the aisle. His remarks, in fact, won him an unlikely ally: Afterward, Bernie Sanders said during a Senate floor speech that Trump was "exactly right". And his comments, some have noted, also strike a familiar chord to Hillary Clinton's comments on price gouging during the US presidential campaign.
Drug pricing in the US is an opaque business, and the rise of populist politics has made prescription drug pricing a hot-button issue that has apparently reached the top of Trump's agenda. Anticipating populist pitchforks in the wake of Trump and drug-pricing scandals like that of EpiPen, some companies have gone on the defensive, pledging to limit price increases to 10 per cent each year.
And today, it seems, the drug industry heard Trump's words loud and clear.
Ultimately, we want same thing as PEOTUS 1) supportive enviro 4 innovation 2) pt access & affordability of Rx 3) smart people w good US jobs

— Brent Saunders (@brentlsaunders) January 11, 2017
"I think the most valuable lesson learned is that the pricing model has got to change. It's not incremental change...I think it's truly rethinking the business model," said Heather Bresch, chief of EpiPen maker Mylan Pharmaceuticals, speaking at a Bay Area biotech conference today. "If anybody is walking away from this conference thinking 'business as usual,' I think that's a mistake."