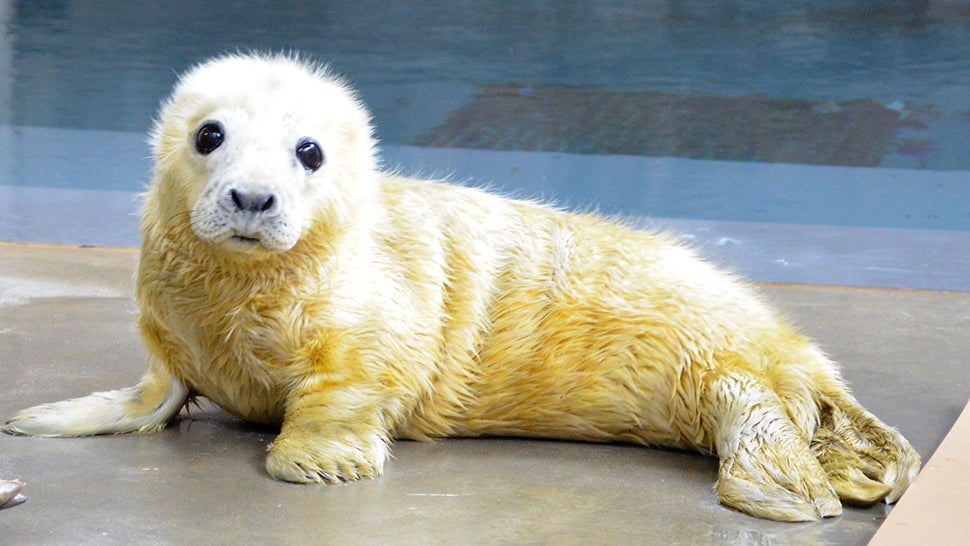 I, and I'm sure many of you, could not get out of bed this morning. But then, I saw an image of this puny pup — a baby grey seal. Not everything is bad, I thought. The world isn't ending for everyone. It certainly is not ending for this seal.
Photo: Jacqueline Conrad, Smithsonian's National Zoo
The female grey sea pup was born at the Smithsonian's National Zoo on January 21 at 12:43AM (an Aquarius, of course) to her 33-year-old mother Kara and 26-year-old father, Gunther, and weighs a hefty 17kg. While 33 might sound young for a mother, Kara is in fact the oldest grey seal ever to give birth in a zoo, according to a National Zoo press release. The pup doesn't have a name yet, although a National Zoo press spokesperson told me that names typically come from donors, keepers or even contests.
Grey seal Kara and her new female pup. Photo: Jacqueline Conrad, Smithsonian's National Zoo
The main newsworthy things here are those precious, marble eyes; that innocent, curious stare; and the soft newborn fur that our darling will eventually shed into its grey adult coat. But that's not all. "They're an incredible story," Devin Murphy, spokeswoman for the National Zoo, told Gizmodo. "Grey seals were once very endangered and thankfully due to conservation efforts they're no longer listed".
The zoo will continue to provide updates on the wee pupper via their social media sites.
[The National Zoo, h/t Greg Uyeno]