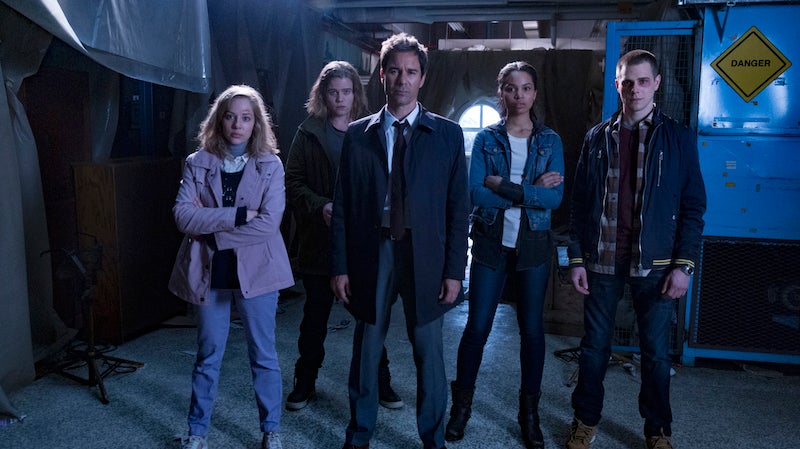 Netflix's Travellers features a team of people who send their consciousness through time and into other people's bodies — and they're using that ability to prevent the dwindling down of humanity into nearly nothing. Image: Jeff Weddell/Netflix
There are a lot of interesting questions posed by this premise and I'm not sure if the show gets as much into the ethics of highjacking other people's lives against their will, even though it's for a good cause, as I'd like to see. Granted, that's just based on this trailer. But I am very curious.
Here's the synopsis from the original Netflix press release back when this show was picked up:
Hundreds of years from now, the last surviving humans discover the means of sending consciousness back through time, directly into people in the 21st century. These "travellers" assume the lives of seemingly random people, while secretly working as teams to perform missions in order to save humanity from a terrible future. These travellers are: FBI Special Agent Grant MacLaren (Eric McCormack), the team's leader; Marcy (Mackenzie Porter), a young, intellectually disabled woman in the care of her social worker, David (Patrick Gilmore); Trevor (Jared Paul Abrahamson), a high school quarterback; Carly (Nesta Marlee Cooper), a single mum in an abusive relationship; and Philip (Reilly Dolman), a heroin-addicted college student. Armed only with their knowledge of history and an archive of social media profiles, the travellers discover that 21st century lives and relationships are as much a challenge as their high-stakes missions.
Travellers is already several episodes in on the Canadian Showcase channel, but it comes to Netflix on this Friday, December 23.