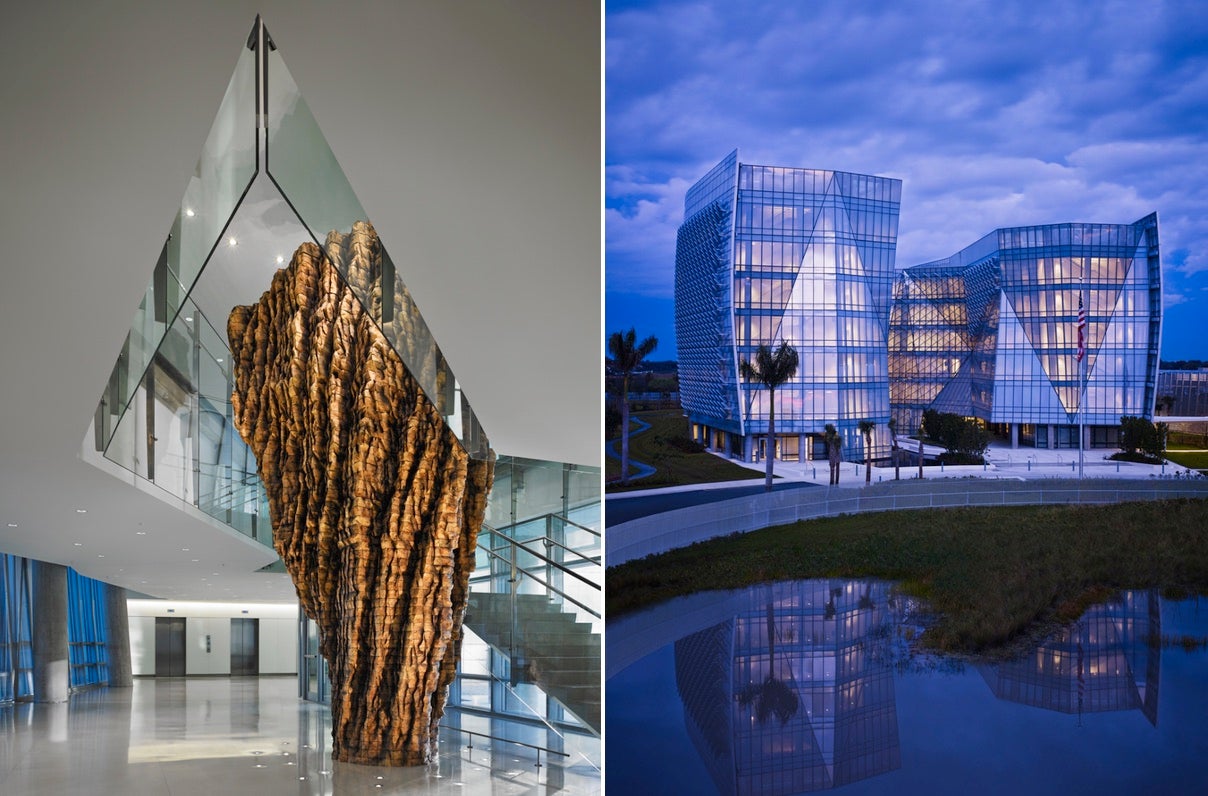 When a 5m tall wooden sculpture was installed in the FBI's Miami field office in 2015, the US government thought it was getting a great deal. The General Services Administration (GSA) commissioned the work and estimated that it was "likely worth more than the $750,000 [$AU1 million] the government paid." But it's currently sitting in storage in Maryland. Why? The sculpture got over a dozen FBI agents seriously sick.
The sculpture that reportedly made over a dozen FBI agents sick (left) the FBI's Miami field office (Hedrich Blessing)
Politico obtained documents about the ordeal, which is being blamed on a piece of work titled "Cedrus", created by artist Ursula von Rydingsvard. The Brooklyn-based artist is known for working with large pieces of wood and has public displays (primarily outdoors) at places like MIT. The sculpture that was installed at the FBI's Miami field office was made of Western red cedar sourced from forests near Vancouver.
Over a dozen FBI agents became seriously ill after the sculpture was installed, presumably because many people have severe allergies to Western red cedar. One FBI employee even spent 11 days in the hospital after exposure to the sculpture. The FBI office's lone nurse had to move to another facility after falling seriously ill.
"Upon the installation of the art sculpture, the nurse developed rhinitis, difficulty swallowing, sinus pressure, sneezing, has difficulty breathing and began to itch all over," one of the internal FBI documents obtained by Politico reads.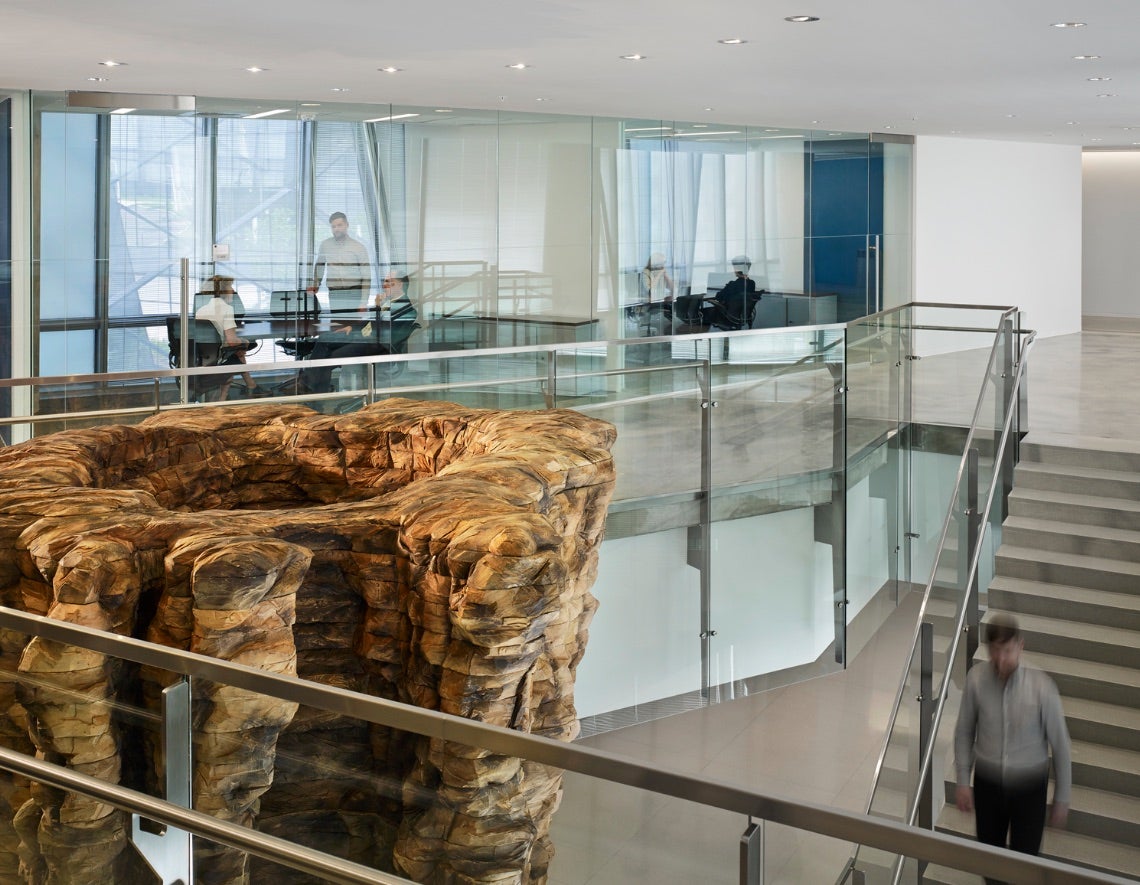 View of the sculpture from the second floor of the FBI's Miami field office (Hedrich Blessing)
But the GSA insisted that whatever was making people sick had nothing to do with the sculpture. Michael Goodwin, a regional director for the GSA, which manages the leases for government buildings, insisted that the artwork should stay. In fact, according to Politico, Goodwin said that the FBI was endangering the artwork by covering it with tarps.
A call to Mr Goodwin was directed to the GSA Public Affairs Office. Politico's story was apparently news to the official Gizmodo spoke with over the phone. The agency said it would have to get back to us after reviewing the facts. We still had not heard back at time of writing.
OSHA and the CDC define Western red cedar as "a highly allergenic species of soft wood" and have specific rules about how long workers can be exposed to it. Those rules, of course, were designed to protect workers in industrial production settings and saw mills. But GSA actually brought in OSHA to run tests, and the agency reportedly didn't find anything hazardous. Or, at least, it found nothing that would violate OSHA air quality standards for American workplaces.
The artwork was moved to a government storage facility in Maryland, and the total bill for this fiasco has now exceeded $US1.2 million ($1.6 million). It's unclear what will be done with the work long term.
[Politico]